An acutely observed drama about the pitfalls of adolescence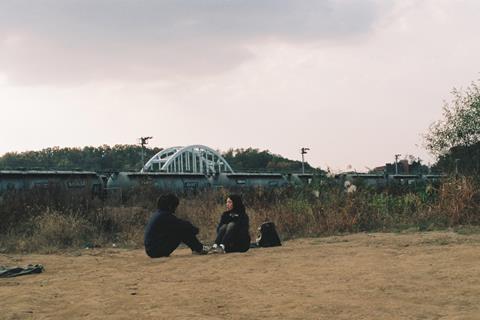 Dir: Lee Woo-jung. South Korea. 2020. 110 mins
While many teen dramas chronicle the pleasures and pitfalls of adolescence in equal measure, Lee Woo-jung's emotionally fraught debut feature Snowball puts a firm emphasis on the latter. This adaptation of Lim Solah's novel focuses on the friendship between three girls who are united by frustration with the mundane routine of high school life and its associated authority figures, only for their bond to be severed by otherwise different natures. Although this may sound like familiar territory, the formative tribulations are acutely observed, with Lee coaxing impressively naturalistic performances from a well-cast trio of relative newcomers.
This is a compassionate youth drama which stands out from the crowd.
Snowball receives its world premiere in the New Currents strand of the Busan International Film Festival, which should provide a springboard for further exposure at Asian-oriented events. Given the steady interest in youth-themed fare, an overseas streaming pickup is a distinct possibility for this indie production.
Despite being close to graduating from high school, the film's prematurely jaded small-town teenagers have little impetus to prepare for college. Class beauty So-young (Han Sung-min) is capable of achieving decent grades but has her sights set on becoming a model, while Ah-ram (Shim Dal-gi) is a free spirit with a habit of picking things up from the street, whether discarded objects or stray animals. In the middle is Snowball's solemn narrator Kang-yi (Bang Min-a), who outwardly seems the most ordinary of the three but nonetheless doesn't feel like she belongs to the institutions of family or the national education system.
When the headstrong So-young suggests that they run away, the other two happily indulge her impulse, only for the thrill of independence to soon flag as they run out of money. Ah-ram compromises herself by taking a job at a shady bar, while So-young withdraws from Kang-yi following a night of physical intimacy. Feeling despondent, they decide to head home, where So-young realigns herself with the cool clique, Kang-yi remains devoted to her former friend based on rose-tinted memories, and Ah-ram is subjected to abuse from her disapproving father.
All this turbulence is deftly handled by Lee, whose screenplay covers events from the perspective of a presumably older Kang-yi. The fragility of her dynamic with So-young and Ah-ram is implied from the start, but they seem to have sufficiently giddy camaraderie to overcome their divergent desires and outlooks. However, once the friends strike out on their own and find themselves sharing barely habitable living spaces, the early scenes of cheeky pranks and underage drinking give way to an altogether tougher consideration of how life on the margins causes allegiances to erode.
Although seemingly the least attuned to the world around her, Ah-ram is actually the most independent of the three and has no qualms about disappearing for days at a time, which leaves the increasingly one-sided relationship between So-young and Kang-yi to implode. It becomes agonising to watch Kang-yi trying to win her friend's deeper affections, especially when such overtures as breaking a streetlight that is preventing her from sleeping are taken for granted. If the small-town environment that they try to escape is initially seen as sternly patriarchal, it exerts a more repressive air on their return, with the image-conscious (and perhaps conflicted) So-young bluntly telling Kang-yi that people like her don't belong in the sticks.
A member of the K-pop group Girl's Day, Bang gives a poignant performance, particularly in the second half when Kang-yi is taunted by So-young to the point that they physically clash in an arcade. Recent screen depictions of school bullying have had a tendency to veer into sensationalism, but Lee mostly maintains restraint in order to note that emotional rejection is infinitely more painful for a heartbroken teenager than being shoved around a karaoke booth. To this end, Bang is quietly powerful in several tearful scenes that show how Kang-yi is unable to articulate her troubles, even when Ah-ram tries to get her to open up. In portraying adolescent friendship, a fine line is drawn between company and confidant.
Superbly shot by Lee Jae-u, whose handheld compositions convey a sense of restlessness and insurmountable angst, this is a compassionate youth drama which stands out from the crowd.
Production Company: Milestone Company
International sales: Finecut, shyun@finecut.co.kr
Producers: Kim Hyung-dae, Baek Jae-ho
Screenplay: Lee Woo-jung
Editing: Han Young-kyu
Cinematography: Lee Jae-u
Music: Lee Min-whee
Main cast: Bang Min-a, Han Sung-min, Shim Dal-gi