Dir/scr. Runar Runarsson, Iceland/Denmark/Croatia, 2015, 99 minutes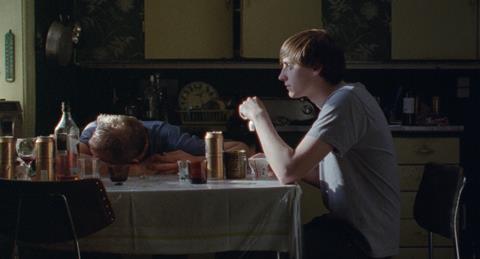 A father-son conflict in a remote Icelandic village is framed by mountains and sea in the sad and delicate coming of age story Sparrows, lifted well above the teen drama genre by its solid directing and spectacular surroundings. With a steely palette and carefully calibrated performances, Runar Runarsson's film observes a teenager who finds himself stuck in the rural village of a boozy father whom he barely knows. Sparrows should play well with critics at international festivals, but getting past the art house circuit may be a challenge, despite the mounting interest in Icelandic cinema.
This is no generic portrait of a sensitive kid in a stifling town
Avi (Atli Oskar Fjalarsson) is a quiet lanky teen who sings counter-tenor in a choir in Rekjavik, the capital city. When his mother takes off for Africa with her Danish husband, he's sent to live with his father (Ingvar E. Sigurdsson) in the distant western fjords of the country, where the locals medicate the ills of a declining economy with alcohol. The constant summer light exposes everyone's secrets.
The natural beauty is overwhelming, but the teenager is stuck in a dull job, cleaning up at a fish factory. His only links to the place are his gentle grandmother (Kristbjorg Kjeld), who disapproves of the father's drunken partying, and a childhood friend, Lara (Rakel Bjork Bjornsdottir), who has taken up with a tough angry boyfriend. When his grandmother dies suddenly, Avi's isolation becomes unendurable, all the more crushing because the parent who might console him tends to be drunk.
Runarsson directs Sparrows with what feels like a glacial slowness for a film about youth, yet that pace enables him to take in the nuances of a passage into a new and unwelcoming environment, where empty streets are ringed by mute hills and cold dark waters. Small-town life here is anything but charming.
As Avi, the pale and slow-moving Atli Oskar Fjalarsson fits those rhythms. His taciturn silence, without veering into affectation, carries echoes of Billy Budd, a vulnerable innocent in potentially dangerous territory. Runarsson sums up his situation there in a troubling scene where Avi and his father go into the bay to hunt seals. A helpless animal, peering out of the water, is defenceless against a man with a gun. For better or worse, the shooter is drunk. Ingvar E. Sigurdsson plays the unshaven unstable father with a side-ward look of suspicious vulnerability, like a man aware of his self-destructive ways, but too weak to change.
Avi's potential love interest, young Lara, carries the same fatalism of a girl who settles for the local bully, and suffers the consequences. Kjeld, as Avi's kindly grandmother, is the exceptional figure who lives with a simple dignity, but dies before she can guide a teenager through a difficult time.
This is no generic portrait of a sensitive kid in a stifling town. DP Sophia Olsson
creates a world full of visual specificity, striking in its restraint. She opens the film with a shot of a choir singing an ethereal hymn in a modern church of graceful white arches. In the fishing village, where the silence is broken by the sound of car engines or raucous party music, the characters seem stuck in wide expanses or in the confining spaces of stark family dwellings, with bottles spread across the tables. It's no coincidence that Avi only sings in the village when he's alone, except at his grandmother's funeral.
In Volcano (2011), Runarsson dealt unsentimentally with the onset of old age. In Sparrows, his cold look at youth, he saves a tiny dose of sentimentality for the film's last moments. Iceland should be preparing for his next target.
Production companies: Nimbus Film, Nimbus Iceland 

International sales: Versatile info@versatile-films.com
Producers: Mikkel Jersin, Runar Runarsson

Executive producers: Brigitte Hald, Suza Horvat

Cinematography: Sophia Olsson

Production designer: Marta Luiza Macuga

Costume designer: Helga Ros Hannam

Editor: Jacob Schulsinger

Composer: Kjartan Sveinsson

Main cast: Atli Oskar Fjalarsson, Ingvar E. Sigurdsson, Kristbjorg Kjeld, Rade Serbedzija, Rakel Bjork Bjornsdottir