Chris Rock stars in the most recent franchise update in a plot based on the actor's own idea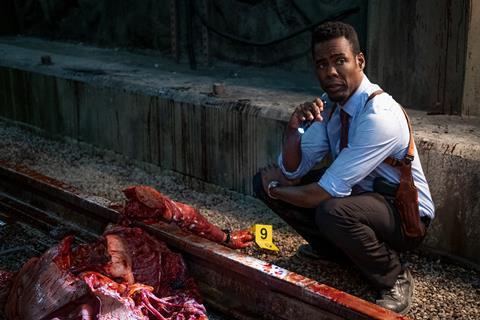 Dir: Darren Lynn Bousman. US. 2020. 93 mins.
It has been 17 years since the original Saw, but the latest instalment doesn't try to reinvent the wheel — or, rather, the torture device. In Spiral, a mysterious copycat killer is emulating his hero Jigsaw by kidnapping those he considers deserving of death and then forcing them to engage in sadistic games thematically linked to their unpunished sins. Chris Rock, who conceived this sequel and serves as executive producer, plays a vigilant detective on the madman's trail, but the familiarity of the gross-out gore proves more deadening than horrifying.
Considering the seasoned hands overseeing the picture, it's perhaps not surprising that Spiral is an act of careful brand management
Lionsgate releases Spiral on May 14 in the US — and in the UK on May 17, nicely timed to the reopening of theatres here. Rock's change-of-pace dramatic role should intrigue fans, and this ninth chapter in the franchise will also benefit from the star power of Samuel L. Jackson, who plays his character's father. Even so, the main attraction will be the Saw concept itself, with bloodthirsty crowds excited for a fresh round of elaborate traps and grisly murders.
Spiral introduces us to detective Zeke Banks (Rock), who has been assigned an eager new partner, William (Max Minghella), who is aware of his reputation around the force for being a rat after he turned in a crooked former partner. Despite the love of his dad, grizzled retired police chief Marcus (Jackson), Zeke has been a pariah amongst his fellow cops ever since, which does nothing to dampen his passion to bring down a masked killer who is kidnapping and torturing law enforcement officials — and then sending Zeke videos bragging about his crimes.
The last Saw sequel, Jigsaw, arrived in 2017, and the new film, based on an idea by Rock, plays up the franchise's thriller/mystery element, treating the story as a Seven-like investigation in which a crusty veteran and an enthusiastic newcomer must stop a demented individual. Director Darren Lynn Bousman, who helmed the second, third and fourth Saw instalments in the mid-2000s, returns, working from a script by Josh Stolberg and Peter Goldfinger, who also wrote Jigsaw.
Considering the seasoned hands overseeing the picture, it's perhaps not surprising that Spiral is an act of careful brand management, giving viewers the torture traps they love while also potentially introducing a new villain. (Probably a wise move, considering Jigsaw died in 2006's Saw III.) Spiral's unnamed killer borrows Jigsaw's modus operandi but focuses on eliminating bad cops, which gives the picture a topical resonance in the age of Black Lives Matter. But as with much of Spiral, this real-world relevance is handled in an unsubtle manner, giving the film a reason to exist more than it adds anything substantive to the cultural conversation.
Bousman makes sure Spiral opens with a typically gut-wrenching trap — involving a subway tunnel, an oncoming train and a man with his tongue lodged in a vice — which sets the bar for the intense anguish awaiting the killer's subsequent victims. This franchise's traps are always judged on two criteria — how cleverly poetic the punishment is and the messiness of the carnage — and Spiral gets passing marks, although one probably shouldn't think too hard about the complicated logistics it would take to stage some of these scenarios. (Thankfully, there always seems to be plenty of abandoned warehouses available to Saw bad guys.)
Rock has shown his serious side before — most recently on a season of the acclaimed series Fargo — but he seems out of his depth conveying a tormented detective obsessed with catching a killer. Zeke soon realises that this man has some personal connection to him, forcing the cop to revisit his past — including his difficult history with his father. Rock has no problem delivering wisecracks, but when the character starts to lose his sanity, the comic can't capture Zeke's emotional turmoil.
As a whodunit, Spiral is serviceable, sometimes seemingly leaning into the genre's cliches. (It feels like an in-joke that this buddy-cop duo are almost perfect parodies of the veteran/rookie dynamic.) And the film makes room for some cheeky pop-culture referencing, including Zeke mentioning New Jack City (which costarred Rock) and what appears to be a nod to Jackson's Pulp Fiction role.
But it becomes pretty obvious who the killer is, and the reveal of why he's orchestrating these traps isn't especially satisfying. Cinematographer Jordan Oram drapes the proceedings in the expected dank greys and greens, lingering on closeups of gnarly wounds until we're suitably repelled. But like the killer's victims, there's really no escape from Spiral's pervasive unpleasantness — and it feels like a punishment we certainly don't deserve.
Production company: Burg/Koules
International sales: Lionsgate
Producers: Oren Koules, Mark Burg
Screenplay: Josh Stolberg & Peter Goldfinger
Production design: Anthony Cowley
Editing: Dev Singh
Cinematography: Jordan Oram
Music: Charlie Clouser
Main cast: Chris Rock, Max Minghella, Marisol Nichols, Samuel L. Jackson