Dir. Charlotte Blom. Norway. 2015. 84mins.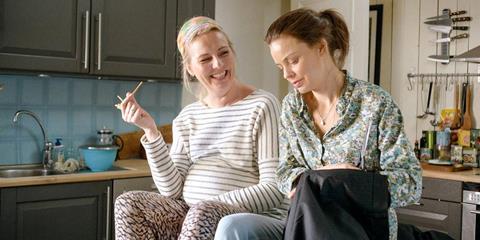 The fact that both the titular Bee Gees track and Johnny Logan's Eurovision-winning torch song Hold Me Now feature prominently on the soundtrack gives some indication of where this Norwegian comedy drama is positioned. A frank and funny study of divorce, this feature debut from Charlotte Blom is unashamedly broad in its appeal. As such, the crowd pleasing potential should propel the film beyond the festival circuit. It could connect with the same female-skewed arthouse audience which responded to the bittersweet humour of Lone Scherfig's early films.
Perhaps the canniest choice in this confident and perceptive relationship picture is the fact that it avoids a conventional feelgood ending.
Marianne (Agnes Kittelsen) would rather dance drunkenly around the living room with her husband Håkon (Anders Baasmo Christiansen) than tidy up the detritus of the dinner party they just hosted. The following morning, it is safe, reliable Håkon who washes the wine glasses. Marianne simply moves them out of the way so that she and her two children can watch TV with an unimpeded view.
Irrepressible, slightly irresponsible, Marianne is the fun parent. It is telling that, when she accidentally discovers that Håkon has been having an affair, she is momentarily bewildered. "I always thought I would be the one to cheat on you."
The fallout from the revelation about Håkon's extracurricular activities unfolds in a series of enjoyably spikey exchanges between the couple. Blom has an acute ear for dialogue and an eye for the kind of absurd details that bring a relationship to life. Scrutinising her husband's phone for text messages, Marianne fixates on his use of emojis. "I didn't know you used smileys," she scoffs, in a tone which suggests that he's old enough to know better.
The other woman in Håkon's life is Frida (Heidi Toini) from accounts, a woman hitherto best known for the fact she brings her waffle iron to work and cooks waffles on a Friday. But 'Waffle Frida' turns out to be more of a threat than Marianne first assumes. Håkon picks her over his wife; and her daughter soon refers to Frida as her new best friend.
The dramatic recalibration of identity that results from the breakdown of a fifteen year relationship is handled with just enough levity. Blom doesn't avoid the moments of searing sadness and betrayal that Marianne suffers. But she moves the character briskly forward, to one of a number of forthright, frequently hilarious exchanges with her pregnant best friend Kristin (Linn Skåber).
One of the film's broader comic devices is the recurring setting for conversations between Kristin and her husband Truls (Nils Jørgen Kaalstad) – they invariably discuss Marianne's relationship during one of Truls' spectacularly inept attempts at parallel parking. Less successful is the counterpoint to Marianne's marital woes provided by a contrived-feeling storyline involving her parents' open relationship.
Perhaps the canniest choice in this confident and perceptive relationship picture is the fact that it avoids a conventional feelgood ending. Marianne doesn't find herself in the arms of a new man – or an old man – although she spends time in both. But, after a brief spell of weepily eating organic food and watching makeover shows, she does rediscover the irrepressible spirit that makes her such a pleasurable character with whom to spend time.
Production company: Maipo Film AS
International sales: TrustNordisk info@trustnordisk.com
Producers: Synnøve Hørsdal
Screenplay: Charlotte Blom
Cinematography: Karl Erik Brøndbo
Editor: Zaklina Stojcevska
Production design: Merete Boström
Main cast: Agnes Kittelsen, Anders Baasmo Christiansen, Linn Skåber, Heidi Toini