A fine cast including Amy Ryan and Margaret Qualley attacks Rowan Athale's domestic thriller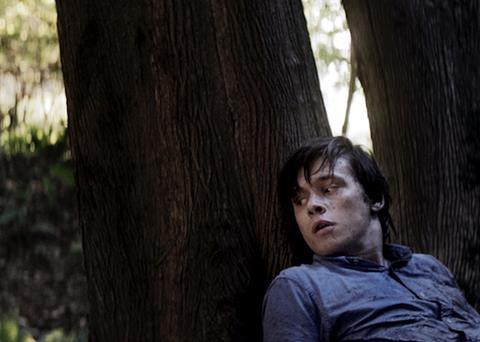 Dir. Rowan Athale. UK, Canada. 2019. 96 mins
A family still reeling from the death of a beloved son is rocked when the boy's former girlfriend announces that she is carrying his child. There's a catch however. Ronnie Chase died five years before.
An unexpected tonal shift into overwrought suspense
Melissa (Margaret Qualley, eye-catching as Pussycat in Quentin Tarantino's Once Upon A Time … In Hollywood) maintains that he is the only man she has slept with; as evidence she presents a taped session with a psychic who claims than Ronnie will live on in the unborn child. Adapted from a novel by John Searles, Strange But True boasts a neat premise. But the initially taut thriller takes an unexpected tonal shift into overwrought suspense, losing some of its claustrophobic domestic tension along the way.
A cast with talent and name recognition to spare will be key to the allure of Rowan Athale's follow-up to The Rise. Amy Ryan spits bitterness and disappointment with every line as the mother who was broken by the death of her younger child. Along with Blythe Danner, Brian Cox and Greg Kinnear, she provides the kitemark of quality which should be a useful marketing tool. Even so, the tonal inconsistencies might prove to be an obstacle in identifying a core audience – what starts as a thought provoking drama gets progressively more lurid as the film progresses.
An opening glimpse of a young man on crutches fleeing an unseen threat gives a hint of what is to come. But the crux of the story is set up with one of the stronger scenes in the film. A heavily pregnant Melissa calls at the Chase family home where she meets Ronnie's older brother Philip (Nick Robinson), laid up with a broken leg. His mother Charlene (Ryan), stewing with animosity, has to be coaxed into the same room as Melissa. "Everybody said it wasn't my fault…" Melissa falters. The clenched jaw and venomous glare suggests that Charlene very much believes that it was her fault.
Charlene snaps and throws Melissa out, but the idea of Ronnie's paternity has been seeded. Charlene returns to the university library she walked out of five years before to research the possibility of posthumous sperm collection. Philip, meanwhile, reaches out to his father (Greg Kinnear) who has moved on to a new wife and a new life since the death of his younger son. The glimmer of hope, that somehow Melissa is telling the truth, becomes a lifebelt in the sea of grief.
Athale flirts with the visual language of horror even before the story takes a swerve into darker territory. A creepily photographed basement, the location of Blythe Danner's laundry facilities, suggests that something malevolent is about to emerge into the story. And so it does – a truth so repulsive that it rapidly accrues a body count is launched into the action, where it bulks up the tension, but tends to undermine the film's credibility.
Production company: Automatik, First Generation Films
International sales: Bankside Films films@bankside-films.com
Producer: Fred Berger, Christina Piovesan, Brian Kavanaugh-Jones, Deepak Nayar
Screenplay: Eric Garcia, from the novel by John Searles
Cinematography: Stuart Bentley
Editor: Kim Gaster
Production design: Adam William Wilson
Music: Neil Athale
Main cast: Amy Ryan, Nick Robinson, Margaret Qualley, Connor Jessup, Blythe Danner, Brian Cox, Greg Kinnear