Dir: David Ayer. US. 2016. 123mins.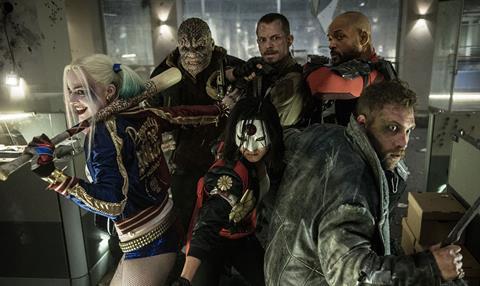 In Suicide Squad, the bad guys are the heroes, making the film's true villains the same ones that have felled many a would-be blockbuster: mediocre storytelling, a reliance on ghastly CGI, and overblown stylistic flourishes that tend to pummel rather than exhilarate. Boasting a darker, more nihilistic streak than the typical comic-book film, this Warner Bros. release has its kinky pleasures and some amusing nastiness, but in the final analysis there's simply too much flexing of empty attitude — and far too much self-congratulation for how edgy it thinks it is.
It's a lot of fuss and effort to seem subversive, but to surprisingly little effect.
Opening across most of the globe by August 5, Suicide Squad boasts the star power of Will Smith, Margot Robbie and (in a role that's really more of a cameo) Jared Leto, and Warners will need their help with a movie that's one of the summer's most intriguing commercial question marks. On the one hand, Suicide Squad is part of the DC Comics universe, which also includes Batman and Superman, but outside Leto's performance as the Joker, this collection of villains isn't well-known among general audiences. Marketed as a brash, irreverent twist on superhero movies, Suicide Squad will have to contend with genre fatigue in a year that's already seen four major comic-book releases.
Written and directed by David Ayer, who previously made Fury, the film stars Smith as Deadshot, an expert assassin who has been locked away. But soon, he and a legion of other villains — including the psychotic, alluring Harley Quinn (Robbie) and the bruising Boomerang (Jai Courtney) — are recruited to stop an extreme terrorist threat in Midway City. American intelligence officer Amanda Waller (Viola Davis) gives this team, nicknamed the Suicide Squad, two options: either comply or be killed.
That's a simplified encapsulation of a plot that proves too busy and convoluted to be sufficiently compelling. In our modern era of overstuffed superhero movies, it's not a surprise that Suicide Squad has too many characters. But unlike films such as The Avengers, which have distinctive protagonists with resonant backstories, Suicide Squad often loses all momentum when it tries to dramatise how its myriad villains ended up that way. As a result, fine actors such as Jay Hernandez (who plays Diablo) and Adewale Akinnuoye-Agbaje (Killer Croc) toil in the background, with the script's faint stabs at emotional shading adding up to very little.
In this crowded landscape, Smith and Robbie are given the most screen time, and Smith lends pathos to a coldblooded killer who has a scruffy integrity and a moral code — not to mention a distant daughter whose respect he's trying to reclaim. But Ayer can't focus long enough on Deadshot because he has to juggle so many other characters — a problem that's especially apparent with Robbie's Harley, who was seduced by the Joker back when she was still a well-adjusted therapist, only to be psychologically twisted by him into a sociopath. Wearing a skimpy outfit and delivering blasé non sequiturs as punch lines during serious moments, Robbie gives the thinly conceived baddie a slinky smile and impertinent air, but the performance is too one-note to register as either darkly comic or deeply demented.
Other cast members are swallowed up altogether by the story. Cara Delevingne plays Dr. June Moone, an archaeologist who becomes possessed by an evil spirit named Enchantress. This early development in Suicide Squad ends up making her one of the team's chief nemeses, and the role becomes a showcase for gaudy makeup and chintzy effects work. But she never feels very sinister — and as Colonel Rick Flag, the US soldier who reluctantly agrees to work with the Suicide Squad (and who is also the archaeologist's boyfriend), Joel Kinnaman doesn't have the space to make us care about his concern for what has happened to June.
In its construction, Suicide Squad is an Escape From New York-style action-adventure in which our antiheroes trek through Midway City in order to reach a secret destination whose importance has been kept secret by Flag. Throughout, they must fight off a roving band of faceless warriors who are protecting Enchantress, and Ayer supplies the gritty face-offs with a professional polish as different members of the team use their powers or special skills to eradicate their foes. But without strong central characters or a clear sense of stakes, Suicide Squad's action set pieces are mostly perfunctory, their superficial excitement and moments of humour quickly giving way to tedium.
Also symptomatic of contemporary event movies, Suicide Squad wastes time connecting its story to the larger DC cinematic universe, referencing events from Batman v Superman and alluding to next year's Justice League, which will feature Batman, Superman, the Flash and others. But what's supposed to be so liberating about this film — the fact that it features ruthless villains as the heroes — evaporates once it becomes obvious that Deadshot and his cohorts aren't really horrible people. They're just misunderstood, and so the characters' search for redemption isn't particularly rewarding.
And for all the pre-release buzz surrounding Leto's transformation into the Joker, he's barely in the film, mostly serving as an off-screen menace who might strike at any moment. Closer in spirit to Heath Ledger's definitive, brilliantly sadistic portrayal than Jack Nicholson's hammier turn, the Oscar-winner's performance ends up a perfect metaphor for Suicide Squad: It's a lot of fuss and effort to seem subversive, but to surprisingly little effect.
Production companies: RatPac-Dune Entertainment, Atlas Entertainment
Worldwide distribution: Warner Bros., www.warnerbros.com
Producers: Charles Roven, Richard Suckle
Executive producers: Zack Snyder, Deborah Snyder, Colin Wilson, Geoff Johns, Steven Mnuchin
Screenplay: David Ayer, based on characters from DC Entertainment
Cinematography: Roman Vasyanov
Production design: Oliver Scholl
Editor: John Gilroy
Music: Steven Price
Website: www.suicidesquad.com
Main Cast: Will Smith, Jared Leto, Margot Robbie, Joel Kinnaman, Viola Davis, Jai Courtney, Jay Hernandez, Adewale Akinnuoye-Agbaje, Ike Barinholtz, Scott Eastwood, Cara Delevingne