Udo Kier stars in this touching story of a retired Ohio hairdresser on one last job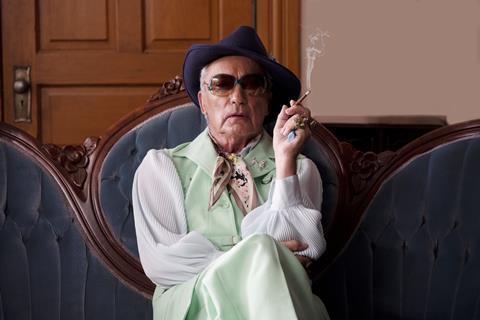 Dir/scr: Todd Stephens. US. 2021. 105mins.
In Swan Song, an elderly hairdresser decides to take on one last job — setting in motion an unexpected journey into his past and the regrets he has tried to forget. Udo Kier gives a performance that balances between tenderness and irreverence, resulting in a character study that doubles as an elegy for a generation of gay men and women devastated by AIDS and intolerance. Drawing inspiration from a mentor who died about a decade ago, writer-director Todd Stephens can allow quirkiness to overwhelm the thin narrative, but the story's emotional underpinnings guide the film past its occasional rough spots.
A younger generation's touching attempt to acknowledge a debt
Kier has developed a cult following thanks to his off-kilter performances, often of sadistic or peculiar men, so it may throw fans to see him in this change-of-pace role as an idiosyncratic but gentle individual. Premiering at SXSW, Swan Song should see additional festival play at least, with the low-key tone possibly evoking comparisons to another tale of an older man on an odd quest: The Straight Story.
Set in the small town of Sandusky, Ohio, the picture opens in a nursing home, where Pat (Kier), a retired hairdresser, seems content to sleep the rest of his life away. Asked to work his magic on Rita Parker Sloan (Linda Evans), a longtime client who has just died, Pat is initially resistant, but he can't turn down the big payday associated with making her look gorgeous for her funeral. Breaking out of the home, Pat travels by foot around town to pick up beauty supplies — and to take care of some unfinished business, including visiting the grave of his deceased partner David.
Stephens (Edge Of Seventeen, Another Gay Movie) has based the screenplay on a real-life hairdresser, Pat Pitsenbarger, whom he befriended in the 1980s. This love letter benefits from Kier's almost alien-like air, which proves helpful in depicting this elegant gentleman who has spent his life hiding part of himself. Throughout much of the picture, Pat is surrounded by straight characters, and although American society isn't as bigoted as it was in his youth, Kier demonstrates how the hairdresser remains guarded, only referring to David (who died from AIDS) as "my friend".
The world Pat finds outside of the nursing home is rapidly changing. The longtime gay bar where he used to dance is being turned into a trendy brewery, while an economic slowdown seems to have gutted much of the local industries. Chris Stephens' wistful score underlines Pat's encroaching mortality — to say nothing of his disappointment that he doesn't recognise much about this small town anymore. (On a couple of occasions when Pat does connect with old friends, Swan Song eventually clues in the viewer that these individuals are only in his imagination.)
Stephens can let Pat become a little too adorable — for instance, dressing Kier in a whimsical pink hat which is meant to be especially funny juxtaposed with the actor's patented stoney deadpan expression. These stabs at impish humour risk reducing Pat to a cutesy caricature who's not nearly as interesting as the pained individual who starts to emerge. (In addition, some of the supporting cast, including Jennifer Coolidge as a former employee who opened her own, much more successful beauty shop, are a bit broadly conceived.) But Pat's grief over David — paired with his growing understanding that this job may end up being a one-way trip — lends a pathos to the film's later sections as he makes peace with past hurts.
However, Swan Song's most poignant point is also its most subtle. Wherever Pat looks around, he either bumps into former clients who were personally impacted by him or discovers a far more welcoming society for young gay men and women. Only now, at the end of his days, does Pat see the better world that he helped create without even knowing it. Kier hones in on what's bittersweet about Pat's realisation that he's now too old to fully enjoy this new reality. Despite its flaws, Swan Song is a younger generation's touching attempt to acknowledge that debt.
Production company: Luna Pictures
International sales: XYZ, pip@xyzfilms.com
Producers: Todd Stephens, Eric Eisenbrey, Stephen Israel, Rhet Topham, Tim Kaltenecker
Production design: Kassandra DeAngelis
Editing: Spencer Schilly, Santiago Figueira W.
Cinematography: Jackson Warner Lewis
Music: Chris Stephens
Main cast: Udo Kier, Jennifer Coolidge, Ira Hawkins, Stephanie McVay, Michael Urie, Linda Evans