Estonia's Oscar entry turns the tables on conventional gender roles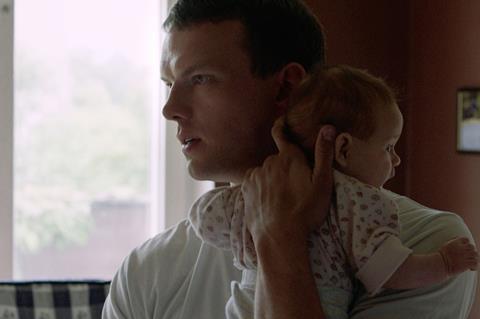 Dir. Liina Trishkina. Estonia. 2018. 102 mins
Thirty-year-old Erik is drifting through life. Estonian by birth, he is working long hours on a Finnish construction site. By night, he glowers over his pint at the girls who try and involve him in their good times. His work buddy plans to move on, somewhere sunnier and less concrete-coloured, but Erik shrugs that he can't be bothered to go further. "This will do." Then out of the blue, his ex-girlfriend Moonika calls. She's about to go into labour with a baby she doesn't want. His choice is stark. Either he steps up and takes sole custody, or the infant girl will be put up for adoption. Solid, no frills storytelling showcases impressive performances across the board, particularly from Reimo Sagor as Erik.
The approach may be familiar – there's a kinship here with Dardennes brothers-style social commentary – but this empathetic study of conflicted Baltic masculinity is sufficiently distinctive thematically to intrigue an arthouse audience. Estonia's submission for the Foreign Language Academy Award, Take It Or Leave It screens in Tallinn having already been released domestically. Further festival interest seems likely.
The film, which is based on a true story, captures beautifully the precarious balancing act of caring for a newborn.
We can tell, early on, that Erik is a bit of a loose cannon. The handheld camera seeks out the way that women – a stranger in the bar, the mother of his ex-girlfriend – involuntarily flinch away from his anger. He is the kind of man who doesn't seem to be able to defuse his rage once it has taken hold. But we can also see the source of a lot of his inner conflict. From the moment that he decides he has to try and be a father to the child, his overbearing mother chips away at his self-esteem. How, she demands, can someone who can't look after himself take responsibility for another being? It's a fair question, but her constant harping relegates Erik to the benches; he glumly drinks schnapps with his father in front of the football, while his mother effortlessly juggles nappies and recriminations.
It's not sustainable. The longer he spends with his mother, the more he feels like a failure. So Erik bundles up the child and loads a bulk pack of nappies into the car, with the intention of striking out on his own. But solo parenting is harder than he could ever have imagined. The film, which is based on a true story, captures beautifully the precarious balancing act of caring for a newborn. Erik makes mistakes, some of them serious.
There's a turning point, however, when he catches himself shouting into the face of his crying child, and, possibly for the first time in his life, he checks himself. It's a small thing, bit for this hothead who is used to thinking with his fists, it's a turning point. But just when it seems that Erik has got parenting sussed, Moonika turns up again. And Erik must face the very real possibility that the childmight be taken from him. By flipping the conventional gender roles, this sensitively handled drama offers a timely fresh perspective on the single parent narrative.
Production companies: Allfilm/International Sales: allfilm@allfilm.ee
Producer: Ivo Felt
Screenplay: Liina Triškina-Vanhatalo
Editing: Tambet Tasuja
Cinematography: Erik Põllumaa
Production design: Markku Pätilä
Music: Sten Šeripov
Main cast: Reimo Sagor, Nora Altrov, Adeele Sepp, Liis Lass, Epp Eespäev, Emily Viikman, Andres Mähar, Egon Nuter, Mait Malmsten