Dirs: Kwok Zune, Wong Fei-pang, Jevons Au, Chow Kwun-wai, Ng Ka-leung. Hong Kong, 2015, 103 mins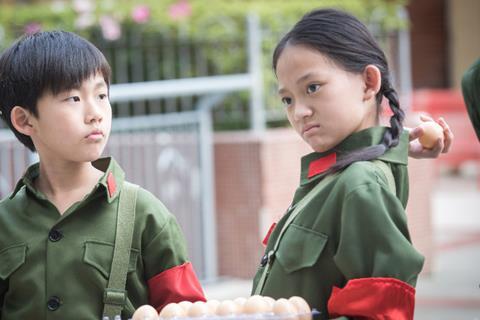 Rarely has Hong Kong politics been addressed as overtly as in Ten Years, a speculative science fiction anthology from a quintet of the city's most promising young directors. Depicting a dystopian future a decade from now, five vignettes reveal the anxieties, fears and inevitable truths of mainland China's strengthening grip on the former British colony.
Ten Years suggests that not only is there an artistic determination to speak out against socio-political change, there is also an audience waiting for it
After debuting at the Hong Kong Asian Film Festival last October, Ten Years opened theatrically on a single screen in Hong Kong in December where it outsold Star Wars: The Force Awakens. Local distributor Golden Scene has since acquired worldwide sales rights, which bodes well for the film's future. Ten Years won't be playing in China anytime soon, but after securing a booth at the upcoming Hong Kong International Film Festival, it should travel on that circuit where it will attract anyone with an interest in the city's volatile political climate.
In September 2014, the Occupy Central movement clashed violently with police in Hong Kong's city centre, leading to a 75-day occupation of three city districts, and brought Hong Kong's growing dissatisfaction with escalating mainland interference and lack of universal suffrage to the world's attention. Emerging from this unrest - into an environment still plagued by scandals including the disappearance of five local publishers of literature banned in China - Ten Years portrays Hong Kong circa 2025 as a terrifying Orwellian police state. The city is policed by a brainwashed Youth Guard, the Cantonese dialect and even phrases such as "local" are being forced out of use, and political assassinations are orchestrated by shady Beijing officials to usher in restrictive new legislation.
Independent filmmaking with this degree of inflamatory content is unheard of in Hong Kong, especially in the current climatewhere little gets financed that has any chance of upsetting China's rigorous, opaque censors. That Ten Years exists at all is therefore something of a minor miracle, and that is also able to express its concerns with clarity, articulation and dramatic rigour makes it essential viewing.
Extras follows a pair of migrant workers hired to assassinate a local politician by a cabal of policymakers looking to fast-track a new National Security Law. Season of the End sees two museum archivists spiral into despair as they rally to preserve samples of local culture and wildlife. Dialect lays out the linguistic struggles of a Hong Kong taxi driver. Unable to speak Putonghua, he is prohibited from operating at border checkpoints or major business districts. National Education initiatives also mean his young son is being taught the official national language rather than Hong Kong's native Cantonese.
Self-Immolator sees a student activist attempt to identify a protestor who set himself alight outside the British Consulate, in protest against the UK's reluctance to enforce the Basic Law that protects Hong Kong's autonomy following the 1997 handover. Finally, Local Egg depicts a city under the tyrannical rule of a Red Guard-like Youth Guard, where language and literature are rigorously monitored, and local businesses and farms are failing fast.
Of the five directors, all in their thirties and fron Hong Kong, Jevons Au (Dialect) is the most established, having penned a number of screenplays for Johnnie To, including Vengeance, Don't Go Breaking My Heart and Drug War. Au is also one of the three directors of Trivisa, the To-produced thriller that will open this month's 40th Hong Kong International Film Festival. However, it was Local Egg's Ng Ka-leung who brought the collective together for Ten Years, together with fellow producer Andrew Choi, and while each brings a clear and unique authorial voice to their segment, the overlap of technical contributors help reinforce the film's overall stylistic cohesion.
On screen, character actor Liu Kai Chi (a favourite of Dante Lam) is the only familiar face in a cast notably devoid of star power. But the lack of A-list name recognition or flashy production values only makes the success of Ten Years all the more remarkable. These stories speak to a community deeply concerned about its future and the very real sense that Hong Kong's cultural identity is being swallowed up by China. Hong Kong's commercial film industry may have faltered irrevocably in the last decade or so, but Ten Years suggests that not only is there an artistic determination to speak out against socio-political change, there is also an audience waiting for it.
Production company: Ten Years Studio Limited
International sales: Golden Scene Co. Ltd (Felix Tsang: felix@goldenscene.com)
Producers: Andrew Choi, Ng Ka-Leung
Screenplay: Leung Pui-Pui, Fean Chung / Wong Ching, Wong Fei-Pang / Jevons Au, Ho Fung Lun, Chung Chui Yi, Lulu Yang / Chow Kwun-Wai / Ng Ka-Leung
Cinematography: Mike Mak, Lau Taz Kin, Ho Chiu Yuen, Twinsen Ng
Editor: Mike Mak, Lau Taz Kin, Ho Chiu Yuen, Twinsen Ng
Music: Chun Hor, Yang Zhichao, Herman Ip
Art direction: Vincent Cheung / Ma Wing Yu / Ho Fung Lun / G Tsu / Charlie Choi
Main Cast: Zerisawa Courtney Wu, Peter Chan / Lau Ho Chi, Wong Ching / Leung Kin Ping / Ng Siu Hin / Liu Kai Chi