Father-son duo Anil and Harshvarrdhan Kapoor deliver powerful performances in Netflix's neo-western-cum-noir-action-thriller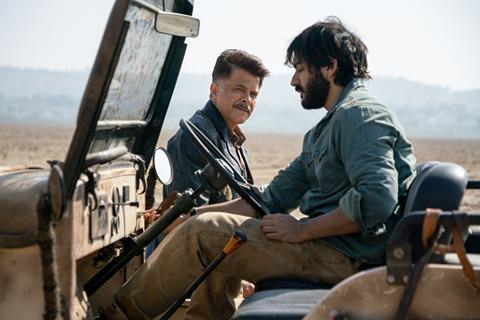 Dir: Raj Singh Chaudhary. India. 2022. 108 mins.
Genres collide and much blood is let in Raj Singh Chaudhary's neo-western-cum-noir-action-thriller, Thar. Toying with a range of conventions, Chaudhary twists the classic dynamic of cops and robbers into a tense mystery, where anyone could be the good, the bad or the ugly.
Chaudhary weaves self-reflexivity throughout, using Surekha as his mouthpiece to comment on the narrative from within
Father-son duo Anil and Harshvarrdhan Kapoor share the screen in their second pairing for Netflix, following the meta narrative of AK vs AK, about a filmmaker kidnapping the daughter of a movie star. It was Harshvarrdhan who brought the story to his father Anil's attention and the two serve as producers on the project, a first for Harshvarrdhan. Filmed in the western state of Rajasthan, not far from the India-Pakistan border, Thar impresses thanks to Shreya Dev Dube's gorgeously photographed vistas and Wasiq Khan's slick production design which elevate the narrative. Thar will be released on Netflix in 190 countries from May 6.
With a narration from police inspector Surekha (Anil Kapoor), the scene is set in a small village where very little has happened since partition. Until, that is, in 1985 when, as Surekha puts it, "the wind changed". A storm of unrest is on the horizon as mysterious outsider Siddharth (Harshvarrdhan Kapoor) blows into town, which just happens to be when the body count piles up.
A man in a tree is shot down, and later found bloody and hanged from its branches. Chaudhary's mystery is photographed at first in the spirit of a Sergio Leone spaghetti western: all we see of the killer are his dusty boots and the side of his gun in close-up as a familiar twang sets the score in motion. But these well-worn tropes are soon discarded as Ajay Jayanthi's score blends with a pungi and then an electric guitar; and as the sunset dissolves to embers, a secret night-time encounter between two lovers takes place.
They are interrupted by a chaotic and blood-spattered armed robbery. Surekha and his deputy Bhure (Satish Kaushik) cannot make head nor tail of it. Everyone is under suspicion, but the disquiet is significantly heightened by the appearance of antiques dealer Siddharth who is looking to hire a few men to help him with "a job in the city". A man of few words, it is uncertain if this hardened outsider is the hero or the villain of the piece, his presence raising more than a few eyebrows when he is invited in for tea by the beautiful Chetna (Fatima Shana Shaikh), whose husband is away for work. Surekha and Bhure are thrilled to finally have a worthy mystery to solve – but something doesn't add up: there is evidence that bandits are behind it, headed up by Hanif Khan, a known Pakistani drug smuggler, but when they found the body hanging from the tree, the killer has taken an ear and left the opium behind. Thus the western has stepped into noir territory, and the clues are meta: Surekha has found a poster for an upcoming movie called 'Thar' and comments that it is "full of blood, drugs and violence."
Chaudhary weaves self-reflexivity throughout, using Surekha as his mouthpiece to comment on the narrative from within: "But somehow I have a feeling that this film is not about the main villain. Maybe the good guy is behind all this. Or maybe it's one of the supporting cast. Who knows? It could be the heroine." Presumed, until now, to be the good guy, Surekha has just become an unreliable narrator. Chaudhary constantly shifts gears in this way, keeping the audience on their toes. Nothing is simple out on the barren plains, up in the rocky mountains or down in the once quiet villages of Rajasthan.
Through a drone captured birds-eye-view, the incredible and almost otherworldly border landscape crows, "anything can happen". Set at a time when administrative legislation in India was tightening up, specifically around drugs and terrorism (1985 was the year the Narcotic Drugs and Psychotropic Substances and the Terrorist and Disruptive Activities Prevention Acts came into effect), Thar is the storm that the desert has long anticipated. And in the eye of the storm are two powerful performances from Anil and Harshvarrdhan. Rugged, battered, yet far from ugly, the pair play good and bad until the wind finally slows.
Production Companies: Anil Kapoor Film & Communication Network
Worldwide distribution: Netflix
Producers: Anil Kapoor, Harshvarrdhan Kapoor
Screenplay: Raj Singh Chaudhary, Anurag Kashyap (dialogue)
Cinematography: Shreya Dev Dube
Editing: Aarti Bajaj
Production design: Wasiq Khan
Music: Ajay Jayanthi
Main cast: Anil Kapoor, Harshvarrdhan Kapoor, Fatima Shana Shaikh, Satish Kaushik, Jitendra Joshi, Sanjay Bishnoi, Sanjay Dadhich, Akkshay Gunaawat, Suraj Vyas, Rahul Singh