A talking-point film by Ivan Attal, starring his son Ben as a student accused of rape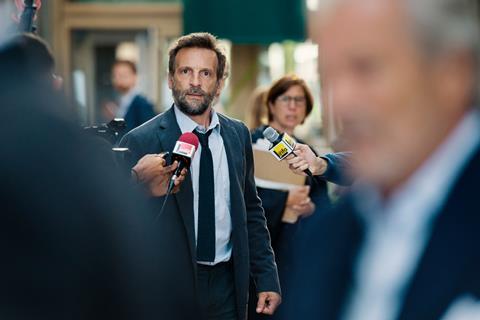 Dir. Yvan Attal. France. 2021. 138 mins.

Yvan Attal's The Accusation feels as if it has been precision-engineered to start heated arguments at Parisian dinner parties. It certainly will succeed at that, at least among upmarket viewers who don't object too much to being brazenly manipulated, or flattered for their discerning intelligence.
It's all too calculated to really breathe as drama, though it's undeniably intelligent, classily mounted and well acted all round
Director and sometime actor Attal stays strictly behind the camera for his considerably more serious-minded follow-up to 2019's My Dog Stupid. His seventh feature and self-consciously elegant thriller, is an adaptation of a 2019 novel by Karine Tull, and is one of those dramas that effectively point at the middle-class adult viewer and ask, "What would you do if…?" In France, where it's due for November release, expect the think pieces to come flying thick and fast. Elsewhere, platforms and outlets with an eye for modish Euro-product will make it work for them.
The English title refers directly to a charge of rape brought against the scion of a divorced power couple working in the Parisian media. Ben Attal – the director's son, who has consistently appeared in his films – plays Alexandre Farel, an engineering student at Stanford who has returned to Paris for the ceremony in which his father Jean (Pierre Arditi) will be admitted to the illustrious Légion d'Honneur. But Jean, a cantankerous grand old man of French TV and a lifelong womaniser, is too worried about his award, and his show, to make contact; he's also distracted by a surprise encounter with a much younger woman, intern Quitterie (Camille Razat).
Meanwhile, Jean's columnist ex Claire (Charlotte Gainsbourg) is getting into hot water discussing rape on a radio show, accused of playing into the hands of the far right. But her zero-tolerance stance on sexual assault will be tested when it's her own son who is charged with rape – and moreover, by Mila (Suzanne Jouannet), the daughter of Claire's new boyfriend Adam (Mathieu Kassovitz) and his Orthodox Jewish ex (Audrey Dana). Mila has accompanied Alexandre to a party, where something has happened between them that brings the police to the boy's door the next day. How the drama plays out is evoked in four chapters, one each focusing on Alexandre and Mila, a third jumping 30 months to Alexandre's trial, and a fourth consisting of courtroom summings-up, with flashbacks – oddly, framed in Academy ratio – providing glimpses of what really happened on the fateful night.
It's in this final section that the film jumps into the grandstanding high register of legal dramas of yore. Revered veteran Arditi gets to play the indomitable barnstormer; Gainsbourg delivers a well-honed piece of rhetoric, as if Claire were fine-tuning her copy just before deadline; and by the time Judith Chemla and Benjamin Lavernhe get their own impressive turns in the spotlight playing prosecuting and defending counsels, you fully expect the judge to turn to the jury and instruct them to award everyone present a César.
Before that, however, the first two parts introduce us to a cocooned Parisian world of influential media players living handsome lives and throwing their weight around – especially Jean, a cantankerous old thunderer who seems to take special delight in telling his ex-wife how her radio appearances could have been better. He also has a remarkably non-age-appropriate scene (even by French cinema standards) with his young intern, which ends in a fashion a little too obviously designed to wrong-foot us; while earlier, Alexandre and his own older ex (Laetitia Eido) review their sexts and falls into a torrid tussle in a hotel bar, a scene that resembles a Mel Brooks parody of a generic Gallic snogfest.
All of this takes place in a milieu of lifestyle-mag glossiness, with only the odd moment on the Metro bringing a dash of everyday realism. Overall, the film has an air of the well-made play (anyone know the French for 'Terence Rattigan'?), with a chic polish somewhat à la Claude Lelouch, while its script is spiked with key references that will make The Accusation prime material for French radio phone-in shows: male violence, privilege, social media, the MeToo legacy.
It's all too calculated to really breathe as drama, though it's undeniably intelligent, classily mounted and well acted all round. Attal Jr is both sympathetic and increasingly rebarbative as Alexandre reveals his politely concealed 'bro' side, while newcomer Jouannet establishes herself as one to watch – and it's a safe bet, will be watched when both young actors carve up the French chat show circuit this autumn.
Production companies: Curiosa Films, Films Sous Influence, Gaumont, France 2 Cinema
International sales: Gaumont, adeline.falampin@gaumont.com
Producers: Olivier Delbosc, Yvan Attal, Sidonie Dumas
Screenplay: Yaël Langmann, Yvan Attal
Based on the novel Les Choses Humaines by Karine Tull
Production design: Samuel Deshors
Music: Mathieu Lamboley
Main cast: Charlotte Gainsbourg, Mathieu Kassovitz, Pierre Arditi, Ben Attal