Keira Knightley and Alexander Skarsgard star as illicit lovers in post-World War II Hamburg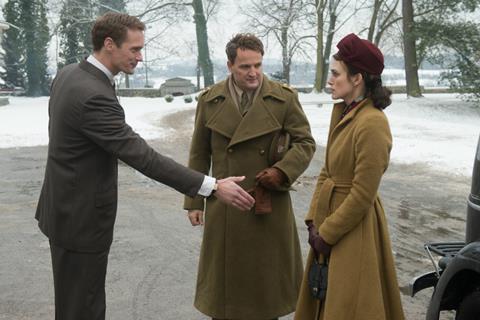 Dir. James Kent. Germany/UK. 2019. 109mins
As The Favourite limbers up for the Academy Awards, director James Kent (Testament Of Youth) brings British-made period drama back to basics with a solid and – perhaps appropriately – gloomy post-war love story set in a ravaged Hamburg of 1945. The Aftermath features Keira Knightley, Alexander Skarsgård, and Jason Clarke in a romantic triangle in which Clarke, surprisingly, shines by far the brightest. All three characters are grappling with the past in a city destroyed by it.
The Aftermath works best when looking at the bewildered people who have been left behind, literally, to pick up the pieces
Opening in the UK on March 1 to be followed two weeks later in the US via Fox Searchlight, this BBC Films-backed production will undoubtedly be marketed as tasteful prestige fare, adapted from the novel by Rhidian Brook and shot entirely on location in Germany and the Czech Republic. Keira Knightley brings whispers of Atonement as she wafts disconsolately around a large mansion, peering through the window at a comely German widower played by Alexander Skarsgård. Calling to mind Steven Soderbergh's The Good German, lushly coloured in, this stodgy drama is elevated by the presence of Australian actor Clarke, who commands attention a as the weary British Colonel weighed down by years of incessant tragedy.
Kent's film plunges the viewer into Hamburg, five months after the Allied victory, as Rachel (Knightley) steps off a train to meet the husband she hasn't seen in years. A small boy reads from a pamphlet: "You are about to meet strange people, in a strange enemy country". It seems as if her husband Colonel Lewis Morgan (Clarke) is the strangest to her.
The couple have lost a son to the Nazi bombing of London and are struggling to connect with each other. She is staunchly anti-German; years of war have given him a more nuanced outlook. "We dropped more bombs in Hamburg on one weekend than fell on London in the whole of the war," he tells her. The British have requisitioned a large villa for the couple to live in; its owner, architect Stephan Lubert (Skarsgard) is relegated to the attic with his teenage daughter Freda (Flora Thiemann). Knightley doesn't think they should be there at all, but sent off to a camp.
One thing is certain: everyone under this requisitioned roof is unhappy, harbouring resentment, unspoken feelings and occasional flashes of anger. Yet it's a far easier proposition for mutual antipathy to suddenly turn to passion on the page than it is on the screen. So, despite Knightley's sexual frustration and the suspicion that Lubert's cable knit sweaters might harbour a sculpted gym-rat body beneath, when the moment comes, it's all a bit abrupt and unconvincing. Still, the encounter certainly puts the smile back on Rachel's face.
Meanwhile, in the real world – and perhaps a different, more nuanced film – Colonel Morgan struggles with the German resistance and the die-hard Nazi '88' movement, who have seduced Lubert's surly teenage daughter, still mourning her mother's death in a British bombing raid. There's a suspicious Major (Martin Compston) who hasn't fallen for Lubert's charms and refuses to give him travel papers, and his equally suspicious wife (Kate Phillips) who senses that Knightley's affections are compromised, to put it mildly.
The Aftermath works best when looking at the bewildered people who have been left behind, literally, to pick up the pieces. The savage loss of family members still reverberates through empty rooms and ruined landscapes. And Colonel Morgan has more to his CV than he can bear to speak about. These more complicated emotions work together to make the film's denouement genuinely moving, despite some very turgid sequences to get there.
Although The Aftermath does flirt with elements of suspense, life and death in a city on the brink, these play second fiddle to the romantic potential of Knightley in period costume and Skaarsgard as a hunky widower. Despite its solid production values and tasteful edit, this film seems to swoon at the prospect of a naked Keira Knightley and Alexander Skarsgård. Both, of course, are strong commercial selling points to a particular audience who, if they won't come out to the movies, will certainly love to stay in and watch this return to period film factory settings.
Production companies: Scott Free Films, Amusement Park Films
International distribution: Fox Searchlight
Producers: Jack Arbuthnott, Malte Grunert
Screenplay: Joe Shrapnel, Anna Waterhouse, Rhidian Brook, based on the novel by Brook
Cinematography: Franz Lustig
Production design: Sonja Klaus
Editor: Beverley Mills
Music: Martin Phipps,
Main cast: Keira Knightley, Alexander Skarsgård, Jason Clarke, Flora Thiemann, Jannik Schumann, Kate Phillips, Martin Compston