Naomi Watts gives all she's got to Colin Trevorrow's daring, reckless, yet original film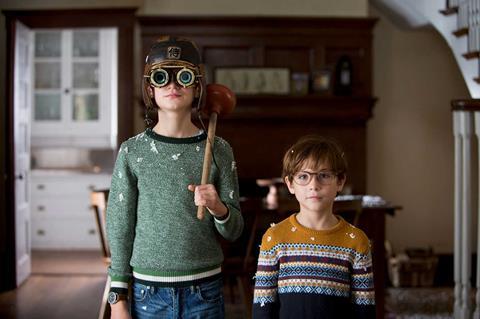 Dir: Colin Trevorrow. US. 2016. 105mins
A nervy, wilfully preposterous study of motherhood and loss, The Book Of Henry recklessly shifts between tones and genres, never predictably but rarely satisfyingly. Naomi Watts gives a committed, grounded performance as a single mother who finds herself surprisingly agreeable to doing whatever it takes to stay connected to her beloved older son. Few films aspire to be both a mawkish tearjerker and a Hitchcockian thriller, and The Book Of Henry makes a pretty convincing case why more shouldn't.
The Book Of Henry pushes its plausibility to a breaking point far too soon
Premiering at L.A. Film Festival, this Focus Features release comes to US theatres on June 16 where audiences who might be attracted to a drama starring Watts and Room's Jacob Tremblay won't get what they're expecting. The UK follows suit a week later, on June 23, via Universal.
Watts plays Susan, who lives in upstate New York with her two sons: brilliant 11 year-old Henry (Jaeden Lieberher) and bashful eight year-old Peter (Tremblay). Divorced and working as a waitress, Susan is a bit of a mess, relying on Henry to handle the family finances and offer emotional support to his mother. But after he's diagnosed with a brain tumour, Susan realises she'll need to be more independent — a discovery that dovetails with her discovery of a book by Henry which details his belief that their intimidating next-door neighbour Glenn (Dean Norris) is abusing his stepdaughter Christina (Maddie Ziegler).
Any review of The Book Of Henry must be careful not to spoil too many plot twists. But let it be said that director Colin Trevorrow (Safety Not Guaranteed, Jurassic World) has crafted a film that begins as a seemingly straightforward family film, only to lunge toward treacly melodrama before growing darker and more audacious — not to mention more stunningly ludicrous — in its second half.
On the one hand, novelist Gregg Hurwitz's screenplay embraces its own absurdity, letting the convoluted narrative — which, inexplicably, eventually incorporates high-powered rifles and spy-movie-like reconnaissance missions — serve as an extreme illustration of what a parent will do to distract herself from the inevitable grief that accompanies life with a sick child. But on the other, The Book Of Henry pushes its plausibility to a breaking point far too soon.
The only thing saving the film from utter catastrophe is Watts. This Oscar-nominated actress is a veteran risk-taker, demonstrating in movies such as Mulholland Dr., 21 Grams, Mother And Child and The Impossible a fearlessness about laying herself bare and playing characters pulverised by their grief and disillusionment. As Susan, she gives a raw portrayal of a woman struggling to raise two boys who becomes obsessed with exposing Glenn's crimes — in part because she wants to honour Henry's sweet spirit. It's the sort of high-wire role that could easily leave Watts looking ridiculous — and to be sure, the filmmakers often fail to support her daring. But even when The Book Of Henry flies off the rails, she earns our respect because she consistently sells Susan's desperation and mourning.
Watts' cast mates aren't as capable. Tremblay doesn't have a role as smart and tough as he did in Room, forcing him to mostly play adorable. Lieberher plays the umpteenth iteration of the precocious, sensitive boy, and although he's convincing, there's not much new terrain to explore. Ziegler possesses the right amount of melancholy beauty as the withdrawn Christina who captures Henry's heart. Norris has the beady eyes and snarling countenance of the prototypical nightmare neighbour, while Lee Pace overdoes his dreamboat-doctor character who takes an interest in Susan's family.
On a final note, The Book Of Henry's failure is more dispiriting because it's one of the few recent examples of Hollywood making a film from an original screenplay with major stars and a blockbuster director. Scored by Oscar-winner Michael Giacchino and shot by Jurassic World lenser John Schwartzman on 35mm — a rarity these days — the movie sounds and looks impressive for a relatively low-budget production.
Production companies: Sidney Kimmel Entertainment, Double Nickel Entertainment
US distribution: Focus Features, www.focusfeatures.com
Producers: Sidney Kimmel, Carla Hacken, Jenette Kahn, Adam Richman
Executive producers: Sue Baden-Powell, John Penotti, Nick Meyer, Bruce Toll
Screenplay: Gregg Hurwitz
Cinematography: John Schwartzman
Production design: Kalina Ivanov
Editor: Kevin Stitt
Music: Michael Giacchino
Website: www.focusfeatures.com/thebookofhenry
Main Cast: Naomi Watts, Jaeden Lieberher, Jacob Tremblay, Sarah Silverman, Lee Pace, Maddie Ziegler, Tonya Pinkins, Dean Norris