Korea's most prolific director delivers more of the same in his third film - so far - this year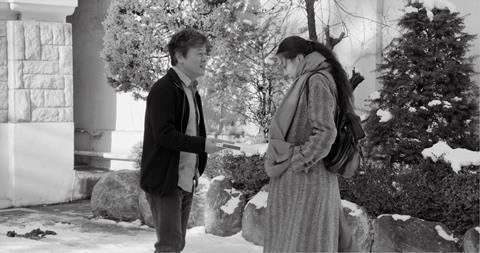 Dir. Hong Sangsoo. Korea. 2017. 92 mins.
Pretty much the archetypal Hong Sangsoo film, The Day After combines many of the director's prefered themes: mistaken identity; infidelity, repetition and long soju-sodden conversations across dinner tables. However, all but the most dedicated fans of the director's work might find this story a little too diffuse and meandering, its rewards too deeply buried beneath the evasive wordiness.
There is is a sense that Hong Sangsoo might be spreading himself a little thinly
This is one of two films by the director which screen in Cannes this year; the other, Claire's Camera, was placed in an Out of Competition slot. Given that Hong also had a film in competition at Berlin this year, there is is a sense that he might be spreading himself a little thinly. Neither as formally playful as Right Now, Wrong Then, nor as intriguing and elliptical as Yourself And Yours, this is a minor addition to the director's canon. As such, it will appeal most to committed fans and completists on the festival circuit. Although the presence of The Handmaiden's poised star Kim Min-hee in the cast might raise its profile, theatrical prospects for the film might be limited outside of territories in which the director's name is a selling point.
Shot in sparse black and white, in a series of long takes, the film explores the relationship between a boss of a publishing company (Kwon Haehyo) and three women. A fractured timeline makes the plot needlessly complicated at times. An opening shot, which, like most of the key scenes, plays out across a table while noodles are slurped and soju is sipped, introduces us to the man and his wife (Cho Yun-hee). "Your face has changed," she says, troubled, before accusing him of having an affair. He laughs, a kind of panicky, embarrassed mirthless cough; stares into his bowl, and avoids answering.
We meet him again, with his girlfriend Chang-sook (Kim Sae-byuk), his assistant at his company. So drunk he has started to blur around the edges, the man hauls her into a stairwell where they kiss and fawn over each other. Another shot shows the man, alone, sitting on the park's municipal fitness equipment and weeping.
The main body of the film comes when we are introduced to the self-possessed Areum (Min-hee). It is her first day at a new job. Call me 'Boss', says the man, unctuously, before interrogating the young woman about her family life and living arrangements. Over lunch, she expertly panders to his ego, complimenting him on his lack of neck wrinkles for a man of his age. "You noticed that?" he says, puffing up happily. Then she deftly deflates him with a philosophical discussion about the nature of reality which leave him blustering and spluttering a half-baked answer. Areum isn't having it: "That is cowardly and lazy," she says sweetly, in response to his answer. Like the comment about his changed face, this is one of the lines which is repeated elsewhere in a different context. It's a sly little device which suggest that this is a man who is doomed to repeat himself.
A violent confrontation with the man's wife, who assaults Areum, mistaking her for the previous assistant and her husband's lover, is the event which triggers the bout of soju-fuelled introspection which constitutes much of the rest of the film. Sparse music does little to tie together this impressively acted, but fragmented story.
Production company: Jeomwonsa Film Co
International sales: Finecut cineinfo@finecut.co.kr
Screenplay: Hong Sangsoo
Cinematography: Kim Hyung-koo
Editor: Hahm Sung-won
Music: Hong Sangsoo
Main cast: Kwon Hae-hyo, Kim Min-hee, Kim Sae-byuk, Cho Yun-hee