Dir/scr. Cris Jones. Australia, 2016, 84 mins.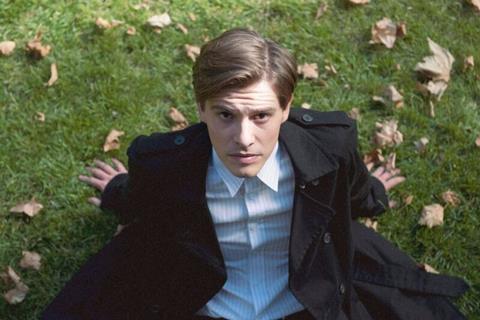 "He's smart, he's sexy, he's from the future — what more could you want?" gushes a talkback caller about The Death and Life of Otto Bloom's eponymous figure (Xavier Samuel). First-time feature filmmaker Cris Jones hopes audiences will agree with the question, because there's not that much more to the Australian writer/director's ambitious long-form debut than the enigma surrounding his protagonist. The idea behind the character certainly proves intriguing, but the execution never quite satisfies.
Xavier Samuel is consistently outshone by the mother-daughter team of Rachel Ward and Matilda Brown playing different versions of the same character
Finding inspiration in an Albert Einstein-penned letter about the illusory nature of time and death, Jones - director of award-winning shorts The Heisenberg Principle, Excursion and The Funk - tries to twist the famed scientist's philosophical musings into a mysterious love story. It's an odd combination, or, at least, an exceedingly quirky one. That's to be expected when a film focuses on a man who experiences time in reverse, and therefore loses memories from his life rather than gains them, yet still ages in the usual manner (providing commonalities with the fractured recollections of Memento as well as the seemingly but only superficially similar The Curious Case of Benjamin Button).
Kicking off the 2016 Melbourne International Film Festival and following in the footsteps of 2014's locally made opener Predestination, this sci-fi-leaning effort will likely pique viewers' interest with its premise, though the feature's fortunes for general release and on the international festival circuit are less assured.
Otto Bloom is called many things in the movie's opening moments: freak, fraud, miracle, madman, saviour, and sham. Such labels stem first from an assemblage of news headlines, and then from the mouths of those that knew him best or consider themselves experts in his unconventional existence. Chatting to the camera in the talking-head interviews that comprise the bulk of the film, Dr Ada Fitzgerald (Rachel Ward) proves The Death and Life of Otto Bloom's primary narrator. In lengthy remembrances segmented by title cards, she shares the story of Bloom's discovery in the early 1980s, the condition she named retrochronology, their subsequent romance, his career as an artist, and the varied public reaction to his temporal plight.
Accompanying accounts — from the policeman (Terry Camilleri) who first found Bloom, a philosopher (Jacek Koman) who took a shine to his way of viewing the world, a physicist (John Gaden) interested in the theoretical underpinnings of his experience, an art critic (Suzy Cato-Gashler) fascinated by his creative work, and a manager (Tyler Coppin) involved in his later years — help fill in the gaps, as do snippets of footage. Through vision compiled from surveillance cameras, home videos, and the media, glimpses of Bloom's life play out on screen, with Fitzgerald's younger self (Matilda Brown) a frequent presence.
Of course, as shot by cinematographer László Baranyai (Downriver) and edited by Bill Murphy (Ernie Biscuit), the documentary-esque approach is merely a storytelling construction. Though lacking any trace of a mocking tone, Jones' decision to apply the Errol Morris method of factual filmmaking to a fictional tale calls attention to the slight nature of the underlying content more than any stylistic or narrative inventiveness.
Accordingly, while The Death and Life of Otto Bloom is predicated upon a clever idea and ties into Australia's current wave of high-concept efforts — including 2014's The Infinite Man — it is never as substantial, involving, or convincing as it aims to be. Instead, the movie relies heavily on its structural conceit to deliver exposition and sentiment, and explain its underlying notion, the latter overtly, simplistically, and to the point of repetition.
The cast's fortunes are similarly mixed, and just as constrained by the faux-doco format. As Bloom, Samuel is suitably inscrutable as required — even if it's distancing in an effort so heavily focused on eliciting an emotional impact — but he's consistently outshone by the mother-daughter team of Ward and Brown playing different versions of the same character. Getting actor-turned-helmer Ward (an Australian Film Institute directing nominee for 2009's Beautiful Kate) back on screen for the first time since 2007 proves the film's true highlight, while rising talent Brown is afforded her most significant showcase to date. They're never less than memorable, though the feature that they're in sadly doesn't share the same fate.
Production company: Optimism Film
Sales: Global Screen, info@globalscreen.de
Producers: Melanie Coombs, Alicia Brown, Mish Armstrong
Executive producers: Shaun Miller, Jonathan Page
Cinematography: László Baranyai
Editor: Bill Murphy
Music: Paul Gillett
Production designer: Ben Morieson
Main cast: Xavier Samuel, Rachel Ward, Matilda Brown.