Winner of the Jury Prize at IDFA, this documentary looks at the reckless courage of an incendiary man in Iraq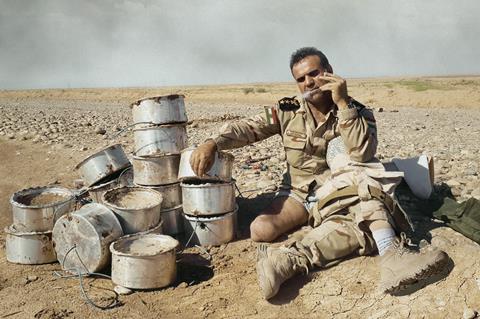 Dir. Hogir Hirori, Shinwar Kamal. Sweden/Iraq. 2017. 83 mins.
In no sense a bomb disposal expert as we know them, Colonel Fakhir is a deminer, or de-miner, a Kurdish father of eight serving in the Iraqi army in the immediate wake of the fall of Saddam Hussein. He rips apart booby traps with his bare hands, uses a pickaxe to excavate mines, and snaps the cords to gallons of explosive with garden pliers. Editing a briefcase full of home videos shot by Fakhir in the course of his work, Hogir Hirori and Shinwar Kamal's 83-minute documentary is almost unbearable to watch as it documents the Colonel going about his business. The lethal bombs he diffuses are too cheap to have a timer – they run from mobile phones – but the clock is always ticking for Fakhir as Al Queda moves in on Mosul.
Fakhir's wife and oldest son give tearful testimony to the camera today about a man they call a hero but they still struggle to understand
Bought by Dogwoof on the eve of its world premiere at IDFA, The Deminer takes place in the same milieu and roughly the same timeframe as last year's winner, Nowhere To Hide. That was a first-person document shot by a paramedic forced to flee Jawala, caught between ISIS and the Kurdish Peshmurga. Here, Colonel Fakhir eventually helps the Peshmurga as they try to make the terrain safe in his native Duhok; it's shocking how ridden with devices the place is. Some are huge, designed to blow entire streets sky-high, yet Fakhir still approaches them with a penknife.
The Deminer should appeal to audiences of Nowhere To Hide and recent Syrian docs, particularly Last Men In Aleppo. Fakhir calls to mind Khaled Omar Harrah of the White Helmets, in that he is a man who seems haunted wherever he goes – even when that is back to his wife and noisy children after losing a leg in an explosion in 2008. It's no surprise to see Fakhir rejoin the fray in 2014, when the locally-based Kamal begins to shoot footage of him at work for the Peshmurga in Duhok (earlier sequence mainly use his own home-video material).
Although he's personally quite remote and a chronic risk-taker, Fakhir is also a loving father and husband. As with Khaled, nothing he says ever seems to justify the outrageous risks he takes with his own life. His companions, many of them US military in Mosul, urge him to take more care, but he responds by switching off his radio. His heedless urge to save lives seems to turn into an addiction before our eyes; his wife and older son give tearful testimony to the camera today about a man they call a hero but they still struggle to understand.
Although much of the footage is amateur and crudely effective, The Deminer's more recent material is subtle and intriguing, showing the beauty of light as it plays against these cruel killing fields.
Production companies: Lolav Media
International sales: Dogwoof
Cinematography: Shinwar Kamal, Firas Bakrmani, Erik Vallsten
Screenplay: Hogir Hirori
Editor: Hogir Hirori
Music: Mohammed Zaki