Directors: Mariano Cohn, Gastón Duprat. Argentina-Spain. 2016. 118 mins.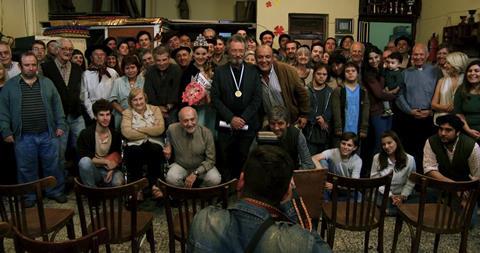 There's plenty of comic potential in The Distiguished Citizen's premise: a Nobel-prize-winning writer returns to the small Argentinian provincial town that he hasn't seen in forty years, to be feted by – and confronted with – the people and places that have provided him with most of his stories and inspirations.
Simmering resentments turn the comedy blacker as the increasingly exasperated Mantovani begins to war with the town that bred him
But in the hands of directing duo Mariano Cohn and Gaston Duprat this 2016 Venice competition contender becomes something deeper, darker and more resonant than a droll tale of an ill-advised homecoming. It touches on issues such as small-town conformism as a metaphor for national conformism, the difficult trade-off between artistic freedom and artistic responsibilities, and the way fame has become a value in itself, detached from merit – and is therefore as easily the object of contempt as admiration.
Released in Argentina by Buena Vista a few days after its Venice premiere, this most ambitious film to date from a duo known as much for their successful TV formats as for their left-field cinematic features and documentaries has enough international arthouse audience appeal to overcome a few socio-political references that only locals are likely to pick up on. It reads like a humorous contemporary companion piece, at times, to Pablo Larrain's recent Neruda, as a study of an ageing Latin American writer who refuses to lie down quietly and become a docile "national treasure".
Played with nuance and gusto by Oscar Martinez (Wild Tales), Daniel Mantovani is a famous novelist whose status and contrary character are both established neatly in an opening scene that sees him accepting the Nobel Prize for Literature from the Swedish Academy – and promptly making a barbed acceptance speech, in the presence of the king and queen, about how prizes like this inevitably signal the decline of an artist, the fact that his work can now be considered 'comfortable'.
After this prologue, the first of the film's five chapters sees Mantovani running through a pile of invitations in his sleek modernist villa with protective personal assistant Nuria (Navas), saying no to everything until an ingenuous 'honorary citzenship' request from the mayor of Salas, his hometown, stirs his curiosity. Instructing Nuria to clear his busy schedule, the literary celebrity – who hasn't been back in four decades – decides on an impulse to travel to Salas to accept the award from a town that "my characters were never able to leave, while I was never able to go back".
The small-town welcome begins as soon as Mantovani is picked up at the airport by a dim but genial Salas factotum. Soon, after a tyre blows on a remote country road, pages from one of the books the Nobel laureate has brought as gifts are being used to light a fire – and as toilet paper. The Distinguished Citizen gets away with moments of broad comedy like this largely because Mantovani himself is such an amused observer of human foibles and absurdities.
It's this narrative filter that gives the portrait of Salas that follows its multi-layered richness. We know instinctively, without needing to be told, that Mantovani has held up for scrutiny, in his novels, the provincialism of a town whose mayor mobilises the fire brigade and the local beauty queen to escort Salas in triumph though the streets of this sleepy backwater from his hotel – which he describes on the phone to Nuria as "like the set of a Romanian film".
Everyone in town wants a piece of the famous writer, and he is, at first, obligingly up for it, giving a hilarious interview to a cheesy local TV station and agreeing to be one of three judges in the annual town art competition, while he catches up with old acquaintances like his former best friend Antonio (Brieva) and girlfriend Irene (Frigerio) – who are now married to each other. But simmering resentments turn the comedy blacker as the increasingly exasperated Mantovani begins to war with the town that bred him and gave him so much material, and the film spirals into a dark cautionary tale about the dangers of revisiting the past, as well as a smart satire about how institutions and social groups perpetuate mediocrity in art, and life.
The DoP-directors' largely handheld shooting style gives a freshness to the comedy without pushing into mockumentary territory; but mostly it's the script, performances and sure sense of comic timing that make Cohn and Duprat's follow-up to The Man Next Door such a delight.
Production companies: Arco Libre, Televisión Abierta, Magma Cine, A Contracorriente Films
International sales: Latido Films, latido@latidofilms.com
Producers: Fernando Sokolowicz
Executive producers: Victoria Aizenstat, Manuel Monzón, Fernando Riera, Eduardo Escudero
Screenplay: Andres Duprat
Cinematography: Mariano Cohn, Gastón Duprat
Editor: Jeronimo Carranza
Production designer: Maria Eugenia Sueiro
Music: Toni M. Mir
Main cast: Oscar Martínez, Dady Brieva, Andrea Frigerio, Nora Navas, Manuel Vicente, Belén Chavanne, Gustavo Garzón, Julián Larquier, Emma Rivera