Dir/scr: Kelly Fremon Craig. US. 2016. 103mins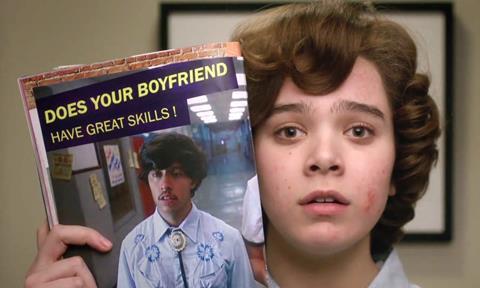 There's sweetness and a smidge of wisdom to be found in The Edge Of Seventeen, a likeable coming-of-age comedy-drama that's too generic to recommend but enjoyable enough to make you curious what its writer-director and stars will do next. The feature debut of filmmaker Kelly Fremon Craig chronicles the angst of its teen protagonist, who still feels rudderless four years after the death of her beloved father. Hailee Steinfeld finds some small grace notes amidst the typical plot points.
Craig doesn't radically alter the conventions of the coming-of-age narrative
After closing the Toronto Film Festival, The Edge Of Seventeen is scheduled for a November 18 US release. This is Steinfeld's biggest starring vehicle since earning an Oscar nomination for 2010's True Grit, going on to amass an impressive résumé in a short time by appearing in the likes of Pitch Perfect 2 and Ender's Game. With an ensemble that includes Woody Harrelson and Kyra Sedgwick, The Edge Of Seventeen will serve as mild counterprogramming against higher-profile films such as Arrival and Fantastic Beasts And Where To Find Them, catering to older teens and young adults but unlikely to cross over to any other demographics.
Steinfeld plays Nadine, a 17-year-old who's never been popular, clinging to her long-time best friend Krista (Haley Lu Richardson) as an emotional life raft. But when Krista starts dating Nadine's super-popular older brother Darian (Blake Jenner), she feels like a third wheel — not to mention utterly adrift and alone.
Fremon Craig doesn't radically alter the conventions of the coming-of-age narrative, and so a general predictability settles over the proceedings pretty quickly. With that said, though, she does a good job observing the relationships between her central characters. Nadine resents her high-achieving brother, who has always been the apple of their mother's (Sedgwick) eye, but there's an added tension in the family due to the fact that no one has fully gotten over dad's death, his passing a lingering, unaddressed wound. In minute ways, that silent grieving informs the siblings' strained connection — and it explains why Nadine considers Krista's hooking up with Darian such an act of betrayal.
Steinfeld doesn't embellish Nadine's social awkwardness or misanthropy, playing the character in a realistic fashion. Nadine is articulate and sensitive without being adorably so, and her interactions with a sarcastic but supportive teacher (Harrelson), though not terribly original, have a nice back-and-forth patter.
Even if The Edge Of Seventeen addresses familiar teen-drama scenarios — crushing on guys, feeling like your world is going to implode at any second — Steinfeld conveys the same confidence and poise that was apparent when she first came to audiences' attention with True Grit. Plus, she's willing to let Nadine be unpleasant, which is why one of the film's genuinely touching moments involves the character realising that her self-pity has actually blinded her to the sadness experienced by others around her.
Steinfeld's young co-stars also impress, with Richardson demonstrating Krista's anxiety about driving a deeper wedge between her best friend and her new boyfriend. Jenner works to make Darian not just a stereotypical golden child, hinting at the young man's struggle to be perfect. And Hayden Szeto has a few nice scenes as a shy classmate who takes a shine to Nadine, even if she's convinced they should just be friends. Fremon Craig shows compassion to everyone in her film — The Edge Of Seventeen isn't littered with cookie-cutter examples of jocks and nerds and babes — encouraging hope that with her next project, she'll raise her ambitions without sacrificing her writing's unpretentious charm.
Production companies: STX Entertainment, Huayi Brothers Pictures, Tang Media, Gracie Films
International sales: STX Entertainment, jfriedberg@stxentertainment.com
Producers: James L. Brooks, Richard Sakai, Julie Ansell
Executive producers: Brendan Ferguson, Pete Corral, Cathy Schulman, Wang Zhongjun, Wang Zhonglei, Jerry Ye, Donald Tang, Robert Simonds, Adam Fogelson, Oren Aviv
Cinematography: Doug Emmett
Production design: William Arnold
Editor: Tracey Wadmore-Smith
Music: Atli Örvarsson
Website: http://stxmovies.com/theedgeofseventeen/
Main Cast: Hailee Steinfeld, Woody Harrelson, Kyra Sedgwick, Haley Lu Richardson, Blake Jenner, Hayden Szeto