Awkwafina steps up to her first lead roke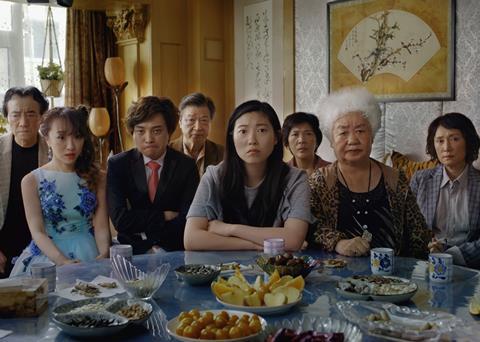 Dir/scr: Lulu Wang. U.S./China. 98 min. 2019.
The Farewell, a touching albeit slight Chinese family dramedy, is "based on an actual lie," we are told in the film's first frame. Before we even learn what that means, the main characters are immediately telling untruths: as Billi (Crazy Rich Asians' Awkwafina) walks through the frigid streets of her adopted home of New York City, she's speaking on the phone to her beloved grandmother Nai Nai back in China. Billi tells her she's wearing a hat when she's not; Nai Nai tells her she's at her sister's house when she's not. And so the lies begin, indicates Chinese-American writer-director Lulu Wang in this earnest, endearing story adapted from her own life.
There's only so many scenes a story can take of family members trying to keep the truth from grandma before it become less compelling.
In her second feature film, Wang (Posthumous) wrings moments of stirring emotional truth from her sympathetic ensemble cast, including TV actress Zhao Shuzhen as Nai Nai and veteran Tzi Ma (Arrival) as Billi's father, but ultimately the film doesn't have the narrative drive or depth of character to be a commercial vehicle for rising star Awkwafina. There are even a few scenes of screwball antics at a banquet celebration, but The Farewell isn't similar to—and shouldn't be compared to—Crazy Rich Asians.
What The Farewell does have is a wonderful conceit at its core, rich with opportunities for pathos, humor, and marketing. When Nai Nai's family discovers that she has terminal cancer, they decide it's better not to tell her. And they will do everything in their power to keep her blissfully ignorant of the dire prognosis. Back in New York, Billi resists the idea, but her mother (Diana Lin) counters, "There's an old Chinese saying: when people get cancer, they die."
In order to bring the family together around Nai Nai one last time, they arrange for a quasi-fake wedding for one of her grandchildren in her home of Changchun. All of this falls hard on Billi, and her parents are worried that she's too close to Nai Nai to conceal the truth. But she travels to China and joins the family anyway, doing her best to keep up pretences and plaster a fake smile across her face.
The film's early scenes in China are full of warmth, the relatable dialogue of long-standing relationships (Nai Nai tells Billi affectionately, "I love to touch your round butt"), and the awkward weight of the family's charade weighing on their collective shoulders. At their first reunion meal, Billi's cousin, the makeshift groom-to-be, can barely hold it together, steadfastly holding back the tears. Billi, for her part, also struggles to remains steely, despite her profound love for her grandmother.
No longer the nutty best friend, Awkwafina, in her first starring role, offers a more serious side to her comic persona. Her slouching gait and on-screen naturalness gives the character of Billi an effortless appeal.
But the main problem with the film is that the script, while excellent at capturing single moments, doesn't give her enough to mentally or physically wrestle with. The second act lags. And while Billi breaks down once, delivering a teary monologue about leaving China as a child, The Farewell is so fixated on its principle problem that it doesn't allow its story or its characters to veer from it, or find further complexities in it. There's only so many scenes a story can take of family members trying to keep the truth from grandma before it become less compelling.
That being said, anyone with a bossy, loving Nai Nai will find themselves succumbing to The Farewell's occasional charms (and Zhao Shuzhen is a pure pleasure to watch as the grand matriarch, offering plenty of them.)
Indeed, Wang is a filmmaker to watch, whose serio-comic and delicate sense of the human condition will take her far with audiences. There are singular moments of staging and direction that are skillful: shots such as Billi speaking to her grandmother about her romantic prospects in a wedding photography studio as bride-and-groom are stumbling in the reflection of a mirror behind them. Or the way in which the whole family is seen walking slow-motion towards the camera in a clearly defined instance of indictment, exposing them as some kind of gang of complicit conspirators. And the film's final two shots provide a brilliantly subtle ending.
The Farewell also briefly touches on the identity politics facing first and second-generation Chinese immigrants, and what it means for Chinese to leave for America and become American. It's a heartfelt and well-meaning film, ripe for our diverse times, it's unlikely to be a breakout hit along the lines of The Big Sick.
Production Companies: Big Beach, Ray Productions, Kindred Spirit
International sales: Endeavor Content International
Producers: Daniele Melia, Peter Saraf, Marc Turtletaub, Andrew Miano, Chris Weitz, Jane Zheng, Lulu Wang, Anita Gou
Executive Producer: Eddie Rubin
Production Design: Yong Ok Lee
Editors: Michael Taylor, Matthew Friedman
Cinematography: Anna Franquesa Solano
Music: Alex Weston
Main cast: Awkwafina, Tzi Ma, Diana Lin, Zhao Shuzhen, Lu Hong, Jiang Yongbo