Matt Damon stars in Zhang Yimou's lavish and ambitious Chinese-U.S. fantasy blockbuster.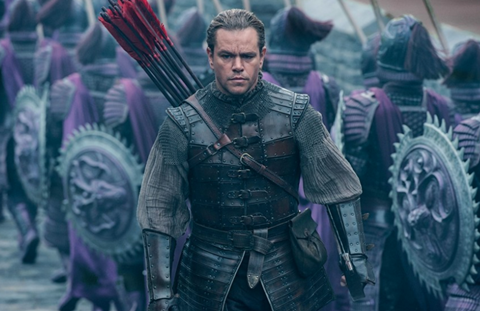 Dir: Zhang Yimou. US/China. 2016. 102mins
West meets East to entertaining effect in Zhang Yimou's The Great Wall, which posits that fortuitous foreigners can be a big help and that China's ancient Great Wall was really erected to keep excellent special effects critters with sharp teeth and nasty dispositions from reaching the nation's capital.
There's rarely a dull moment in this ambitious spectacle about a 12th century European mercenary in search of the fabled explosive "black powder that turns air into fire." Arriving just in time for a long-dreaded siege, our protagonist — played by Matt Damon —- ends up learning that trust is good, the Chinese invented tactical bungee jumping and women can be peerless military tacticians.
Viewers are in good hands — if they're not too demanding — as Zhang Yimou puts the easily distinguishable characters through their paces.
Already attracting viewers in Asia since its Dec 16 release — although not in sufficiently dazzling numbers for some observers — the U.S.-China co-production has just topped the box office in the Middle East and opens in France on Jan 11 and in the US and UK on Feb 17. The Great Wall took 1,700 years to build; the film seems likely to turn a profit on a reported $150 million budget a good deal faster than that.
A peerless archer, William (Damon) is among the last of a band of men who set out to find gunpowder in the Far East. It's never established where, exactly, he's from, but a few syllables that could be a vague medieval Irish accent surface at times. With money and food his lone motivations, William has fought far and wide, including in Spain where he presumably linked forces with his closest brother-in-arms Tovar (Chile-born actor Pedro Pascal).
Expedient strokes establish several essential components of the story. William decides to keep a hunk of magnetic stone even though it's heavy and he's on horseback. In camp by night he slays something that bleeds green and leaves only its sinister severed claw behind before conveniently plunging into an abyss. Riding away from tribal enemies the next day only to hit a major obstacle, William and Tovar are obliged to surrender to the resplendent folks atop a fortified wall.
William and Tovar assume they'll be executed but are able to prove to General Shao (Hanyu Zhang) who commands 100,000 soldiers, Strategist Wang (Andy Lau Tak-wah) and Commander Lin (Jing Tian) of the so-called Nameless Order that they're handy to have around in a fight. The claw came from a Taotie, a living analogy for human greed that attacks every 60 years and gets smarter between assaults. The Taotie are ravenous predators who take orders from a Queen whose method of communicating is subtly thrilling as movie monsters loosely inspired by genuine legends go.
Viewers are in good hands — if they're not too demanding — as Zhang Yimou puts the easily distinguishable characters through their paces. A battle sequence is never far away and motivations remain credible within the parameters of popcorn-movie silliness, played straight. The ante gets upped until a final battle replete with selfless sacrifice, acrobatic teamwork, cross-cultural bravery and stuff that blows up.
The premise is a solid enough framework — connoisseurs of manga and anime might say derivative — on which to hang impressive FX, be they rampaging critters or the occasional lovely interlude such as white lanterns dispersed in the sky.
Damon's William is pleasantly rugged, confident in the skills he already possesses and adaptable to learning new ones. He has seen a great deal in his peripatetic adventures but is sincerely impressed by the advanced culture holding him prisoner. Pascal adds a touch of sidekick humor, which sometimes works and sometimes doesn't. Willem Dafoe is entertainingly cast as a guy who's been held by the Wall garrison for 25 years during which time he conveniently taught Commander Lin the rather good English she'll need for slightly stiff philosophical discussions with William about whether they're similar in their approaches to life or not.
Marquee name Andy Lau is casually memorable and idolised pop star Lu Han makes a semi-touching impression as a young recruit who grows from incompetent to invaluable. But there's no performance that could be called special — satisfactory acting in the service of a gung-ho monster movie is the order of the day.
In addition to choice natural settings, production design is tops throughout with a special tip of the hat to the female warriors' combat launch pads. The score nicely fits the action without being too intrusive.
William learns only one word in the local language and Chinese performers mostly speak Mandarin with some thought invested in what gets translated and who knows what when. The subtext is that learning from other cultures is beneficial and that even temporary immigration leads to innovation.
Production companies: Legendary Pictures, Atlas Entertainment
International distribution: Universal Pictures, Los Angeles
Producers: Thomas Tull, Charles Roven, Jon Joshni, Peter Loehr
Screenplay: Carlo Bernard & Doug Miro, Tony Gilroy based on a story by Max Brooks, Edward Zwick, Marshall Herskovitz
Cinematography: Zhao Xiaoding, Stuart Dryburgh
Editors: Mary Jo Markey, Craig Wood
Production design: John Myhre
Music: Ramin Djawadi
Main cast: Matt Damon, Jing Tian, Pedro Pascal, Willem Dafoe, Andy Lau Tak-wah, Lu Han, Hanyu Zhang, Eddie Peng, Kenny Lin Gengxin