Animated version of the Dr Seuss classic fails to capture the spirit or sass of the original material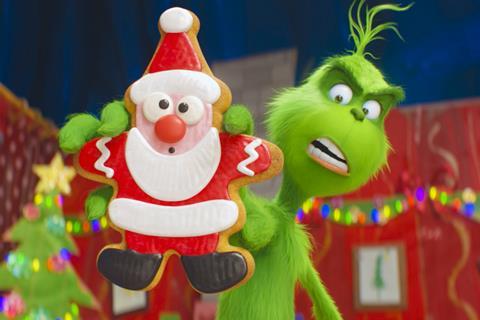 Dirs: Scott Mosier, Yarrow Cheney. US. 2018. 86mins
You're a dull one, Mr. Grinch. Universal's animated full-length adaptation of the beloved Dr. Seuss children's book lacks the magic, heart and humour that have made this yuletide tale such a perennial favourite. Producer Chris Meledandri, responsible for the Despicable Me films and The Secret Life Of Pets, has birthed yet another family entertainment loaded with sugar-rush slapstick and treacly overkill.
The filmmakers preserve Seuss's narrative beats but strain to replicate his whimsical spirit
Arriving in the UK and US on November 9, The Grinch should be a strong holiday performer, the character's brand recognition probably a bigger draw than the fact that he is portrayed by Benedict Cumberbatch. Eighteen years ago this month, Universal released the live-action How The Grinch Stole Christmas with Jim Carrey, which grossed approximately $345 million worldwide. This new version should easily surpass that.
It's just a few days before Christmas, and the Grinch (voiced by Cumberbatch) is consumed with anger by how much the happy residents of Whoville — especially Cindy-Lou Who (voiced by Cameron Seely) — are looking forward to the arrival of Santa Claus. Scheming to ruin their holiday, the Grinch decides that he will disguise himself as the jolly bearded man and steal everyone's presents while they sleep on Christmas Eve.
Arguably, this story is still best known from Dr. Seuss's 1957 book How The Grinch Stole Christmas and the 1966 animated TV special starring Boris Karloff and directed by Chuck Jones. This new film, helmed by Scott Mosier (making his feature debut) and Yarrow Cheney (who co-directed The Secret Life Of Pets), tries to flesh out the Grinch's story as well as that of Cindy-Lou, who lives with a harried single mother (voiced by Rashida Jones) and wants to meet Santa so she can ask him for something very important.
No matter one's fondness for the source material, however, this Grinch proves to be a deadening experience on several levels; not least of which is the problem that its main character is neither dastardly nor poignant enough. Much like in the Jim Carrey live-action film, The Grinch wants to humanize this small-hearted creature by giving him a sympathetic past that explains his present vindictiveness. But Michael LeSieur and Tommy Swerdlow's screenplay is so graceless in its handling of character details that the clunky backstory has almost no resonance.
Just as troublesome, Cumberbatch doesn't bring much wit or snide snap to his performance. His Grinch is basically a mildly foul-tempered grouch who proves to be a softie on so many occasions that there's little moving about his later embrace of Christmas. Where previous actors at least let us savour the Grinch's nastiness, Cumberbatch seems to have been instructed to keep his version as kid-friendly as possible.
The filmmakers preserve Seuss's narrative beats but strain to replicate his whimsical spirit. Pharrell Williams delivers an insufferably rhyming narration without the author's zest for language and wordplay. That irritation is compounded by chaotic comedic set pieces — as well as thuddingly obvious musical cues in which musty pop songs and Christmas staples are carted out for easy laughs. Even The Grinch's attempt to dramatize Cindy-Lou's home life, a celebration of working single mothers who sacrifice everything for their kids, feels hollow and contrived.
Overseen by Meledandri's animation company Illumination, The Grinch has the same competent, aggressively adorable aesthetic that's been favoured by his previous box-office smashes. (In a sense, the Grinch is a variation on Despicable Me's Gru — a bad guy who, deep down, is really a good guy.) Meledandri worked on two previous Seuss adaptations, Horton Hears A Who! and The Lorax, and The Grinch suggests a house style that stresses timidity, hyperactivity and a lowest-common-denominator approach to these classic children's books.
While no parent would object to this movie's toothless treatment of such an iconic Christmas character, nothing here would suggest why generations of families have shared this story with their kids, bonding over a parable about community and compassion. The Chuck Jones TV special was 26 minutes and practically perfect. The Grinch is 86 minutes and has all the lightness and joy of a lump of coal in a stocking.
Production company: Chris Meledandri Productions
Worldwide distribution: Universal Pictures
Producers: Chris Meledandri, Janet Healy
Screenplay: Michael LeSieur and Tommy Swerdlow, based on the book How The Grinch Stole Christmas by Dr. Seuss
Production design: Colin Stimpson
Editing: Chris Cartagena
Music: Danny Elfman
Main voice cast: Benedict Cumberbatch, Rashida Jones, Kenan Thompson, Cameron Seely, Angela Lansbury, Pharrell Williams