Mike Newell's adapation of Annie Barrow's best-selling novel is British security-blanket film-making at its finest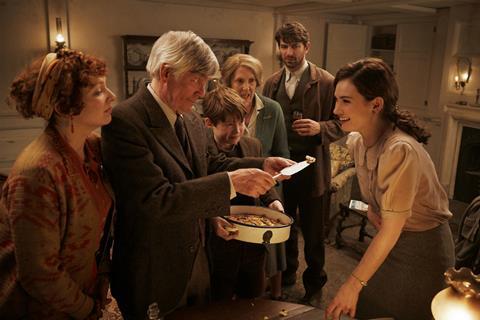 Dir: Mike Newell. UK. 2018. 124mins
Smothering the screen with good intentions, The Guernsey Literary and Potato Peel Pie Society (adapted from Annie Barrow's best-selling comfort novel of the same name) is British security-blanket film-making at its finest. We're back in the war – again – with its clear-cut villains, plucky red-lipsticked heroines, make-do-and-mend sensibilities and, like the film itself, this rush of Downton Abbey-led nostalgia seems never-ending.
Soft as an over-cooked spud, Guernsey will find its devotees, seduced by the mushy nostalgia
In the UK's cinemas from April 20, the leisurely-paced Guernsey will take aim at the slot last occupied by Their Finest, helped by the fact that its star Lily James looks uncannily like Gemma Arterton here – only with a more limited range. Destined for Netflix outside the UK, this is perfect Sunday-night viewing and TV ratings should be strong and sustained.
Indeed, like James, a good half of the cast come from Downton Abbey, which tells you precisely all you need to know. Alumni include Matthew Goode as her character's gay publisher (all "darling girl" and pink waistcoats), Penelope Wilton playing another tart matriarch, and a decidedly non-glam Jessica Brown-Findlay, giving the film its most intriguing performance, despite a truncated character arc.
Bubbly James rocks both London post-war glamour and wartime woollens when, as determined author Juliet Ashton, she arrives in Guernsey in 1946 to investigate and inveigle herself into intriguingly-named book club the Guernsey Literary and Potato Peel Pie Society. Juliet is a frustrated "serious" writer who publishes under the nom-de-plume of Izzy Bickerstaff but longs to find her own voice following the death of her parents in a London bombing raid. She has a devoted suitor in an American officer (Glenn Powell), helpfully introduced with the effusive line: "Mark Reynolds! Diplomat and Clairvoyant! What a wonder!"
Juliet has been corresponding with Guernsey pig farmer Tom (Michiel Huisman) about the mysterious society, which also includes a jovial Tom Courtenay and Katherine Parkinson. When she decides to visit the island, which was occupied by the Germans during the war, the chocolate-box aesthetic and all-round-top-hole-twee-ness is capped by the fact that Tom turns out to be devilishly handsome. He also clearly doesn't come from Guernsey either, as Dutch actor Huisman (Game of Thrones, The Age of Adeline) stumbles over the English-dialogue but as his shirts are always open to his chest, Juliet isn't investigating any further.
There's a mystery involving the wartime fate of the book club's founder Elizabeth (Brown-Findlay), but it's mostly window dressing for director Mike Newell (Four Weddings And A Funeral) to delve deep into the dappled sunsets. Juliet is supposedly in Guernsey to write a story about the Society for The Times of London, which seems an odd prospect all-round, but this isn't the type of film which is supposed to stand up to much logic. Instead, there are lots of discussions of how wonderful books are, with Jane Austen naturally rearing her trope-y head.
Soft as an over-cooked spud, Guernsey will find its devotees, seduced by the vague, nostalgic idea of how things were so much more simple during a world war in which 50 million people died. (Any death or unpleasantness naturally takes place off screen). Yet, even at 124 minutes, Guernsey looks abbreviated, with some strands not fully explored; Brown-Findlay, in particular, has suffered in the editing suite. And while the film is technically up to scratch, a CGI sequence set in in London during the war looks like a dream sequence, as opposed to the distressing event it's supposed to portray.
Production companies: Blue Print Pictures, The Mazar Kaplan Company
International sales: StudioCanal
Producers: Graham Broadbent, Peter Czernin, Mitchell Kaplan, Paula Mazur
Screenplay: Kevin Hood, Thomas Bezucha, Don Roos from the novel by Annie Barrows and Mary Ann Shaffer
Production design: James Merifield
Editing: Paul Tothill
Cinematography: Zak Nicholson
Music: Alexandra Harwood
Main cast: Lily James, Matthew Goode, Penelope Wilton, Jessica Brown Findlay, Michiel Huisman, Katherine Parkinson, Tom Courtenay