Kevin Costner and Woody Harrelson are the real-life lawmen tracking down iconic gangsters Bonnie and Clyde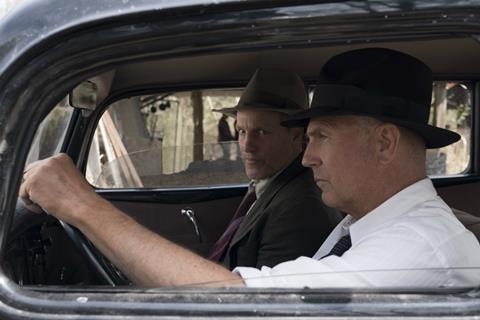 Dir: John Lee Hancock. US. 2019. 132mins
Telling the story of the lawmen who pursued and killed Bonnie Parker and Clyde Barrow, The Highwaymen is a smoothly executed but decidedly drab crime drama. Checking all the necessary narrative boxes for its target audience and asking little of stars Kevin Costner and Woody Harrelson other than to bring their well-established onscreen personas to the characters, the latest from director John Lee Hancock (The Blind Side, Saving Mr. Banks) dabbles in familiar dramatic ironies and rather obvious observations about violence, celebrity and ageing. The Highwaymen never puts a foot wrong, but it fails to elicit much passion or fascination.
Audiences hoping to get a real sense of Hamer and Gault will mostly just see Costner and Harrelson in fedoras
After premiering at South By Southwest, this Netflix release will hit the streaming service on March 29. The Highwaymen will cater to older viewers, especially fans of the two reliable leads, although its chances of becoming one of the company's buzzier titles seem about nil.
John Fusco's screenplay, based on actual events, takes us to Texas in 1934 as retired Ranger Frank Hamer (Costner) is recruited to go after the Barrow Gang, which has been on the lam for two years, robbing banks and killing people along the way. Once a feared lawman, Hamer is no longer an agile young sharpshooter, and so he reaches out to his old friend and fellow Texas Ranger Maney Gault (Harrelson) to assist him in his hunt.
Clearly trying to offer a counter-narrative to 1967's iconic Bonnie and Clyde, which turned the outlaws into sympathetic rebels defying the system, The Highwaymen has a dimmer perspective on Parker and Barrow, who are only seen briefly, from a distance, as they murder cops and others in their path. Whereas these crooks are stylish, attractive young people who have become cult figures, the crusty, middle-aged Hamer and Gault are cognisant that they're past their prime.
Not surprisingly, then, The Highwaymen seems tailor-made for those in the audience who sympathise with the lawmen, which probably explains the film's ambling pace and awed tone toward Hamer and Gault. Hancock consistently presents them as grizzled and noble — as opposed to most of the younger policemen they encounter, who are arrogant and inexperienced, ready to be shown up by these battle-tested old pros. Although we will discover flaws in these two characters, the film oversells their no-nonsense ruggedness; they're meant to be men's men from a bygone era and are romanticised as such.
That said, anyone with a weakness for Costner or Harrelson's weathered charm will find them to be pleasant company. Thirty-two years after he played another square-jawed cop, Eliot Ness in The Untouchables, Costner gives Hamer a sandpaper voice, a gut and a gruff exterior, the character viewing Parker and Barrow's celebrity as an affront to his law-and-order sensibilities. There's nothing particularly challenging about the portrayal — for decades now, Costner has played greying men who represent decency and stability in changing times — and the Oscar-winner wears the role like a favourite old suit.
Harrelson isn't the sly jokester he can sometimes be on screen, but his Gault is a likeable man worn down by alcoholism and past sins he can't erase from his memory, no matter how much he drinks. Although both characters were real people, The Highwaymen looks at them more as symbols of sombre, virtuous masculinity rather than complex individuals. Audiences hoping to get a real sense of Hamer and Gault will mostly just see Costner and Harrelson in fedoras.
Hancock benefits from superb contributions by cinematographer John Schwartzman, who gives the landscape an eerie desolation, and composer Thomas Newman, whose score suggests a dramatic grandeur and pungent wistfulness that the storytelling doesn't always justify. And for crime fans, the film does have some fun moments as we see how challenging it was to track down criminals in the 1930s before modern technology.
When Fusco's screenplays dives into period specifics — especially the era's bleak economic realities and the cops' primitive crime-solving techniques — the story becomes far more engaging. But whether it's the film's predictably bittersweet finale or Hancock's reverent approach to his star detectives, The Highwaymen often feels a step or two too slow. Hamer and Gault chased down Bonnie and Clyde, but the audience is always way ahead of the movie dedicated to them.
Production company: Casey Silver Productions
Worldwide distribution: Netflix
Producer: Casey Silver
Screenplay: John Fusco
Production design: Michael Corenblith
Editing: Robert Frazen
Cinematography: John Schwartzman
Music: Thomas Newman
Main cast: Kevin Costner, Woody Harrelson, John Carroll Lynch, Thomas Mann, Kim Dickens, W. Earl Brown, William Sadler, Kathy Bates