Ryan Reynolds and Samuel L. Jackson may have marquee value, but lack on-screen chemistry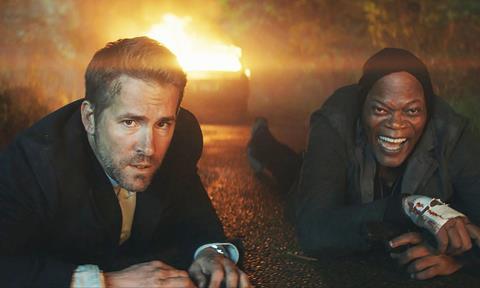 Dir: Patrick Hughes. US. 2017. 111mins.
Taking aim at the late summer box office, this big-budget action comedy starring A-listers Samuel L Jackson and Ryan Reynolds as, respectively, a testifying hitman and the bodyguard responsible for delivering him safely to trial, should have hit the bullseye. But, by betting everything on the chemistry between its two leads, a tired formula and by-the-numbers action, The Hitman's Bodyguard misses the mark. Still Reynolds and Jackson, along with co-stars Gary Oldman and Salma Hayek, should draw sufficient attention when this blunt-edged actioner opens internationally.
Both Reynolds and Jackson are likeable enough in a film that doesn't ask them to do much more than deploy maximum charisma
Tom O'Connor's sophomore screenplay (following 2012's similarly-themed actioner Fire With Fire) is built entirely around the dynamic between Reynolds and Jackson, whose characters are introduced in the preamble. Triple A-rated bodyguard Michael Bryce (Reynolds) lives a charmed life of highly polished cars, houses and girlfriend until the death of a client on his watch sees him lose his rating, and his lifestyle. When his ex-girlfriend, Interpol agent Amelia Ryder (Elodie Yung), asks him to deliver hitman Darius Kincaid (Jackson), the star witness in a war crimes trial against Belarus dictator Vladislav Dukhovich (a vicious Gary Oldman), safely to the International Court of Justice, the pair embark on an increasingly dangerous road trip across Europe.
Both Reynolds and Jackson are likeable enough in a film that doesn't ask them to do much more than deploy maximum charisma. Michael and Darius are pitted as enemies-turned-reluctant-comrades, allowing Reynolds' sarcastic, sophisticated charm to rub up against Jackson's street-smart violence. And while that characterisation may be somewhat obvious, the film's attention is focused squarely on the ensuing odd-couple comedy. As the pair tries to get to court before time runs out and Dukhovich is acquitted, Michael's attempts to stay under the radar are continually thwarted by Darius' bombastic, old-school approach; a repeating scenario that runs out of steam way before they reach their destination.
There are attempts at dramatic nuance; the prosecuting of a dictator accused of racial cleansing is a resonant political motif, but not explored beyond giving the story a bad guy who is worse than both of its heroes, each of whom boasts substantial body count of their own.
As is the norm with such testosterone-fuelled fare, female characters are given short-shrift. Yung's Interpol agent is shown to be somewhat inept at her job, giving Michael the opportunity to step in, save the day and win back her heart. Similarly, Darius' incarcerated wife Sonia (Salma Hayek) gives him the emotional impetus to 'do the right thing' and, while she is shown to be a tough-talking, tough-fighting woman, the way in which the camera ogles her half-naked form leaves us in no doubt as to her trophy role in the proceedings.
Elsewhere, cinematographer Jules O'Loughlin does some great work, with immersive, 360-degree visuals bringing a frenetic energy to the usual roll-call of action sequences. With The Hitman's Bodyguard, director Patrick Hills, who began his career with the excellent, moody Australian Western Red Hill in 2010 before moving onto The Expendables 3, serves up another blunt-edged actioner with plenty of brawn but not much in the way of brain.
Production companies: Campbell Grobman Films, Cristal Pictures, East Light Media, Millennium Films, Skydance Media, TDMP
Distribution: Lionsgate (UK/USA)
Producers: David Ellison, Mark Gill, Dana Goldberg, Matthew O'Toole, John Thompson, Les Weldon
Screenplay: Tom O'Connor
Production design: Russell De Rozario
Editor: Jake Roberts
Music: Atli Ovarsson
Main cast: Ryan Reynolds, Samuel L Jackson, Gary Oldman, Salma Hayek, Elodie Yung