Dir. Michael Winterbottom, USA, 2009, 110 min.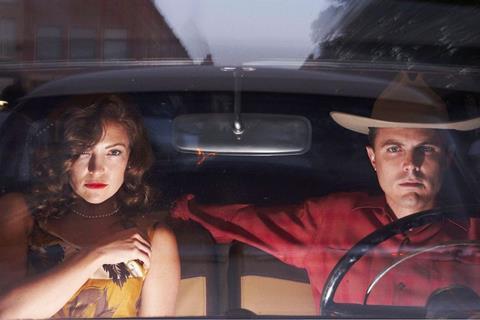 Michael Winterbottom's staggeringly violent adaptation of Jim Thompson's 1952 novel The Killer Inside Me reaches a new extreme in the cinematic depiction of a psychopathic murderer. It is hard to watch - and for some will be impossible - regardless of any psychological logic behind its many killings.
Audiences up to their ears in serial killers may enter this film, thinking they already know them all. Winterbottom will prove them wrong.
Distributors who hop on board – IFC Films was an early taker after Killer's premiere at Sundance - will be shy in their expectations of this film, since most audiences will be shy about its brutality, despite Winterbottom's established reputation. Anyone releasing it will be dogged by its violence, especially towards women. Theatrical response should be similar to Antichrist, another film whose violence is at the extreme end of what is watchable.
The killer in Winterbottom's first American film is (and is in) Sheriff's Deputy Lou Ford (Affleck), the son of respectable parents in Central City, Texas. Ford is imperturbable, except when provoked, as we see in an encounter with local prostitute Joyce (Alba). She receives a beating after she slaps Ford, who has been sent to close down her house, and then becomes his lover. He eventually bludgeons Joyce and shoots the local mayor's son, leaving the murder weapon in Joyce's hand.
Casey Affleck plays Ford as a boy scout who graduated to the police force with an eerily high voice and a rigidity that seems inscrutable. His motivation in killing seeps through over the course of the film, but far more time is devoted to his attacks on two women than to the reasons why he targets them.
Impassive, but more violent than Chigurh, the killer in No Country For Old Men, Affleck's Ford is also far more cerebral than American Psycho's Patrick Bateman. In his penchant for talking with seeming authority about almost anything, he is reminiscent of real killers such as Ted Bundy. Ford's chilling arrogance gives ominous substance to the overworn term "coldblooded".
Thompson's novel is mostly dialogue and interior monologue, so an adaptation has flexibility in its depiction of Ford's town. Production design by Rob Simons and Mark Tildesley recreates meticulously a sedate western city, down to the details of the fastidious killer's clothing. Cinematography by Winterbottom mainstay Marcel Zyskind takes us back to the 1950s with the precision Ford applies to his own life.
Winterbottom's screen adaptation is not the first of The Killer Inside Me, which was filmed in 1976 by Burt Kennedy, with a screenplay by Edward Mann and Robert Chamblee which set the psycho-killer's personal tale against the background of labour unrest at a local mine. Stacy Keach played Lou Ford with a homespun warmth (when he wasn't killing) that couldn't be more distant than Affleck's straight-backed propriety.
Ford's exterior, under serene control by Affleck between fits of violence, works as a defence and an offence. It hides the horrific drives inside him, which the film never probes satisfactorily, and it challenges anyone to penetrate through the mask of decorum. Winterbottom seems to be assuming that, as a work of fiction, The Killer Inside Me plays by its own rules and that a character's actions are better witnessed than explained. Hence the inevitable march toward Ford's fate, which at times feels like wooden existentialism.
Just as inevitable are the fates of Joyce and Ford's girlfriend, Amy (Hudson), who remain drawn to him despite signs of depravity. Ford's acceptance by these women (although Amy finally voices doubts) may well lead audiences to attack the film on grounds of misogyny.
Alba is seductive and cunning as the masochistic schemer who thinks she made a pact with the local cop to blackmail the mayor, and then learns that Ford's beatings are worse than she'd imagined.
The Killer Inside Me is well within US film noir territory, in that it identifies the criminal without understanding the crime.
Secondary roles are solid, with Ned Beatty as the town's complacent corrupt mayor and Bill Pullman as the wildly inane lawyer who escorts Ford out of an insane asylum, enabling him to kill one last time. Simon Baker plays the county attorney who peers through Ford's defences, and hates what he sees.
An audience up to its jugular vein in serial killers may enter this film thinking they already know them all. Like it or not, Winterbottom proves them wrong.
To sign up for Screen's weekly Reviews Newsletter with all the week's new releases, international openings and full festival reviews delivered free to your mailbox every Friday, please click HERE
Production companies
Stone Canyon
Muse
Revolution
Wild Bunch
Curiously Bright Entertainment
Indion Entertainment Group
International Sales
Wild Bunch
+ 33 6 20 36 77 72
Producers
Chris Hanley
Bradford L. Schlei
Andrew Eaton
Screenplay
John Curran, based on the novel by Jim Thompson
Cinematography
Marcel Zyskind
Editor
Mags Arnold
Production design
Rob Simons
Mark Tildesley
Main Cast
Casey Affleck
Jessica Alba
Kate Hudson
Ned Beatty
Elias Koteas
Tom Bower
Simon Baker
Bill Pullman
Brent Briscoe
Matthew Maher