Dir. Morgan Neville, USA, 2015, 96 minutes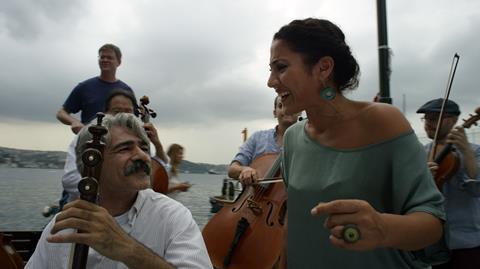 The Music of Strangers: Yo-Yo Ma And The Silk Road Ensemble is a cri de coeur about culture in crisis. Its response to that crisis feels like a group hug.A mix of the motivational and the educational, this documentary film comes at a time when cultural sites are being targeted in war, especially in Syria, the homeland of two of the film's musicians, Kinan Azmeh and Kevork Mourad.
The closer the documentary gets to individual musicians and their histories, the more engaging it becomes.
If art can't save people in harm's way, or even keep them in their homes, at least it can remind them what's valuable in life, say Yo-Yo Ma and other musicians in the ensemble when they're not jamming on an improbable mix of instruments.
It's hard to argue with those sentiments, and all roads in this well-meaning doc of earnest political correctness lead to those feelings. The Music of Strangers will have access to a broad US audience when it airs on HBO, but there's unlikely to be much of a public audience for a film that's essentially an extended pep rally.
Another challenge is that the eloquent Yo-Yo Ma feels slightly over-exposed, having spent as much time on camera since the Silk Road Ensemble's launch in 2000 as he has in airplanes jetting from one performance to the next. Yo-Yo Ma took those performances to young audiences, and the largest public for The Music of Strangers will probably be in schools.
Director Morgan Neville won an Oscar for his 2013 doc, 20 Feet from Stardom. Many of his musicians in The Music of Strangers are stars with recording contracts, but conflicts have displaced some of them thousands of miles from home.
We see one of the lucky ones, the still-perplexed Yo-Yo Ma, reflecting on a life in music since the age of four, and mulling the broader future in a tumultuous world. The doc then lurches from the cellist's quiet home to what's set up to be an impromptu performance at the water's edge in Istanbul, with all the spontaneity of a staged photo op.
In between biographical reflections by the cellist, we meet other members of the ensemble. Kayhan Kalhor of Iran plays the Kamancheh, a traditional bowed instrument. An expatriate, he laments the fate of his country, especially the risk that his instrument won't have the teachers or players to keep its tradition alive.
The closer the documentary gets to individual musicians and their histories, the more engaging it becomes. Not all are exiles or refugees, but they do share concerns about the future of their art. Wu Man, a virtuoso on the Chinese pipa, a plucked instrument like the lute, adapts with dazzling ease to modern pop music. She and Neville's team visit the Zhang family in China, who play for traditional puppet shows with as much abandon as any rock group.
Also inspiring is the charismatic Cristina Pato, who plays the Galician gaita (bagpipe), breathing new life into what was considered an old man's instrument.
These are virtuosos, yet when the musicians play together, the acoustic mix often sounds like an unruly celebration, just another jam session. You often find yourself longing for Ma playing solo Bach, for Pato's bagpipe or for Azmeh's mournful clarinet.
Graham Willoughby's camera can be overbearing, finding a golden glow of sanctity when the musicians' spirits are high, and shadowy tones when they speak of oppression or exile. It's still impossible to disagree with these displaced artists when they talk from experience, and it's poignant when the Syrians Kinan Azmeh and Kevork Mourad make female refugees from that country laugh in a windswept Jordanian camp of tents.
Yet most of the lamentations about culture in peril wear thin as they are repeated, just like a song that's played too many times. Despite the documentary's message of hope, culture is a casualty of war, and of modernisation, and few are listening.
Production companies: Tremolo Productions, Participant Media, The Silk Road Project, HBO Documentary Films
Producer: Morgan Neville, Caitrin Rogers
Executive producers: Jeff Skoll, Diane Weyermann, Laura Freid, Cristin Canterbury Bagnall, Julie Goldman
International sales: The Orchard mwurtz@theorchard.com
Cinematography: Graham Willoughby
Editors: Helen Kearns, Jason Zeldes
Sound Design: Al Nelson
Performers: Yo-Yo Ma, Wu Man, Kinan Azmeh, Kayhan Kalhor, Cristina Pato, Kevork Mourad and the members of the Silk Road Ensemble