Dir: Jonathan Levine. US. 2015. 100mins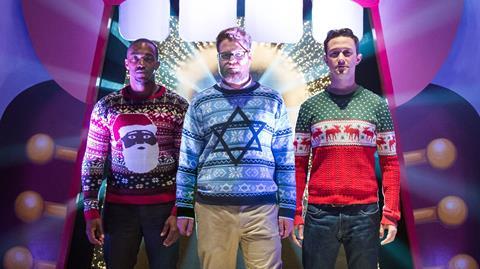 A would-be Christmas blowout for three childhood friends on the cusp of growing up (and growing apart) doesn't lead to much comedic combustion in The Night Before, a so-so stoner film where the premise is almost always better than the execution.
Levine and his writers will do just about anything for a laugh — pity they don't find enough of them
A who's-who of likeable actors tries to produce an anarchic spark — particularly, stars Joseph Gordon-Levitt, Seth Rogen and Anthony Mackie — but the latest from director Jonathan Levine (50/50, Warm Bodies) proves to be neither poignant nor hilarious enough. The drugs the main characters ingest don't seem to do much good for them, but they might help enhance underwhelmed viewers' experience.
Opening November 20 in the US, this Sony offering will hope to capitalise on its leads' box-office appeal, especially Rogen's connection to recent comic hits Neighbors and This Is The End. The Night Before also features several up-and-coming talents like television stars Mindy Kaling, Ilana Glazer and Nathan Fielder, which could boost the film's cool cachet. With the Christmas holidays rapidly approaching, The Night Before is aiming to make the season bright with its yuletide-timed laughs, and even if reviews aren't stellar, the fact that this is the only big comedy in the marketplace for a few weeks will be a commercial godsend.
For a decade, best friends Ethan (Joseph Gordon-Levitt), Isaac (Seth Rogen) and Chris (Anthony Mackie) have spent Christmas Eve together, a tradition that began as a way to cheer up Ethan after the death of his parents in a car accident. But with married man Isaac about to become a father and pro athlete Chris enjoying belated fame in the NFL, the buddies realise they're getting too busy to continue this ritual — although emotionally stunted Ethan seems to be sleepwalking through his life, recently ending a relationship with Diana (Lizzy Caplan) because he was afraid of commitment.
The Night Before chronicles the final Christmas Eve shared by the trio, and Levine, who co-wrote the screenplay and came up with the original story, fills the night with the type of sex-and-drugs humour that have been a staple of Rogen's films. (The actor's frequent collaborator Evan Goldberg, who co-directed The Interview and This Is The End with Rogen, is another credited writer on The Night Before.) But where Rogen's best earlier films found a sweet spot between raucousness and sentiment, The Night Before is too scattershot in either regard to really connect.
One of the movie's crucial failings is that none of the three pals is particularly interesting or funny. Chris loves his newfound fame, but his obsession with social media — and the reveal of the dark secret behind his late-career success — play out predictably. Likewise, Ethan's inability to be close to Diana is an obvious, underexplored result of losing his parents, while Isaac's nerdy hang-ups about becoming a dad aren't very fresh, especially when he starts having a bad trip from all the drugs he's consumed.
Considering all the importance put on the three men's annual Christmas tradition, it's surprising how uninvolving their rituals are over the course of the movie. Stops at a Chinese restaurant and a karaoke spot don't offer many comedic or heartfelt surprises, and what's meant to be the night's pièce de résistance, the ultra-exclusive Nutcracka Ball they've long dreamed of attending, ends up feeling like just another warehouse party. Even the supposedly colourful characters they meet along the way — including a nymphomaniac thief (Glazer) and a deeply geeky limo driver (Fielder) — are good for only a chuckle or two.
What's missing is the truly inspired comedic conceits that served as sturdy frameworks for hilarious set pieces in Neighbors (which Goldberg and Rogen produced) and This Is The End. Even some of the surprise cameos merely echo similar gimmicks in Rogen's past films, and the movie's overall theme — eventually, overgrown boys have to become men — has been a familiar trope in his movies.
Rogen is less winningly dorky than usual, Isaac's self-consciousness and drug-related freak-outs quickly proving tiresome. (Also, a running joke about his being Jewish during Christmas runs aground in no time.) Mackie is all cocky bluster as Chris without being especially funny. As for Gordon-Levitt, he has the most complex character, playing a young man still emotionally hobbled by the trauma of his parents' car crash. But while he and Caplan have a warm, casual rapport, believably portraying former lovers who aren't over each other but are trying to pretend otherwise, the script doesn't give them enough moments to make us really feel that they're meant to get back together.
As would be expected, jokes come from every direction, whether it's riffing on pop-culture detritus, exploiting the characters' social embarrassment or indulging in bizarre casting. (Bug-eyed-intense dramatic actor Michael Shannon uses his twitchy energy to play a veteran pot dealer who considers himself to be a guardian angel for his clients.) Levine and his writers will do just about anything for a laugh — pity they don't find enough of them.
Production companies: Columbia Pictures, Good Universe, LStar Capital, Point Grey
Worldwide distribution: Sony Pictures, www.sonypictures.com
Producers: Evan Goldberg, Seth Rogen, James Weaver
Executive producers: Nathan Kahane, Joe Drake, Kyle Hunter, Ariel Shaffir, Barbara A. Hall, Ben Waisbren
Screenplay: Jonathan Levine and Kyle Hunter & Ariel Shaffir & Evan Goldberg, story by Jonathan Levine
Cinematography: Brandon Trost
Production design: Annie Spitz
Editor: Zene Baker
Music: Marco Beltrami and Miles Hankins
Website: www.thenightbeforemovie.com
Main Cast: Joseph Gordon-Levitt, Seth Rogen, Anthony Mackie, Lizzy Caplan, Jillian Bell, Mindy Kaling, Michael Shannon, Lorraine Toussaint, Randall Park, Ilana Glazer, Nathan Fielder