Jennifer Kent's follow-up to 'The Babadook' is set in colonial Tasmania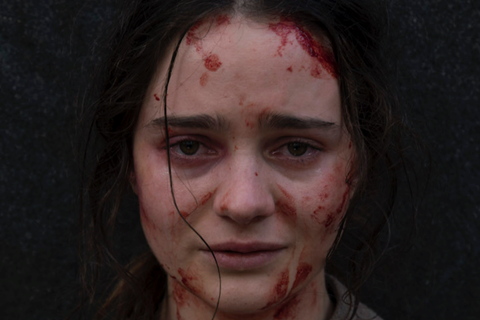 Dir. Jennifer Kent. Australia. 2018. 136 mins
Australian writer-director Jennifer Kent may be the only woman in the Venice competition this year, but her second feature The Nightingale exudes enough impassioned feminist rage to fuel ten festivals. Unfortunately, ambitious as it is, this historical revenge drama represents a step backwards in storytelling prowess from her dazzling debut, 2014's domestic chiller The Babadook. Fired both by sexual politics and anti-colonial ire, The Nightingale teams a monstrously wronged young woman and a fiercely independent young aboriginal man in a bloody quest narrative.
The often extreme violence is shocking at first, even carrying an authentic emotional charge, but soon becomes repetitive and mechanical
There's a terrific film in here somewhere, with upmarket echoes of the exploitation thriller tradition of the 70s, but it gets lost in overstatement and a surfeit of plot reversals. Nevertheless, in the #MeToo age, the film is likely to strike a chord with woke cult-attuned audiences in the same way as Coralie Fargeat's recent Revenge, and it won't do Kent's reputation any harm as a rising auteur name.
The story is set in Tasmania – or, as it was then, Van Diemen's Land – in 1825, and follows the violent adventures of Clare (Aisling Franciosi), a young Irishwoman who has ended up in the Antipodes as a convict after a career of stealing to survive. She now works as a servant to a British military troop, and is married to fellow ex-convict Aidan (Michael Sheasby), with whom she has a baby. She's indebted for her release from prison to bad-egg commanding officer Lieutenant Hawkins (Sam Claflin), who has her perform Irish folk songs as the troop's resident 'nightingale' (one song is indeed called 'The Nightingale'), but the Lieutenant regards her as his personal property, and one night brutally rapes her.
The horrific repercussions lead to the hitherto shy, cautious Clare setting out on a mission of vengeance to track down Hawkins and his sidekicks, boorish Sergeant Ruse (Damon Herriman) and Ensign Jago (Harry Greenwood) through dense forest to the town of Launceston, where he hopes to secure his longed-for, thoroughly undeserved promotion.
Clare is accompanied on her journey by Billy (Baykali Ganambarr), a young aboriginal tracker who at first shows utter distaste at the idea of working for a white woman. And indeed, Clare starts out as contemptuous towards him as the soldiers have been towards her as a woman. But, after much exchange of sharply-written jibes between the two, they gradually unite in their hatred of the English oppressor. It's the interplay between the two that forms the real meat of the film – Clare played with unquellable ferocity by Franciosi, while newcomer Ganambarr offers a terrific performance that's characterful, charismatic and often dryly witty.
The film is most successful in connecting its feminist themes with the period background of Australia as a site for convict exile, successfully interweaving these threads with the exploration of the colonial repression of aboriginals – something also done in a similar genre-centred context in Warwick Thornton's recent quasi-Western Sweet Country. Elements of native belief and myth are incorporated neatly, notably a bird theme, with Clare the 'nightingale' complemented by Billy's identification with a blackbird spirit.
The film falls down, however, in grievously overplaying the abject brutishness of the English villains. Apart from Greenwood's ineffectual subordinate, they are strictly two-dimensional, full-time sexists, racists, boozers and killers. The often extreme violence is shocking at first, even carrying an authentic emotional charge, but soon becomes repetitive and mechanical, while the narrative has too many delaying devices built in to sustain the momentum that it might have enjoyed had the film had stayed well within a two-hour limit. A climactic moment-of-truth scene in which Clare confronts Hawkins in a roomful of officers comes across as utterly implausible wish-fulfilment, rhetoric rather than plausible storytelling.
But at its best, The Nightingale motors ahead briskly on ripe, gleefully profane dialogue, and on superb Academy ratio photography by Radek Ladczuk – highlighting the rich foliage colours of the Tasmanian forests, and making a leitmotif of striking extreme close-ups – and on its compelling lead duo. who also deliver occasional dialogue in Gaelic and the Palawi kani language of Tasmania. It should be said that Franciosi also very cannily delivers a few traditional ballads, adding an eerily mythical touch to the proceedings.
Production companies: Causeway Films, Made Up Stories
International sales: FilmNation Entertainment, nyoffice@filmnation.com
Producers: Kristina Ceyton, Bruna Papandrea, Steve Hutensky, Jennifer Kent
Screenplay: Jennifer Kent
Cinematography: Radek Ladczuk
Editor: Simon Njoo
Production design: Alex Holmes
Music: Jed Kurzel
Main cast: Aisling Franciosi, Sam Claflin, Baykali Ganambarr, Damon Herriman, Harry Greenwood