This 'Conjuring' spin-off is praying for release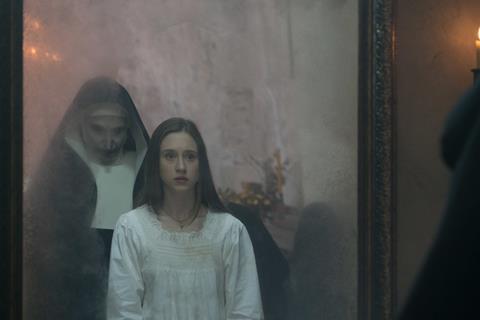 Dir. Corin Hardy. US. 2018. 96 mins.
With its fifth film in six years, The Conjuring franchise jumps from haunted houses to creepy dolls to unnerving religious iconography — and while The Nun's titular character looks the menacing part, this generic series extender can't quite scare up a convincing frightfest based on its unsettling villain alone. In fashioning a backstory for the ominous entity first seen in The Conjuring 2, the spinoff/prequel relies heavily on its namesake's demonic appearance, praying that gloomy visuals, a gothic setting and routine jump-scares will evoke enough unease in a movie that tests patience even with its concise running time.
Inane, illogical, almost-amusing B-movie territory
That said, when the Corin Hardy (The Hallow)-directed The Nun rolls out worldwide from September 6 with Demián Bichir and Taissa Farmiga (sister of The Conjuring's Vera Farmiga) as its leads, the film should still scare up a healthy contribution to the franchise's already-sizeable box office haul. The Warner Bros. and New Line series has earned $1.2 billion to date, including $257 million from previous low point Annabelle — an achievement that speaks to the affection for James Wan's superior two The Conjuring movies perhaps more than the side-stories produced rather than directed by the Saw and Insidious helmer.
Taking place at the start of The Conjuring universe's timeline, The Nun sets its action in the Romanian abbey of Saint Carta, with two brides of Christ trying to ward off an evil force in the film's opening scene. When one is found hanged by Frenchie (Jonas Bloquet), a villager who delivers the nuns' food supplies, the Vatican appoints Father Burke (Bichir) to investigate. Because the convent is cloistered, novitiate Sister Irene (Farmiga) is enlisted to accompany him.
It's a canny move, casting the younger Farmiga as Irene; rather than proving distracting or merely reminding audiences of the franchise's better chapters, it gives The Nun an earthy, engaging anchor, particularly as Hardy opts for jolts and jumps over meaningful characterisation. The young actress also boasts a credible student/teacher rapport with Bichir, who gives his role more gravitas than the material ever calls for — another rare highlight in what swiftly dives into inane, illogical, almost-amusing B-movie territory.
No sooner have Bichir's priest and Farmiga's nun-in-training talked Frenchie into escorting them to the abbey, wandering through eerie woods and a crucifix-strewn cemetery to get there, than Hardy and screenwriter Gary Dauberman (Annabelle, Annabelle: Creation, IT) lay their cards on the table: despite the emphasis placed upon its eponymous figure (Bonnie Aarons), also known as the demon Valak, The Nun is essentially a haunted house movie wearing a perturbing habit.
Finding it difficult to track down the convent's remaining living inhabitants, Irene and Burke are swiftly left wandering around the sprawling building, trying to ascertain the cause of the sinister chaos, as things keep going bump in the night.
As formulaic as it sounds, the narrative's by-the-numbers approach can't conjure up sustained interest or patch over the messiness, with Dauberman connecting the storyline to ancient evil, the Second World War and the blood of Jesus. The latter is one of the more ridiculous inclusions, and inspires a moment seemingly ripped from a film with more comedic self-awareness than this grimly serious effort ever musters; when Frenchie exclaims "holy shit!", Father Burke counters "yes, the holiest".
Also hindering rather than helping is Hardy's insistence that dark, murky images inherently impart a chilling sheen, especially if they're cloaking crosses, altars, vestments, quivering nuns-to-be and stalking demons in shadow. Instead, Maxime Alexandre (Annabelle: Creation) serves up cinematography so dim and grey that it threatens to strain the eyes. It also squanders one of the feature's best assets: its suitably moody, strikingly eye-catching Romanian settings.
Consequently, if The Nun leaves a haunting impression, it's of a missed opportunity to capitalise upon a visually distinctive antagonist within an existing hit series. The end result feels like an exercise in joining obvious franchise dots and paving the way for future films. Of course, a sequel to The Nun has already been floated by Wan, although not officially slated as yet — however a third Annabelle movie is due in 2019, a third Conjuring installment is a matter of when rather than if, and yet another spinoff, The Crooked Man, is also in development.
Production company: Atomic Monster, New Line Cinema, The Safran Company
International distribution: Warner Bros.
Producers: Peter Safran, James Wan
Screenplay: Gary Dauberman, based on a story by James Wan and Gary Dauberman
Editing: Michel Aller and Ken Blackwell
Cinematography: Maxime Alexandre
Music: Abel Korzeniowski
Production design: Jennifer Spence
Main cast: Taissa Farmiga, Demián Bichir, Jonas Bloquet, Bonnie Aarons.