Dir: Steve Martino. US. 2015. 88mins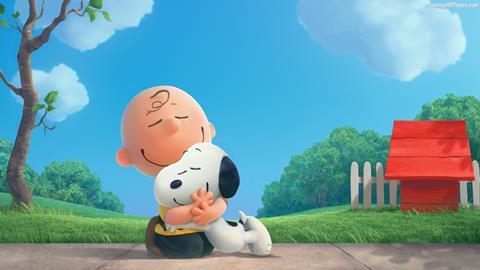 At a time when some filmmakers are trying to reinvent beloved older properties by contemporizing or hipping them up, The Peanuts Movie is proudly faithful to Charles M. Schulz's original comic strip and, more specifically, the animated television specials of the 1960s that helped cement the characters' place in the public consciousness.
It's not hard to imagine that a franchise could be in the making.
But that strategy ends up having considerable limitations. It's not a problem that this feature-length adaptation re-creates the touching, wistful, gently funny tone of those earlier stories — it's that the film practically cuts-and-pastes much of their signature catch phrases, character quirks and indelible scenes into this new tale. As a result, The Peanuts Movie isn't so much an homage as it is an echo and a call-back, one that certainly has heart but also feels dispiritingly riskless.
Hitting US theatres November 6, this animated Fox offering looks to be a massive hit among family audiences, with only Pixar's The Good Dinosaur (out November 25) serving as direct competition down the road. The Peanuts Movie should appeal to the potent nostalgic pull that Charlie Brown, Snoopy and the rest of the gang still elicit 65 years after Schulz first started drawing Peanuts, playing well for both kids and their parents. It's not hard to imagine that a franchise could be in the making.
The film hews closely to the drawing style of both Schulz's strips and the subsequent cartoons, following the exploits of Charlie Brown (voiced by Noah Schnapp) as he contends with his feelings of inadequacy while nursing a crush on a pretty new classmate known simply as The Little Red-Haired Girl (voiced by Francesca Capaldi). He'd love to talk to her, but he's afraid she'll think he's a loser.
The Peanuts Movie has been overseen by Blue Sky Studios, the same animation house responsible for the Ice Age and Rio films. But because the studio needed the Schulz family's blessing to make this adaptation — Charles' son Craig and grandson Bryan are producers and two of the film's screenwriters — the movie doesn't feature the rambunctious shenanigans of those other franchises and, instead, feels tonally similar to the original Peanuts TV specials like 1965's A Charlie Brown Christmas. (The Peanuts Movie does include an action-chase sequence near the end, though, based around Snoopy's alter ego, the World War I Flying Ace.)
Directed by Steve Martino (Ice Age: Continental Drift), the film quickly establishes its episodic nature, first introducing its wide array of notable characters — everybody from the piano-playing Schroeder to the snarling Lucy to the eternally dirty Pig-Pen — and then making a catalogue of overt references to moments from the strip or TV specials. (Plus, Vince Guaraldi's original TV score pops in and out of the soundtrack.) And, initially, the film radiates a real warmth, Martino and his creative team painstakingly and affectionately mimicking the look and temperament of those earlier eras.
But pretty soon, what becomes clear is that, in their quest to be reverent to the Peanuts of yesteryear, the filmmakers aren't going to add much new, instead they are content to provide a sort of greatest-hits compilation of enduring moments. Charlie remains the lovable, sensitive sad-sack, just as his companions have emerged on the big-screen exactly as one remembered them. But the fidelity slowly starts to feel less like love and more like meticulous brand maintenance, as if The Peanuts Movie's main mission was preserving the public's memory of these characters by recycling what had once made them so special.
It's no surprise, then, that déjà vu gives way to predictability. The story is split between Charlie's anxious attempts to woo the new girl, while Snoopy starts dreaming up his latest Flying Ace mission, the movie flashing to fantasy sequences as the wartime hero engages in aerial combat with his long-time nemesis, The Red Baron. Those who know nothing about Peanuts may be charmed by what develops in these narratives — the film only runs 88 minutes, with extensive end credits — but the slight vignettes actually draw much of their power from fans' fond past associations with the characters and scenarios.
This is not to diminish the indomitable sweetness that pervades much of The Peanuts Movie, especially in Schnapp's voice performance as Charlie Brown. Not only does the boy do a pretty remarkable job of capturing Charlie's tender vulnerability, he also sounds a decent amount like Peter Robbins, who voiced Charlie in the 1960s specials. A pushover Charlie may be, but he's also got a real dignity to him, and The Peanuts Movie gives us a few instances where his big heart shines through.
But then we have to contend with too many supporting players who are little more than their trademark shtick. (For instance, Charlie's closest friend Linus is just the boy with the security blanket who happens to mention his belief in The Great Pumpkin.)
There is something to be said for a children's film that aims for an old-fashioned sincerity immune to trendiness. But considering that The Peanuts Movie so strenuously labours to reference Schulz's characters' previous glories, the movie ends up reflecting a very modern phenomenon: Watching this cute, disposable film is akin to sitting through a feature-length collection of well-worn memes.
Production companies: Twentieth Century Fox Animation, Blue Sky Studios
Worldwide distribution: 20th Century Fox, www.foxmovies.com
Producers: Craig Schulz, Bryan Schulz, Cornelius Uliano, Paul Feig, Michael J. Travers
Screenplay: Craig Schulz, Bryan Schulz, Cornelius Uliano, based upon the comic strip by Charles M. Schulz
Cinematography: Renato Falcão
Editor: Randy Trager
Music: Christophe Beck
Website: www.peanutsmovie.com
Main Voice Cast: Noah Schnapp, Hadley Belle Miller, Mariel Sheets, Alex Garfin, Francesca Angelucci Capaldi, Venus Omega Schultheis, Rebecca Bloom, Marleik "Mar Mar" Walker, Noah Johnston, Madisyn Shipman, Anastasia Bredikhina, Micah Revelli, AJ Tecce, William "Alex" Wunsch, Troy "Trombone Shorty" Andrews, Kristin Chenoweth, Bill Melendez