Dir/scr: Gren Wells. US. 2014. 101mins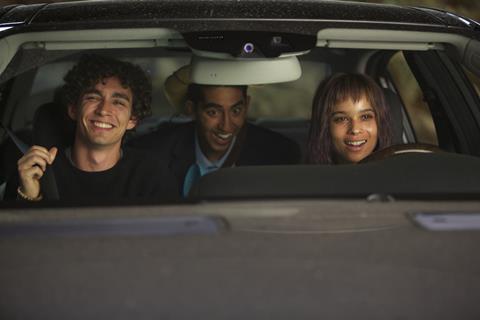 A risky, pointed attempt to remove the stigma around psychological disorders, The Road Within backfires badly, placing a trio of characters - played by Robert Sheehan, Dev Patel and Zoe Kravitz - with such maladies in a road-trip comedy whose noble intentions get lost along the way. The directorial debut of Gren Wells isn't very funny or touching, but what's worse, it can come across as patronizing, treating debilitating conditions as merely grist for offbeat jokes and superficial pathos.
Vincent, Alex and Marie aren't tiresome because of their medical conditions but, rather, because they're trapped in a silly story where they're forced to do foolish things.
Opening April 17 in the States (and already available on VOD), this low-budget indie will lean heavily on audience familiarity with stars Dev Patel and Zoë Kravitz, while older viewers may enjoy the presence of supporting players Robert Patrick and Kyra Sedgwick. The Road Within touches on universal themes — being an outcast, going on a journey to discover something about oneself — but dismissive reviews and a low profile will probably conspire to keep this comedy under the radar for most filmgoers.
As The Road Within begins, Vincent (Sheehan) has been struck by tragedy. His loving, sympathetic divorced mother just died, leaving the young man, who suffers from Tourette's, without anyone close to him. After being dumped by his distant, self-absorbed politician father Robert (Patrick) at a treatment centre, Vincent befriends his roommate Alex (Patel), who has crippling OCD, and a free-spirited anorexic, Marie (Kravitz). Together, they decide to steal the car of Dr. Rose (Sedgwick), who runs the centre, and travel from Nevada to Santa Cruz, California, so that Vincent can honour his dead mother's wish and spread her ashes along the Pacific Ocean.
Based on the 2010 German film Vincent will Meer, The Road Within aims for a zany tone in which Vincent, Alex and Marie's misadventures on the road are juxtaposed by Robert and Dr. Rose's unsuccessful attempts to track them down. Boldly, Wells' comedy means to exploit the humorous possibilities of what would happen if three people with these specific conditions were stuck on a road trip together — and then to upend those expectations by pinpointing the real obstacles such people have to encounter on a daily basis.
That's a risky approach, and The Road Within illustrates how it can easily go wrong. Wells, who previously wrote the 2011 romantic comedy-drama A Little Bit Of Heaven, generates a lot of irritation between her characters because of their conditions — for instance, the sardonic Marie likes to pick at what she perceives as Alex's prissy obsession with germs — but it rarely develops into inspired comic set pieces. As a result, the movie gives us lots of tedious bickering carried out by characters who are aggressively quirky, their medical conditions far more interesting than anything else Wells concocts for them. Instead of removing the stigma, The Road Within inadvertently causes us to focus intensely on the trio's disorders.
Arguably, The Road Within's banal execution is a way to make her characters' maladies relatable, introducing individuals with Tourette's and anorexia to audiences through the familiar packaging of the road-trip comedy. (In The Road Within, those with psychological disorders get to be the stars for once, rather than as usual being on the margins of popular culture, where they're ridiculed or shunned.) But Wells' meagre plotting has the strange effect of turning us against her main characters: Vincent, Alex and Marie aren't tiresome because of their medical conditions but, rather, because they're trapped in a silly story where they're forced to do foolish things.
The three leads struggle with their underwritten roles. Sheehan conveys the twitchy, uncontrollable spasms and violently hurled vulgarity of a Tourette's sufferer, but the actor's concentration on Vincent's condition tends to tamp down any other aspects of the character's personality. The performance is more technically impressive than it is affecting. Patel has a sweet vulnerability as Alex, whose OCD leaves him in a prison of constant anxiety. The actor's deadpan comic timing is welcome throughout The Road Within, which elsewhere often goes too broad in its humour.
As for Kravitz, who has admitted to battling anorexia in her own life, she has a different task than her co-stars, whose characters' conditions are more externally visible. Kravitz makes Marie sullen, flirty, a bit of a wild child, her eating disorder an uncomfortable looming presence always hovering over her. But as conceived, Marie is too much angst-y attitude and not enough soul underneath.
Indicative of the film's unimaginative tenor, Wells' authority figures aren't any more complex or engaging than the central characters. Patrick's Robert transitions from heartless to apologetic unconvincingly over the course of The Road Within, while Sedgwick mostly plays The Concerned Doctor by wearing glasses and shooting the other characters sympathetic glances.
Production companies: Amasia Entertainment, Troika Pictures, Coup d'Etat Films, Roberi Media
US distribution: Well Go USA Entertainment, www.wellgousa.com
International sales: Panorama Media, www.panoramamediagroup.com
Producers: Bradley Gallo, Michael A. Helfant, Robert L. Stein, Brent Emery, Guy J. Louthan
Executive producers: William Gallo, Viola Jäger
Cinematography: Christopher Baffa
Production design: Nanci Roberts
Editor: Terel Gibson
Music: John Debney & the Newton Brothers
Website: www.theroadwithin-movie.com
Main Cast: Robert Sheehan, Dev Patel, Zoë Kravitz, Robert Patrick, Kyra Sedgwick