Dir/prod/scr/music. Omar Rodriguez Lopez. US. 2009. 97mins.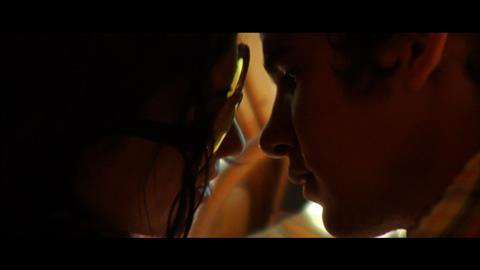 Texas-based Rodriguez Lopez is a well-regarded singer/composer/performer/producer, formerly with At the Drive-In and now with The Mars Volta. He has begun to don several hats as well in film production. Here he produces, writes, directs, and stars - an admirably ambitious renaissance cinemaniac wannabe. Unfortunately, The Sentimental Engine Slayer's busy script delivers little more than a middling student film, world premiered at Rotterdam.
The Sentimental Engine Slayer supposedly charts the downfall of a young man named Barlam (Rodriguez Lopez) into a world of degeneracy. As we meet him, he is barely hanging onto the line between fantasy and reality. His frustrations, mostly sexual, are manifest in a tendency to choke his friends as well as, possibly, a young prostitute.
Barlam's obsession with his parents' divorce years before is undeveloped, yet he is positive that one of his neighbours is his half-brother, the product of some indiscretion by his mother.
Engine Slayer's busy narrative is predicated on Barlam being a near-complete social maladroit, possibly a virgin, even though he may be involved with his drug-addicted sister (Velazquez). But Rodriguez Lopez is a strikingly handsome young man whose casting himself as a nerd who would rather make plastic models of the popular '67 Mercury Cougar automobile than date comes off as false, almost an inverse self-indulgence.
Barlam's home is loaded with kitschy Mexican Catholic iconography and ephemera, and he surrounds himself with countless saints. It appears that overkill is a trope here, but it doesn't work. What rings true are his homeboys, the "friends" who make fun of his awkwardness. They are valid depictions of young Latino males full of machismo and trapped between two worlds.
Naturally, the music is good. Even some of the reverberating sound effects have an abstract resonance that works with the plotline.
The Sentimental Engine Slayer supposedly charts Barlam's downfall into a world of degeneracy, but even the hookers and transvestites are lame. On the plus side, he consciously makes the film bilingual, driven to make audiences realize that America is a polyglot culture with millions of Spanish speakers.
To sign up for Screen's weekly Reviews Newsletter with all the week's new releases, international openings and full festival reviews delivered free to your mailbox every Friday, please click HERE
Production companies
Rodriguez Lopez Productions
International sales
RodrigoLopez@sargenthouse.com
Cinematography
Michael Rizzi
Editor
Adam Thomson
Production design
Omar Rodriguez Lopez
Sara Christina Gross
Sonny Kay
Main cast
Omar Rodriguez Lopez
Tatiana Velazquez
Nomar Rizo