In northern Malaysia, a woman embarks on a spiritual quest to save her ailing husband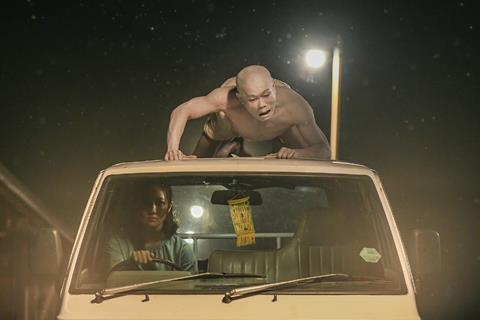 Dir/scr: Chong Keat Aun. Malaysia. 2020. 105 mins
It may have the air of myth or fairytale but The Story Of Southern Islet is firmly based in the childhood memories of director Chong Keat Aun. The true story of a woman's quest to save her ailing husband is told with the alluring mysteriousness of an Apichatpong Weerasethakul film. Issues of cultural identity, faith, secularism, spritualism and the supernatural swirl around to create a haunting personal drama that won Chong Best New Director at the Golden Horse Awards. A platform at Rotterdam will help to further propel the film's festival journey.
Speaks to the heart and soul of modern Malaysia and marks out Chong as a distinctive new talent
Dedicated to "parents at the border", Southern Islet unfolds in 1987 in Kerat, a small village at the foot of Mount Keriang. Located on the border between Thailand and Malaysia, it is a melting point of culture and religious influences. Cheong (Season Chee) supports his wife Yan (Jojo Goh) and their two sons by selling dried shrimp at the local market. An altercation with a neighbour and a subsequent tragedy provoke an illness in Cheong that cannot be explained. Vomiting up rusty nails and bedridden with exhaustion, he may have fallen under a widow's curse. When conventional medicine fails to provide any answers, a sceptical Yan is increasingly drawn towards shamans and local deities in search of a cure.
Southern Islet looks gorgeous as it captures the lush green vegetation of the paddy fields and the imposing beauty of Mount Keriang. The production design conjures up a world of rusted iron roofs and scrubby backyards that give a lived-in feel to Cheong's home.Candlelight provides a warm, inviting glow in some scenes and we are constantly being invited to look closer for what might be lurking in the shadows. Yan's journey to a cave and an evening drive to the seashore are especially atmospheric given the spirits she encounters along the way.
The film is very much rooted in the diversity of cultures that has shaped Malaysia. A delicate, feathery shadow play performance is woven through the film. There are offerings to deities and sacrifices. That would seem to suggest a clash of values between ancient and modern, logic and superstition. Cheong chastises his wife for being English-educated and westernised in her attitudes but it is her ability to consult across the spectrum of doctors, deities and shamans that eventually brings resolution to the situation. There is a sense of harmony in the diversity rather than conflict.
Radio news report on goverment policies reflect political and racial tensions of the period. Some of the undercurrents and subtleties are lost on those with little understanding of recent Malaysian history.
The Story Of Southern Islet is a little unfathomable at times but that only adds to its sense of mystery. Chong seems to place more emphasis on storytelling and showcasing issues around Malaysian identity than developing well rounded characters. Jojo Goh's weary, care-worn Yan makes the biggest impression but the bond with Cheong and the family unit could have benefitted from more consideration.
Ultimately, Southern Islet is a graceful, intriguing story that speaks to the heart and soul of modern Malaysia and marks out Chong as a distinctive new talent.
Production companies: Asteri Production Sdn Bhd, Bened Global
International sales: Asteri Production Sdn Bhd
Producer: Lim Hui Bee
Cinematography: Chan Hai Liang
Production des: Sam Chiang
Editing: Tan Wei Jian, Kong Jing Rong
Music: Yii Kah Hoe
Main cast: Jojo Goh, Season Chee, Pearily Chua, Ling Tang.