Dir: Zhang Dalei. 2016. China. 106 mins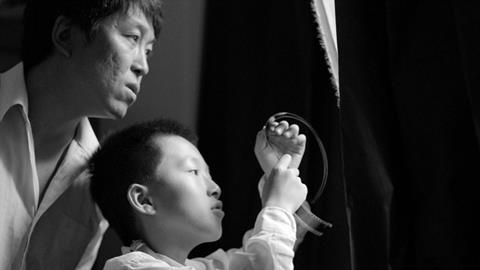 Early on in this remarkably accomplished first feature, we see Chen, the father in the three-person family unit at the heart of this film, sawing chunks from the mop handle, much to his wife's bemusement. Shortly afterwards, it is revealed that he has crafted them into a creditable pair of home made nunchucks for his son, Xiaolei (Kong Weiyi).
With support, this film, like Tharlo, could connect with a small but highly appreciative audience
From that point on, although they are rarely mentioned, Xiaolei is never without them. He wears them draped around his neck like a cravat; stuffed uncomfortably into the waistband of his pyjamas as he sleeps at night under a poster of Bruce Lee. It's a beautifully understated detail which speaks volumes about the bond between the boy and his father during this summer of transition.
With its Inner Mongolian backdrop and striking black and white cinematography, the film shares something of the clear-eyed intimate drama of Pema Tseden's Tharlo (Tseden served as an executive producer and the film also uses Tharlo cinematographer Lu Songye to arresting effect). As such, although Tharlo is a great deal slower and more austere in its approach, it might be a useful benchmark by which to judge this film's commercial prospects.
A healthy festival run seems likely; The Summer Is Gone arrives at Tallinn's Black Nights Film Festival following outings at Tokyo and Shanghai. And a theatrical life is not out of the question. With support, this film, like Tharlo, could connect with a small but highly appreciative audience.
The story unfolds during one sweltering summer in the early 90s. We get a sense that everything is poised on the cusp of change. The security of Chen's job for life as a projectionist at the film studio is dissolved by reformation of state-owned industries. Xiaolei's grandmother is dying. And Xiaolei is about to go to middle school; his mother frets that his grades are not adequate to get him into the elite Number 3 School. While Xiaolei claims he wants to attend the school, he's increasingly fascinated by the local hoods who shake down passers by for small change and lay claim to the town's rickety al fresco pool tables.
References to cinema are woven throughout the film. Chen cherishes a ratty VHS Mandarin-dubbed copy of Taxi Driver; his son and his friends throng to the front seats of the cinema to watch a Chinese comedy titled 'Father And Son Open A Bar'. And an over-subscribed screening of The Fugitive gives a sense of new freedoms kept tantalisingly out of reach for some.
First-rate work from both the photography and the sound departments elevate the quotidian details of life in a close knit community. Thanks to the high contrast black and white, the use of light is particularly effective. A night time police chase, suddenly flooded with the accusing glare of the patrol car's headlights, is a timelessly cinematic moment. A glowing lamp in the foreground draws our eyes like moths while, out of focus or even out of frame, the snatches of music and conversation from windows and balconies give a sense of the way that living spaces and the lives within encroach on each other.
Production company: Beijing Mailisi TV and Film Culture
International sales: PAD Intl., Hong Kong
Producers: Mai Lisi, Zhao Yanming, Suo Yiluo
Screenplay: Zhang Dalei
Cinematography: Lu Songye
Editor: Zhang Dalei
Production design: Zhang Dalei
Sound: Ren Dong
Main cast: Kong Weiyi, Zhang Chen, Guo Yanyun, Zhang Kun, Fu Gang