Dir. Tsui Hark. China, 2014, 142 mins.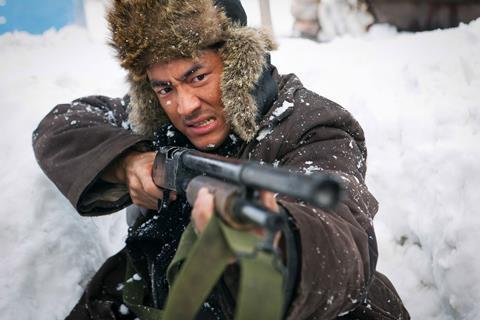 Tackling the anthemic Chinese work The Taking Of Tiger Mountain in a typically epic style , Tsui Hark retains every ounce of the exuberance which propelled him through works like Once Upon A Time In China over twenty years ago, when he resurrected mythical action hero Wong Fei-hung.
The Taking of Tiger Mountain is a ripping yarn, and audiences with a taste for this typically ambitious Tsui Hark fare will respond.
The impressive 3D twists itself to accommodate this Hong Kong director's vision – which has always occupied every millimetre of the frame - and Tsui makes full and delighted use its potential to invigorate a traditional tale which is fundamental to the folklore/propaganda surrounding the foundation of modern-day China. Other audiences might want to brush up on their PLA general knowledge prior to diving into Tsui's (over-long) 142-minute yarn, and, indeed, this story simply won't have the same resonance outside China, where every nuance is widely known.
But this is a family film, a special occasion event, even at home (with $144m in box office takings as of March 1, it is China's 10th highest-grossing movie of all time). Based on a true story (turned into a revolutionary opera by Madame Mao), The Taking of Tiger Mountain is a ripping yarn, and audiences with a taste for this typically ambitious Tsui Hark fare will respond. There's no trademark wire work, but a good deal of period gunplay, splattering bullet impact shots, over the top set pieces and, even, an emotional finale set in the present day.
Long on action (but very short on characterisation), The Taking of Tiger Mountain plays out in 1946, in the aftermath of the Japanese withdrawal from Northeastern China, where the Communist Party is consolidating its base and the KMT and local warlords are in a shifting coalition to stop them. The starving county is subject to the whims of rampaging warlords, however, and PLA boss '203' has been charged with taking Tiger Mountain from the ruthless bandit Lord Hawk (Tony Leung Ka-fai, in heavy prosthetic makeup).
Detective agent Yang (Zhang Hanyu) and his assistant nurse (Tong Liya) are sent to help 203 and an opportunity soon arises for them to capture a valuable map (the Sino-McGuffin) held by a KMT gang. Yang comes up with the idea of infiltrating Lord Hawk's stronghold by pretending to be a member of a rival bandit outfit and presenting it to him in tribute.
While The Taking of Tiger Mountain stops short of adopting a jocular tone, it's a heightened action fable, with Tony Leung Kar-fai hamming it up as the surly Lord Hawk, evil, untrusting boss of all her surveys (going so far as to wear a Game of Thrones-style 'Crow' outfit in a film which is nicely garbed throughout).
The Taking of Tiger Mountain is bookended by two sequences set in the modern day (the first in New York) on the eve of Christmas holiday which stress the debt owed by modern-day China to its PLA founders. Zipping back to 1946 is complicated, given the historical background, but Tsui breezily runs through the context in a brisk opening voiceover which might be a bit too light on detail for those not fully versed with the era.
Technically, the film pops and sparkles with colour; it's set mostly in the snow or in darkened interiors, but DoP Choi Sung-fai resists over-prettifying the arresting visuals which instead keep an urgency to propel the film's drive. Of note amidst several well-staged action sequences is a particularly terrifying tiger.
Production company: Bona Film Group
International sales: Distribution Workshop
Producers: Nansun Shi, Huang Jianxin, Yu Dong
Screenplay: Huang Xin, Li Yang, Wu Bing, Dong Zhe, Lin Chi An, Tsui Hark, Dong Zhe, based on the novel Tracks InThe Snowy Forest by Qu Bo.
Cine: Choi Sung Fai
Production designer Yi Zhenzhou
Editor, Yu Baiyang
Music, Wu Wai Lap
Main cast: Zhang Hanyu, Tony Leung Ka-fai, Lin Gengxin, Tong Liya, Su Yueming, Yu Nan, Chen Xiao, Gui Yiheng, Han Geng