Yuen Woo-ping and Tsui Hark head back to the unspecified ancient past for their latest collaboration.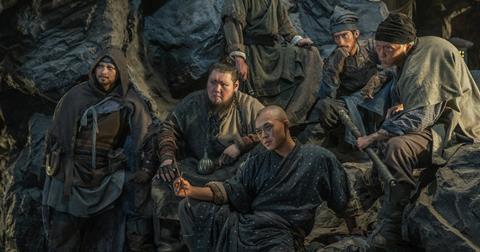 Dir: Yuen Woo-ping. China/Hong Kong. 2017. 107mins
Yuen Woo-ping and Tsui Hark head back to the unspecified ancient past for their latest collaboration The Thousand Faces of Dunjia. Evidently feeling he has something to prove following the collective shrug that greeted his belated sequel Crouching Tiger, Hidden Dragon: Sword of Destiny (2016), Yuen should possibly have taken a longer sabbatical before getting back in the director's chair as this madcap fantastical wuxia is so eager to entertain that it forgets to establish a clear narrative, internal logic, or characters the audience can care about. Pilfering as much from his past glories as from a host of other recent hits, screenwriter-producer Hark has wound up with a hotchpotch of cosmic proportions.
Many sequences are so awash in CGI that there is little room for Yuen to insert his trademark detailed action choreography
A big marketing push in mainland China should ensure The Thousand Faces of Dunjia enjoys brisk initial business in its principal territory but likely indifferent word-of-mouth, not to mention the imminent openings of Chen Kaige's rival wuxia Legend of the Demon Cat and Jackie Chan's futuristic adventure Bleeding Steel which could curtail long-term playability. Internationally, Yuen and Hark devotees may seek the film out in limited theatrical engagements, although expectations for ancillary value should be tempered since this title is clearly not destined for hall of fame status.
Attempting to lend clarity to an unwieldy story, Hark has structured his tale in six chapters, but this only serves to show how disjointed the whole venture is. It starts with a lift from Stephen Chow's altogether more successful Journey to the West: Conquering the Demons (2013) as the citywide panic caused by an aquatic creature – this time an oversized, three-eyed goldfish – serves to introduce two principal characters as they compete to stop it. Here, our heroes are clueless constable Dao Yichang (Aarif Lee Rahman) and the confidently skilled Iron Dragonfly (Ni Ni). The latter is a member of The Wuyin Clan, a secret society on a mission to find the Dunjia, an orb that provides infinite power and can summon demons from the sky. Despite the clan's reservations, Dao is invited to join their quest along with another recent inductee, Circle (Zhou Dongyu), a pouty young woman who has no memory of her past, but possess incredible shape-shifting abilities.
Its emphasis on teambuilding makes The Thousand Faces of Dunjia play like a wuxia riff on Guardians of the Galaxy (2014) but its blend of spectacle and humour isn't nearly as successful. Yuen relies heavily on visual effects, which at first border on cartoonish parody especially with frequent cutaways to open-mouthed reaction shots, but become increasingly bland as the showdowns pile up. In close-up, some of the monsters' facial expressions recall the stop motion miniatures of Hark's cult favourite Zu Warriors From The Magic Mountain (1983) or A Chinese Ghost Story (1987), which he produced, while the jerky movements of the skeletal 'Lord of Death' are a welcome, old-school touch.
For the most part, though, these digital antagonists whiz around the screen like end-of-level video game bad guys with many sequences so awash in CGI that there is little room for Yuen to insert his trademark detailed action choreography.
When not performing against green screen, the game cast tries to wring laughs from broad slapstick and cheeky exchanges. The unrequited feelings between bookish clan member Zhuge Qingyun (Da Peng) and Iron Dragonfly enable popular comedian Da and Ni to engage in flirtatious banter and the strident Ni manages to convey the warrior's petty tendencies without sacrificing her sense of responsibility. As a love triangle develops between Zhuge, Iron Dragonfly, and Circle, Hark's innuendo-ridden screenplay mocks the chaste nature of wuxia heroes and heroines with ill-judged running gags involving sexualised slapping and the fragile Circle's habit of collapsing on the besotted Zhuge.
Ancient settings often provide Chinese filmmakers with an opportunity to address contemporary issues from a safe distance and Hark used his earlier China-Hong Kong co-production Detective Dee And The Mystery of the Phantom Flame (2010) to satirically tackle state corruption. His only barbed commentary here, though, is noting Chinese society's dismissive attitude towards citizens with disabilities when Zhuge is mocked while posing as a blind physician and Dao is literally thrown out of the constabulary after sustaining crippling injuries.
The wrap-up reveals franchise ambitions, but the world building here is so bewildering that some serious recapping will be necessary if another installment somehow gets off the ground.
Production companies: Le Vision Pictures, Film Workshop Co.
US distribution: Well Go USA
Producers: Huang Yonghui, Nansun Shi, Wei Junzi
Executive producer: Tsui Hark
Screenplay: Tsui Hark
Cinematography: Choi Sung-fai
Production design: Wu Ming
Editors: Li Lin, Tsui Hark
Music: Li Ye, Tsui Hark
Website: http://wellgousa.com/theatrical/the-thousand-faces-of-dunjia
Main cast: Da Peng, Ni Ni, Zhou Dongyu, Aarif Lee Rahman, Wu Bai, Liu Yan