Anthony Hopkins and Jonathan Pryce make a formidable team with Fernando Meirelles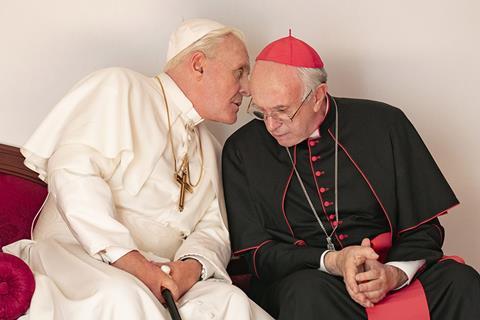 Dir. Fernando Meirelles. US/UK/Italy/Argentina. 2019. 125 mins.
Sometimes, the magic of cinema can look deceptively simple. A brilliant director; two great actors; a script which is a blessing from on high. Yet in any other hands – many other hands – this story could have/would have squatted on the screen and failed to take flight. With Fernando Meirelles conducting Anthony Hopkins and Jonathan Pryce from a script by Anthony McCarten, 125 minutes soars by. This humorous and deftly-layered chamber piece about Pope Benedict (Hopkins) and the current Pontiff, Francis (Pryce) is set for a Netflix release but also deserves a big-screen opportunity; it seems almost certain to attract awards notice for its key talent.
There's a sharp contrast between Pope Benedict's fondness for a German TV show starring a dog who solves crimes and Francis's terrifying past with Argentina's military junta.
With Italy's Paolo Sorrentino currently pulping out The Young Pope, audiences can be forgiven for some initial papal confusion. Strong reviews for this classy drama will help it stand out in the consciousness, however, and its attractive high-mindedness will appeal to mature audiences (although not exclusively). What takes place on screen may mirror in some part what transpired in real life, which is more fascinating than initially expected, and technical credits are strong enough to put the viewer in Vatican City, even though The Two Popes shot in Cinecitta Studios and no help was solicited from the Catholic Church.
All credit goes to Meirelles for lightening the mood. Only the Oscar-nominated director of City Of God would dare to jauntily cut 'Dancing Queen' to the procession of Cardinals getting ready to vote for the successor to Pope John Paul II in 2005. When the doors slam shut on the Papal Conclave, though, that's an end to the merriment: the painstaking process of deciding the successor to St Peter makes it clear why this process takes such a long time, especially when the vote is not unanimous and the white smoke does not billow up over the roof to announce the new Bishop Of Rome. The staunchly traditionalist German Cardinal Ratzinger (Hopkins) wants the role of shepherd to the flock; the reform-minded Cardinal Bergoglio, from Argentina, does not. The two men are noticeably cool to each other. Ratzinger is chosen and becomes Pope Benedict XVI.
McCarten's screenplay then jumps to 2013. The author of Darkest Hour and Theory of Everything (as well as Bohemian Rhapsody) has already given us an indication of Bergoglio's modest life in Buenos Aires, and his love of football and tango, as well as his strong feelings that the church needs to reform if it is to survive. So it's no surprise to learn that the Cardinal has booked himself a flight to Rome to resign and retreat to parish priesthood; Ratzinger, meanwhile, has also summoned Bergoglio, but for different reasons. Between the Vatican and the Pope's summer retreat of Castle Gandolfo, the two men will circle each other, the canny Ratzinger attempting to second-guess the Argentine populist. Yet Bergoglio has his own past to acknowledge.
The delicate dance between the two veteran actors, both eagerly devouring a late-life jewel of a script, is a joy to behold. Pryce loses all his stiffness to relax into the role of a man of the people, delivering dialogue in fluent Spanish, rudimentary Italian and creaky Latin. Hopkins hasn't been this good in a long time either, although both actors would correctly argue that it's the material which elevates their game. Both are gifted with a sympathetic, curious, and free-thinking director – one who isn't afraid to lift the camera for the odd aerial shot (two Popes in a maze, for example), or follow 'Dancing Queen' with 'Besame Mucho'. There's a sharp contrast between Pope Benedict's fondness for a German TV show starring a dog who solves crimes and Francis's terrifying past with Argentina's military junta.
There's a feeling of looseness here which is entirely deceptive; Meirelles clearly runs a tight ship and that movie magic has been hard-won. And despite the fact that this is essentially a (magnificently broadened-out) chamber piece about two men at odds over theology and its interpretation, The Two Popes never preaches - which only makes it all the more effective.
Production company: Rideback Inc
International distribution: Netflix
Producers: Dan Lin, Jonathan Eirich, Tracey Seaward
Screenplay: Anthony McCarten
Cinematography: César Charlone
Editing: Fernando Stutz
Production design: Mark Tildesley
Music: Bryce Dessner
Main cast: Anthony Hopkins, Jonathan Pryce, Juan Minujín