Barry Jenkins follows an escaped slave across the South in his adaptation of the Pulitzer Prize-winning novel for Amazon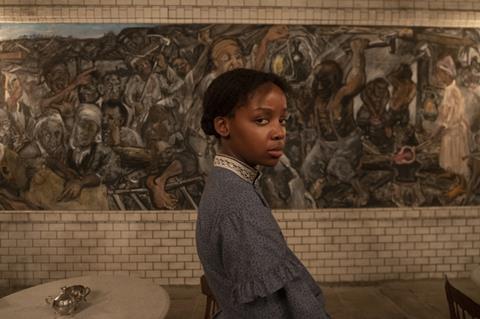 Dir. Barry Jenkins. US. 2021. 10 episodes/limited series, 585 mins.

Barry Jenkins, the Oscar-winning director of Moonlight, brings all the exquisite natural beauty of that film and more to Amazon's 10-part epic of slavery The Underground Railroad, a crossing point between this extraordinary visualist and the Pulitzer Prize-winning talents of novelist Colson Whitehead. The story of Cora (South African actor Thuso Mbedu), a slave seemingly abandoned by her mother on a brutal Georgia plantation, is not at all straightforward and, in fact, boasts mystical, fantastical elements: but Jenkins' painterly visuals feel real, and every whip lash sparks terror. Jenkins has brought the big screen to the small here: the agony of Shoah, or Son Of Saul, to the series format which brought the world Roots in 1977, and a pain which screams through time and will never stop being heard.
Jenkins and Plan B are pushing the boundaries of television as entertainment in the streaming age
It's a bold experiment in format, to cast Joel Edgerton as an obsessed, twisted Inspector Jalvert who will pursue Cora through the hell of Southern Reconstruction and back, and position the result on Amazon as a box set: Jenkins and Plan B are pushing the boundaries of television as entertainment in the streaming age. The story's otherworldly element comes through turning The Underground Railroad, a network of real-life sympathisers who helped slaves to freedom, into a physical subterranean steam train which rides below the Southern states. But it proves no escape from reality for Cora or any of her fellow travellers – or, for that matter, the viewer, from the intensity of Colson Whitehead's story.
(The Underground Railroad was dramatised in the 2016/2017 WGN series Underground, now cancelled.)
Years in the making, The Underground Railroad can feel unrelenting: despite the sun which blazes on the cotton pickers' backs, it's a series of baroque darkness and shadow lit by the gleaming lanterns of the rail network: two episodes are spent on the road in a Tennessee which is literally on fire. (Most episodes run slightly over 60 minutes, although two are shorter. The Underground Railroad is most certainly not binge-watching material.) A hugely effective score by Nicholas Britell seems to pulse with both fear and danger as Jenkins silhouettes his cast in heightened, photo-realistic tableaux. It's the kind of authenticity which underscores what we all know, that even if Cora didn't exist, this is true, and that hers is most likely a pilgrim's progress with no ending.
After 'Chapter 1: Georgia', set on the cruel Randall plantation, which, like the last, is the brightest episode, Cora's fate is confined to the shadows – like Anne Frank, she is even housed in an attic. The people she travels with, or encounters, are immediately thrown into peril by the fact that she has committed a crime which means she can never be freed. This culminates in some extraordinary sequences in which whole communities are threatened by Hellfire for her very presence. In Mdebu, Jenkins has found an actor of great presence but also of small stature: at times, she looks like a child, at others, like a woman her oppressors should fear.
The series opens with an arresting, bravura, disorientating sequence which traces the series forward and straight back again: two characters fall down a rope ladder into what looks like a mineshaft; a baby is born; people from the future stare at the camera and Cora stares back. Cesar (striking newcomer Aaron Pierre) asks Cora to escape from the Randall plantation with him – it's barely a home for her anyway, given her mother has left and now she is to be evicted from her meagre dwelling (a building which, like the other shacks she will encounter on her road, becomes as much as a motif as the railroad itself).
The hot light of the Georgia sun reveals a system of absolute caste cruelty, but Cora is reluctant to go nonetheless, until events – familiar ones, cinematically – will force her to a point of no return. It's also here she first encounters the slave hunter Ridgeway (Edgerton) and his pint-sized black child helper Homer (Chase W. Dillon), an odd visual combination that, with the subterranean steam engine, and the following episode's Handmaid's Tale theme, almost gives the series an air of science fiction, although that will most certainly not prove to be the case.
Ridgeway is a psychopath whose roots have been further twisted by the goodness and spirituality of his father (Peter Mullan, in one of the series' many guest appearances). But The Underground Railway will take in many themes on its trip through South and North Carolina, Tennessee and Indiana, religion and righteousness and sanity being just some of them: this series has a biblical reach. It also, progressively, moves away from a narrative sparked by white oppression into a wholly black perspective and conversation and in that way gains even more power.
Jenkins has brought most of his technical team from Moonlight and If Beale Street Could Talk over to this testament, and their skills – from DoP James Laxton to Britall's score and Mark Friedberg's production design – give the series a remarkable beauty and grace. That exquisite work doesn't belie the fact that the story told here is unspeakably cruel – it just underscores how mankind can create ugliness no matter the beauty of its surrounds.
Production companies: Plan B, Pastel, Big Indie
Worldwide distribution: Amazon Studios
Director/showrunner: Barry Jenkins
Based on the novel by: Colson Whitehead
Writers: Barry Jenkins, Jacqueline Hoyt, Nathan Parker, Allison Davis, Jihan Crowther
Executive producers: Barry Jenkins, Adele Romanski, Mark Ceryak, Brad Pitt, Dede Gardner, Jeremy Kleiner, Colson Whitehead, Richard Heus, Jacqueline Hoyt
Cinematography: James Laxton
Production design: Mark Friedberg
Editing: Joi McMillon, Alex O'Flinn
Music: Nicholas Britell
Main cast: Thuso Mbedu, Joel Edgerton, Chase W. Dillon, Sheila Atim, Aaron Pierre, William Jackson Harper