Dir. Roar Uthaug, Norway, 2015, 105 minutes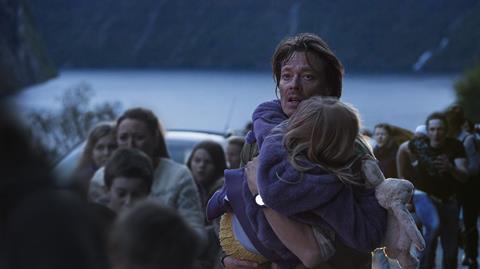 There's nothing like a tsunami to test a country and its cinema. In The Wave, resource-rich debt-free stable Norway is the victim of its greatest asset, nature. If the cinematic test for this project is whether or not a relatively small nation can make a credible disaster film on a grand scale, Norway and director Roar Uthaug (Cold Prey, 2008, Escape, 2012) sweep a seaside village away and terrify you with its realism.
Bedlam happens, but bedlam is different in Norway than it might be elsewhere
The greater challenge for a film of this ambition, in its logistics and in its commercial aspirations, is whether anyone besides other Nordic audiences and will go to see it. The Wave broke box office records in Norway, but its able cast doesn't carry global weight on the marquee. Still, this tsunami saga is an impressive calling card for a director who can do everything that Hollywood needs done on the screen thus far. Making money at the box-office or in gore-driven VOD is only another hurdle.
The Wave opens gently, at Geiranger, a telegenic town on a fjord that launched a thousand picture postcards. Bearded fortyish geologist and father of two Kristian (Kristoffer Joner), a mix of Kevin Bacon and Axel Rose, is about to move from his job at a local research office to work at an oil company. Seismic analysts in the research unit have determined that a major rockslide from the volatile façade of Akerneset mountain above the fjord would be catastrophic, displacing so much water in the narrow bay that a tidal wave would result, wiping out Geiranger. You could call it a cliffhanger, but the cliff itself risks collapsing.
As one would expect from the Hollywood disaster template, the analysts' assume that the near-impossible is simply impossible, at least in their lifetimes. Queasy about some warning signs, Kristian turns his car around and speeds to his office just as the impossible threatens to happen. When the threat becomes a certainty, he and all of Geiranger have ten minutes to save their lives.
Bedlam happens, but bedlam is different in Norway than it might be elsewhere. There's no person-on person violence, no looting, no major government ineptitude (New Orleans-style) or lies (as one might expect from a Dragon Tattoo disaster script in neighbouring Sweden). It's a jolting race against time when the wave gathers steam far away, as implacable as the tsunami in Clint Eastwood's Hereafter, minus the pop metaphysics .
Filming in the fjords and mountains enables DP John Christian Rosenlund to roam the landscape in all its majesty. When The Wave pivots – to put it mildly – with the tsunami, Kristian traces his hotel clerk wife and their son to the bowels of a flooded inn.
Uthaug, who surveys the great Norwegian outdoors with soaring helicopter shots, narrows in to desperate claustrophobia in near-darkness, as if a submarine were stuck on the ocean floor. The cast of The Wave plays to type, lurching predictably but effectively with extremes, as silly family and workplace banter give way to abject dread. Ane Dahl Torp is strikingly iconic and everywoman-ish as Kristian's wife, although her heroism as the waters rise can feel too romantically perfect, given the film's science-based plausibility.
That very plausibility gives The Wave a more ominous discomfort than disaster films where cataclysm is triggered by nuclear recklessness or corruption. The worst evil here comes when Kristian's bored boss at the research office demurs at sounding Geiranger's red button evacuation alarm, and declares that he won't close down a profitable tourist season just because things look threatening.
As a moral tale, The Wave warns of the consequences when ordinary people underestimate a behemoth. If Roar Uthaug eventually reaches Hollywood – and he certainly shows the craft for it here – Geiranger may help him have a sense of the behemoths that he could find there.
Production company: Fantefilm Fiksjon
International sales: TrustNordisk info@trustnordisk.com
Producers: Martin Sundland, Are Heidenstrøm
Screenplay: John Kåre Raake, Harald Rosenløw Eeg
Cinematographer: John Christian Rosenlund
Editor: Christian Siebenherz
Production designer: Lina Nordqvist
Sound: Christian Schaanning
Music: Magnus Beite
Main cast: Kristoffer Joner, Ane Dahl Torp, Jonas Oftebro