A Chinese expat becomes involved in a dangerous corporate conspiracy in this overstuffed potboiler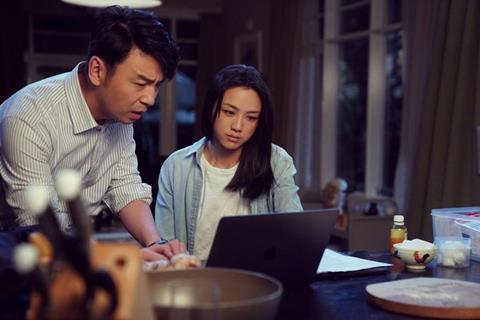 Dir: Xue Xiaolu. China. 2019. 139mins
The Whistleblower is a splashy potboiler which throws a straight-laced Chinese expatriate into a conspiracy crammed with elements from airport paperbacks and 1990s Hollywood thrillers. With a reported $40 million budget, it's the biggest Chinese-Australian co-production to date and the latest attempt to make a partially Chinese film with global appeal (roughly half of the dialogue is in rather awkward English). Shifting gears following several massively successful romantic-comedies, director Xue Xiaolu takes a big swing at the thriller genre by packing in enough intrigue and action for two movies, but the plot develops in such a preposterous manner that it's never truly engrossing.
Perfectly serviceable if taken as a glossy timewaster
Despite the promise of an international thriller pairing popular stars Lei Jiayin and Tang Wei, The Whistleblower failed to make much noise over its December 6 domestic opening weekend, grossing a tepid $4.3 million. Indeed, local audiences may have come to prefer prestige to slick packaging, as it was handily beaten by Diao Yinan's comparatively opaque festival favourite The Wild Goose Lake. Although it's receiving a simultaneous overseas theatrical release, this is the type of content that is now the domain of streaming platforms — which at least means The Whistleblower should attract some foreign viewers when it hits the small screen.
Our everyman hero is Mark (Lei), a placid, happily married executive with a major Australian energy company that wants to tap into the Chinese market. Following a gas explosion at its test facility in Africa reportedly caused by an earthquake, Mark is tasked with running damage limitation at a hospitality activity for a visiting Chinese coal company where he unexpectedly reconnects with former lover Siliang (Tang). Now trapped in a loveless marriage to the CEO of the Chinese company, Siliang seduces Mark into a hotel room tryst.
Mark soon finds himself perilously caught in the machinations of both companies. Siliang supposedly dies in a plane crash only to turn up very much alive in Sydney; she wants to embark on a new life but lacks the monetary means to do so and is being pursued by assassins since she knows too much about her husband's shady business dealings. Meanwhile, Mark has realised that the energy technology his company is developing to power a Chinese city may be unsafe, prompting a trip to Africa to investigate the test site.
As the act of whistleblowing is relatively new to China, where such informing has only recently been deemed a public service in light of recent anti-corruption initiatives, the film has a certain topicality, even if the villainy here mainly occurs in Australia and any Chinese skullduggery takes place off-screen. Realism is not a top priority, anyway, as Xue and co-writer Jiao Huajing are more focused on ticking off staples from the thriller playbook with the protagonists evading assassins on public transport and going undercover in a cavernous test facility. The section in Africa aims to give the proceedings global scope, but is hindered by some obvious green screen work and the country being unconvincingly doubled by Australia. Fortunately, a run of narrow escapes is reasonably executed by an international stunts team.
Amidst the abundant improbabilities, Lei is a relatable lead and wears a suitably exasperated expression throughout. Mark's ordinariness and precarious position as an overseas resident are often foregrounded, particularly when he strives to be a law-abiding member of society even when running for his life in action sequences likely inspired by the Jason Bourne series.
Xue, however, falters in her handling of Siliang, who is presented as a selfish damsel in distress with no real skillset. Evidently intended as a cautionary tale on the lure of material comfort, the usually magnetic Tang is given little to work with and it's especially frustrating to see her in such listless form after memorably collaborating with Xue in Finding Mr. Right (2013) and its 2016 sequel.
The Whistleblower is ridiculously overstuffed as Xue also throws in high tech surveillance, the 24-hours news cycle and the domestic fallout of Mark's infidelity into the mix. Still, it's perfectly serviceable if taken as a glossy timewaster, with Andy Canny's taut editing keeping the increasingly improbable developments moving at a decent clip and Marc Spicer's polished cinematography proving the requisite sheen.
Production companies: Edko Films, Beijing Carving Film Cultural Media Co., Gentle Giant Media Group, Perfect Village Entertainment, Whistle Movie Productions
International sales: Edko Films info@edkofilm.com.hk
US distributor: CMC Pictures
Producers: Greg Basser, William Kong
Screenplay: Xue Xiaolu, Jiao Huajing
Production design: Jeffrey Thorp
Editing: Andy Canny
Cinematography: Marc Spicer
Music: David Hirschfelder
Main cast: Lei Jiayin, Tang Wei, Qi Xi, John Batchelor, Andy Friend, Wang Ce, Stephen Hunter