Dir: Joe Johnston. US. 2010. 102 mins.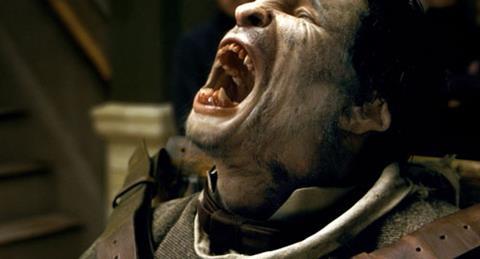 The Wolfman is all bark and no bite. A brooding but dramatically muted reboot of the classic monster-movie franchise, director Joe Johnston's action-horror film oozes Gothic atmosphere without supplying any character to fill it. Benicio Del Toro's opaque lead performance as the man cursed to turn into a werewolf during the full moon only adds to the problems of a film that lacks the energy or ferocity of its titular beast.
Del Toro's character is practically a black hole in the middle of the narrative.
Opening February 12 worldwide, The Wolfman will appeal chiefly to viewers familiar with the legendary character. A lack of major stars and a name director may keep this Universal release from achieving blockbuster status, but sturdy worldwide grosses seem achievable, followed by decent ancillary prospects down the road.
In 1891 England, Shakespearean actor Lawrence Talbot (Del Toro) returns to his family's estate after his brother's murder at the hands of a mysterious creature. This unhappy visit reunites him with his estranged father (Anthony Hopkins) and his brother's fiancée Gwen (Emily Blunt), but when he himself is bitten by the beast, he too becomes a werewolf on the run from angry lynch mobs.
Based on Curt Siodmak's screenplay for the 1941 film The Wolf Man, this new Wolfman is an awkward mixture of character study, gory horror, love story and big-budget action. Director Joe Johnston (The Rocketeer, Jurassic Park III) has successfully given his popcorn movies an unpretentious, old-fashioned gusto in the past, but The Wolfman works against his strengths, burdened as it is with a ponderous story about a prodigal son who must finally confront his family's dark past.
Cinematographer Shelly Johnson emphasises the setting's period British gloom – grey clouds, fog, and rain fill just about every frame – while Johnston drains the proceedings of any fun, turning some potential B-movie thrills into a hand-wringing tragedy that the screenplay doesn't have the power to pull off.
Del Toro is adept at playing mysterious, withdrawn characters, but his nearly taciturn turn as Talbot is ill-advised. The character is so intellectual and reserved that his transformation into the wild wolfman is intended to a jarring juxtaposition, but because Del Toro and the filmmakers fail to make Talbot's anguish poignant, he's practically a black hole in the middle of the narrative.
The difficulties extend to the supporting cast, as Hopkins delivers a hammy performance and Blunt is simply too chilly as Talbot's possible love interest and saviour. The one bright spot is Hugo Weaving as a resilient, arrogant Scotland Yard detective determined to unmask the identity of this murderous beast. He alone among the cast manages to resonate as a dramatic figure without slipping into actorly mannerisms.
Creature designer Rick Baker makes Talbot's transformation appropriately horrifying, but the effects work is merely competent rather than truly soulful or chilling. And Danny Elfman's knowingly bombastic score recalls his work with long-time collaborator Tim Burton but without the usual vigour or panache.
To sign up for Screen's weekly Reviews Newsletter with all the week's new releases, international openings and full festival reviews delivered free to your mailbox every Friday, please click HERE
Production companies
Relativity Media
Stuber Pictures
Worldwide distribution
Universal Pictures/UPI
Producers
Scott Stuber
Benicio Del Toro
Rick Yorn
Sean Daniel
Screenplay
Andrew Kevin Walker
David Self
Based on the motion picture screenplay by Curt Siodmak
Cinematography
Shelly Johnson
Production design
Rick Heinrichs
Editors
Dennis Virkler
Walter Murch
Music
Danny Elfman
Main cast:
Benicio Del Toro
Anthony Hopkins
Emily Blunt
Hugo Weaving
Geraldine Chaplin
Art Malik
Antony Sher
David Schofield