A Japanese woman struggles with lonliness and loss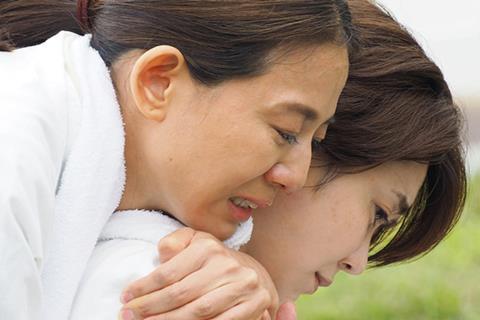 Dir/scr: Nobuteru Uchida. Japan. 2021. 97 mins
The eponymous women at the heart of this uneven melodrama are an overwrought bunch who are forever teetering on the brink of a breakdown. The fifth feature from Nobuteru Uchida (Love Addiction, Odayaka), The Women screens in competition at Moscow, but, with its sentimental approach, may be best suited to the tastes of domestic audiences – a spring 2021 release is planned in Japan. A neurotic assault of beekeeping, betrayal, guilt and grief, set against the backdrop of the early stages of the Covid-19 crisis, The Women fails to convince as a character study and struggles to connect as a piece of storytelling.
A gloopily sentimental score and camerawork which works itself into a frenzy of agitation at moments of stress
The main character, Misaki (Yukiko Shinohara), is on the cusp of 40 and dealing with a lifetime of disappointment as well as the needs of her demanding mother, Mitsuko (Atsuko Takahata). The stroke which afflicted Mitsuko has impaired her mobility but failed to take the edge off her spiteful nature or the shrill volume of her demands. Misaki clings to the comfort of a close friendship with former school friend Kaori (Kana Kurashina) and a burgeoning relationship with her mother's carer, Naoki. But then both are lost to her in quick succession and Misaki is plunged into a life crisis.
The backdrop to Misaki's glum existence is a lushly forested mountain which has a tranquil but slightly melancholy beauty: it is frequently drenched with rain, a visual echo for the tears which are liberally shed throughout. Misaki's moments of peace come when she drinks al fresco wine with Kaori, a solitary bee keeper. But there are tacit layers of hidden meaning beneath the twittering small talk – Kaori asks Misaki if she will tend to the bees if, for some reason, she is unable to do so. Misaki fails to pick up on her friend's vulnerability and when, having been dumped by her on/off boyfriend Naoki, Misaki misses a meeting with Kaori, she is stunned by Kaori's drastic response.
One by one, Misaki's lifelines are removed – her ex-boyfriend quits his job as her mother's carer at the same time that he ends their relationship; she loses her part time position at a nursery; she sacks her mother's replacement carer for reasons which are not fully explored. The disconnect that she feels from the rest of the world finds a parallel in the recurring motif of Covid-19 news stories which play out from her mother's television. But the solution that film posits – a bonding moment of shared appreciation of locally produced honey – is one of the least persuasive elements of a film which is riddled with credibility issues. Shinohara's performance has a tendency to tip over into hysteria, but her acting is positively restrained next to a gloopily sentimental score and camerawork which works itself into a frenzy of agitation at moments of stress.
Further festival slots are possible in Japanese cinema showcases, but the title notwithstanding, this is unlikely to figure as an inclusion in programs focused on female-led storytelling.
Production Company: Free Stone Productions
Contact: Free Stone Productions, info@freestone.jp
Producer: Maki Kitani
Cinematography: Aya Saito
Production Design: Tomoko Yokoe
Music: Kazune Tanaka
Main cast: Yukiko Shinohara, Kana Kurashina, Atsuko Takahata, Sahel Rose