Powerful and intimate documentary about a group therapy programme inside Folsom State Prison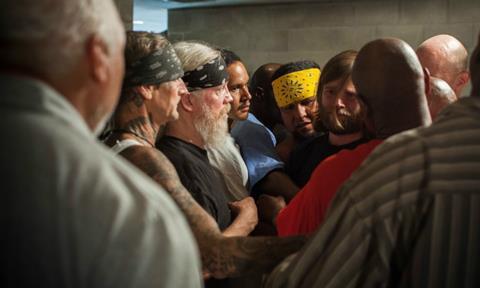 Dirs. Jairus McLeary, Gethin Aldous. USA. 2017. 87 mins
"I almost chopped a guy in half." In a cavernous room in the maximum security Folsom State Prison, a group of men — some prisoners, some members of the public — make cautious overtures in advance of a four-day group therapy session. That first revelation comes courtesy of Dark Cloud, a member of a native American gang; Chris, the 25-year-old museum associate who has chosen Dark Cloud as one of his therapy partners, blinks rapidly but otherwise keeps his reaction close to his chest. Over the course of the next four days, however, Chris will learn that that emotions don't always need to stay hidden.
The film is a triumph of empathetic editing
Strong characters, deft editing and a remarkable degree of openness and trust between subjects and filmmakers make for an intimate and powerful documentary. Screening in Sarajevo having won the Grand Jury Award at SXSW and the Audience Award at Sheffield International Documentary Festival, and it is more than likely that The Work will accrue further prizes before its run is finished. The kind of crowd pleasing title which could make the jump from from festival exposure and arthouse bookings to broader exposure, this will be a likely fixture on documentary best of the year lists.
The film takes three men from the outside as guides into the world behind the razor wire fences and fortified steel doors. Chris is one, a quizzical, floppy-fringed kid who frets that he might be letting down his therapy partners if he doesn't manage to cry. Charles, a bartender from LA, has a personal reason for embarking on the program - his father was in prison for much of his life, and the absence of a male role model is something that Charles wants to explore. He is, initially at least, considerably more open to the process than Brian, a young man wrestling with the kind of demons which have his therapy partner Vegas nodding in recognition. "It's like looking in a mirror."
The main achievements of the filmmakers, who have all taken part in the program and have earned the trust of the organisers and participants over a period of years, are twofold. Firstly, there is the fact that they were able to bring cameras into this highly charged environment without upsetting the delicate, precarious dynamic.
Secondly, the film is a triumph of empathetic editing. Amy Foote juggles the numerous central voices, teasing out personal journeys and narrative through-lines, but making sure that even the more peripheral presences register as characters. Kudos also must go to the sound recordist, who keeps the focus on the subject group even as the primal screams and howls of other men having breakthroughs and breakdowns echo around the room.
There is a hands on physicality to the therapy method which might be disconcerting to some audience members. But these tough men, many of them killers, have built up the kind of armour which can't just be pierced with platitudes. It needs to be smashed down. And so he emotional punch, when gang member Kiki finally gets to cry for his dead sister, when Brian confronts his rage and when former Blood Dante pulls himself back from suicidal rock bottom, is formidable.
Production company: Blanket Fort Media, McLeary Brothers
International sales: Dogwoof, info@dogwoof.com
Producers: Alice Henty, Jairus McLeary, Angela Sostre, Eon McLeary, Miles McLeary
Cinematographer: Arturo Santamaria
Editor: Amy Foote
Music: Adrian Miller
Starring: Vegas, Rick, Dark Cloud, Brian, Charles, Chris