A strugging writer in Paris is the subject of this perceptive first feature from Louda Ben Salah-Cazanas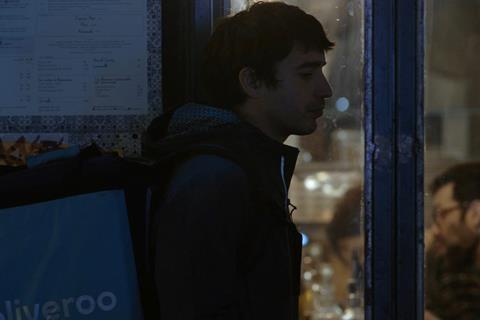 Dir/scr. Louda Ben Salah-Cazanas. France. 2021. 85 Mins
Artistic aspirations collide with the realities of survival in an unforgiving city like Paris even before struggling writer Labidi (Aurélien Gabrielli) meets Elisa (Louise Chevillotte). But falling in love both elevates his life and derails it – his commitment to the relationship seems, at times, to be at direct odds with his nascent career as a novelist. The debut feature from Louda Ben Salah-Cazanas seems, at first glance, to be a slight little thing. But storytelling which is light on its feet doesn't mean that The World After Us has nothing to say: in fact, the picture is perceptive on class and creativity, and on the struggle to hold down the kind of life that previous generations took for granted.
Unassuming in approach, yet lively and authentic
Unassuming in approach, but lively and authentic when it comes to unpicking the social and financial pressures facing any young artist born into a working class family, the film will likely strike a chord with millennial audiences at Berlin's Panorama and at further festivals. Key to the film's success is the fact that Labidi's creative voice feels persuasive. To this end, Ben Salah-Cazanas collaborated with author Abdellah Taïa, (who, like the central character, comes from a working class North African background) to ensure that the character's narration had a suitably literary tone.
When we first meet the character of Labidi he is in therapy, grappling with the idea of what actually motivates him to write. He does it to talk to himself, he says, "to understand what I do wrong." The therapist perks up, sensing a breakthrough.
Then the timeline winds back, to a day like any other, but for the fact that it includes a chance encounter in a cafe with a cool, self-assured girl. It's particularly Gallic brand of a meet cute, in that it involves a phone number penned onto the side of a cigarette. Non-smoker Labadi nearly chokes on the smoke he has cadged as a means of introduction but he must have done something right. Elisa agrees to meet him again.
There's a restive energy to the film, drawn from the fidgety camera, the brisk editing and the swirling, churning strings on the score. Labidi charges headlong into love, coming dangerously close to stalker territory at times. It is he who initiates the idea of moving in together, who finds a flat, and, when student Elisa demurs that she can't afford it,offers to take on the burden of the rent. But having previously just about scraped together the money to sleep on the floor of his best friend's armpit of a bedsit, the additional expense hits him like a truck. "Being in love is not a job," cautions his agent, who has negotiated a deal with publisher for Labidi's debut novel and is at pains to point out that "the faster you write, the faster you get paid." But writing starts to feel like a luxury when there's not enough money to buy food. The expressive score takes on a harder edge: jabbing violins sound like cracking ice.
A recurring motif is an encounter with the friend from college whose first book has already been published. "You should have been published first," says the friend, who clearly comes from the kind of background which doesn't require a job as a Deliveroo rider in order to buy the time to write.
But the film's most significant moment of punctuation is the sudden death of Labidi's father. The jostling energy is stilled. A series of locked shots of empty spaces disengages us from the treadmill of Labidi's world up until that point. And the grief clears the way for him to move forward, both as a writer, and a lover.
Production Companies: Les Idiots, 21 Juin Cinéma
International Sales: Be For Films info@beforfilms.com
Producers: Olivier Capelli, Laurent Rochette
Editing: Vincent Tricon
Cinematography: Amine Berrada
Production Design: Julian Salban-Créma
Music: Jean-Charles Bastion
Main cast: Aurélien Gabrielli, Louise Chevillotte, Saadia Bentaïeb, Jacques Nolot, Léon Cunha Da Costa , Mikaël Chirinian, Noémie Schmidt, Hyacinthe Blanc, Isabelle Prim, Grégoire Lagrange