Dir: Svetla Tsotsorkova. Bulgaria. 2015. 90 mins.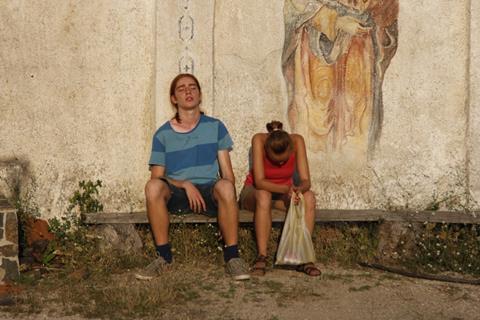 A remarkably confident feature debut, this Bulgarian chamber drama about a rural family who eke out a living laundering linen for hotels, and what happens when a wandering father and daughter come to dig a well on their land, is fascinating partly because it's so difficult to pin down. Thirst (Jajda) is about families, sure, and how they fracture and recombine under stress; but it's also an odd Western, set in a drought-struck farmstead somewhere in the Eastern European country's agricultural hinterland.
This is very much a film about five lost people: and it's a remarkable achievement that we care about every single one of them
It's a fable that never loses its anchor in realism, but it also touches on broader themes, such as dwindling natural resources and the crisis of fatherhood. There's something of Fellini's La Strada here, and echoes of older traditions of former Soviet bloc cinema in the anachronistic faces, costumes and framings of a film that deliberately eludes our attempts to locate it in the here and now.
After its world premiere at San Sebastian – where the film played in the New Directors section – Thirst will continue its festival run in London, Zurich, Haifa and Hamburg. It's a tour which should be followed by some theatrical action in at least a handful of territories, as this is a film that engages with thoughtful audiences from beginning to end.
On high, dry pasturelands in an unidentified location, a family of three (unnamed, like all the characters in the film with the exception of a stray dog) occupy a remote homestead. The boy (Benev) is a long-haired, slightly gormless adolescent. He's forced to run 4,000 steps a day by his father (Hristov), a survivor of two heart attacks, whose job is to repair anything and everything, from televisions to power tools. The family's real breadwinner is the proud but over-worked mother (Yancheva), who takes in laundry from never-glimpsed hotels with names like Aphrodite and Royal Palace.
However the industrial washing machines and steam presses that process all these sheets and pillow cases – hung out to dry on serried ranks of washing lines that surround the house with billows of white – consume large quantities of water. And up here on the hill, when everyone down below is watering their gardens due to the drought, there's never enough pressure.
Delightfully reticent, Thirst fast forwards to a scene of a young girl (Naydenova), aged thirteen at a guess, searching for water with a pair of divining rods before anyone in the family has even discussed it. The daughter of a grizzled well digger (Mihajlov), she soon locates what she claims to be the perfect spot to begin boring, and the two set up the tent in the garden which will provide them with accommodation while the well is being dug.
Thus begins a wary dance between all five characters, each lost in their own private world but desperate for companionship. The girl and the boy run races, throw stones at the windows of abandoned buildings; though younger, she's stronger than him, her round, Slavic virgin features concealing a steely determination and cruelty. Repeated actions and locations begin to set up resonances. There's the required but never pre-deducted tips the mother gives to the man who delivers the washing; the hanging out of the sheets which act as screens between the two families, but permeable ones; walks down to the village, and back up again, through a no man's land of decommissioned industrial plants and sinister fume-belching lorries; a wayside chapel with the faded fresco of an Orthodox saint. Drama and tension build slowly but surely – though we never really know quite how it's all going to play out.
Suffused with golden light, the film's atmospheric widescreen photography contributes to the dreamy sense of otherness that pervades Thirst. A gentle, lilting flute and guitar melody, sparsely employed, is the only music. But for all its style, this is very much a film about five lost people: and it's a remarkable achievement, on the part of the director, the writers and the actors, that we care about every single one of them.
Production company: Front Film
International sales: Alpha Violet, virginie@alphaviolet.com
Producers: Svetla Tsotsorkova, Nadejda Koseva
Screenplay: Svetoslav Ovcharov, Svetla Tsotsorkova, Ventsislav Vasilev
Cinematography: Vesselin Hristov
Editors: Nina Altaparmakova, Svetla Tsotsorkova
Production design: Georgi Todorov-Jozy
Music: Hristo Namliev
Main cast: Monika Naydenova, Alexander Benev, Svetlana Yancheva, Ivalyo Hristov, Vassil Mihajlov