Stunning documentary tracks four characters through the beseiged northeast city of Goma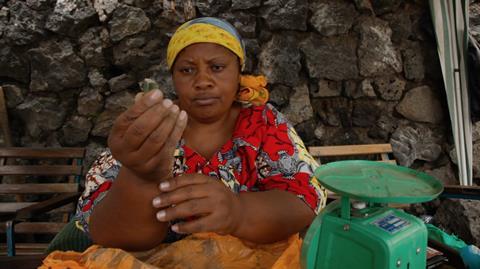 Dir. Daniel McCabe, Democratic Republic of Congo/ US/ Canada. 2017. 91 minutes
This Is Congo, a documentary of stunning beauty and tragic violence, gives us four perspectives on a long-lasting war from four characters in a sea of soldiers and civilians in the country's northeast corner. For most of the audience, this vivid debut doc will be their introduction to the country - despite the subject's cinematic possibilities, there have been fw recent documentaries on the continuing war in the Democratic Republic of Congo. Filming there is dangerous.
Wars that bring heroes to the surface can also consume them
McCabe, a cameraman who filmed in Congo before with Anthony Bourdain, knows what moves the public – dark mountains shrouded by clouds, the tactile energy and peril of ever-expanding refugee camps, and the sudden fatality of armed skirmishes. All are in This Is Congo, as is the inevitable and intractable fighting in a landscape ruled by armed men. This Is Congo is likely to tour festivals, especially those devoted to human rights, and should get limited exposure in arthouse release and on television. As the Congo is eclipsed by other world crises, the film's reception will depend on any reason for the world to focus again on the troubled country.
McCabe, also the film's DP, foregrounds powerful imagery rather than information, and characters rather than analysis. The doc's central figure, the tall and reflective Colonel Mamadou Ndala, is already known and celebrated in the media as the appealing officer whose Congolese army troops crushed an insurgency outside the northeast city of Goma in 2013. Ndala eventually ended up dead in an ambush in 2014 that turned out to be an assassination which implicated neighboring Rwanda and Uganda, and officers in his own army.
The killing was covered widely, but McCabe presents it with a grim element of surprise here, seeming to assume that his audience won't know the basic facts of his subject. He's probably right. (And neither can a critic be a spoiler for revealing plot points that were already reported in the media.)
Other figures fill out the portrait of an unending civil war. Kasongo (with a voice-over by Isaach de Bankole) is a high-ranking army officer, filmed in silhouette, who uses an alias as he laments political corruption at the top. Mama Romance is the film's Mother Courage, who supports her family by acquiring precious stones and sneaking across the border to sell them. Hakiza Nyantaba, an intrepid tailor displaced with the flow of refugees, carries his own weapon, a sewing machine, as armies uproot him.
Each of these characters could merit their own documentary, and McCabe is adept at filming them on the run, whether under fire or among the migrant masses of Goma, now numbering more than a million. Other documentaries on Congo have focused on a landscape under siege, like the gripping Virunga (2014), set in a national park as fighting drew near, or Richard Mosse's The Enclave (2013), which framed the majestic hills and the troops fighting there in mute infrared pinks and purples.
Even with its rich cast, McCabe's documentary of multiple perspectives can feel lopsided. The story of charismatic Mamadou Ndala, central to the war and to its shifting lines of battle, crowds out the other characters. A goat farmer by trade, the shy Ndala becomes the army's rock star. Crowds scream out his name when government troops retake Goma after Ndala literally whips them into action. Those troops have to beat back swarms of ardent female admirers. Ndala's appeal (and the threat sensed by rivals) raises questions about his murder.
As McCabe gives us the tight focus on characters struggling to survive, he stresses the broader battle for resources in the mineral-rich country, where none of that wealth reaches the masses who dodge bullets. That intractable fight is nowhere near its end.
This Is Congo could just as easily be called This Is Goma, since the film's focus on a city (and tent cities) in the scenic northeast overlooks other places of crisis in the vast country. Yet its lesson for Congo is crucial. Wars that bring heroes to the surface can also consume them.
Production companies: Turbo/Vision Film, T-Dog Productions, Sabotage Films, Thought Engine
International sales: Dogwoof info@dogwoof.com
Producers: Geoff McLean, Daniel McCabe, Alyse Ardell Spiegel
Executive producer: Ian Hague
Cinematography: Daniel McCabe
Editor: Alyse Ardell Spiegel
Music: Johnny Klimek, Gabriel Mounsey
Narration: Isaach De Bankole