Timely documentary about Syrian refugees attempting to settle in the United States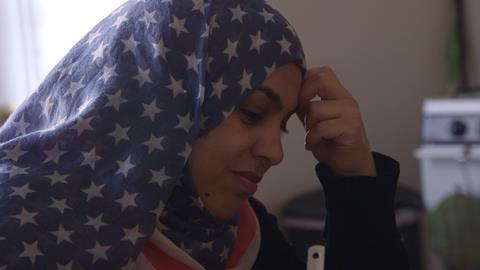 Dir: Alexandra Shiva. USA/Jordan. 2018. 91mins
What is home? That's the question posed by Alexandra Shiva's (How To Dance In Ohio) insightful, moving documentary, which follows Syrian refugees as they attempt to build a new life in Baltimore, Maryland. Given eight months to become self-sufficient from the moment their feet touch American soil in early 2016, their against-the-clock attempts to put down new roots in unfamiliar soil makes for compelling human drama — as well as political commentary that is searing without ever having to soapbox.
Shiva's film is a timely reminder that humanity knows no borders
With civil war in Syria raging since 2011, films about the human fallout have been striking a chord with Western audiences, from City Of Ghosts to the drama Insyriated. By tackling difficult themes with dignity and personality, This Is Home should follow suit with further festival attention likely following Sundance competition play.
Opening aerial shots of the ruined city of Homs leaves no doubt as to why, as on-screen text informs us, five million Syrians have now left in search of safety. Of those, 21,000 have been accepted into the USA, with 372 finding themselves in Baltimore.
Shiva distills those numbers down to four likeable families who find themselves under the care of the International Rescue Centre. The IRC's staff have eight federally-mandated months to assist them in everything from the fundamentals of jobs, schools and housing to the nuances of an alien culture. (English, supermarket shopping and cross-gender handshaking are all skills that need to be learned, even if the youngsters are already well-versed in Facebook and Snapchat.) At the end of the eight month period, the IRC is forced to withdraw support and funding; only those families that can support themselves have any hope of staying.
It's perhaps remarkable that, in the face of such tumultuous change, these individuals have allowed Shiva such candid access, but it's understandable that they welcome a witness to their struggles. And it is a monumental struggle; albeit very different from the one they fled, which has left the children in need of therapy and some of the men physically, as well as emotionally, scarred after prison torture.
They must now focus on the work ahead, however; classes, meetings, job interviews, school orientations and the integration into a community that, while never overtly racist, can be as cruel as it is kind. Local children shy away from the women's headscarves; a bus passenger gets aggressive about 'Muslims'. One of the women, the charming Madiha, takes to draping her head with the American flag in the hopes this will offer some kind of safety.
The power of Shiva's approach lies not, however, in its exposure of the falibility of the American Dream; it is in its celebration of the tenacity of the human spirit, of the determination of normal people to make the best of a situation. Crucially, this doesn't just describe the refugees — doctors, mechanics and engineers forced to take menial jobs; women entering employment for the first time; kids nervously excited about going to a school where they worry their background will invite bullying. It's equally true of the IRC staff, who devote their own lives to helping these displaced people find a home.
"We're at the mercy of reality," reflects Madiha, and Shiva's careful, respectful film encapsulates the seismic truth of that statement. When larger-than-life familyman Khaldoun grieves for his homeland, tears streaming down his face, it's clear that while he has gained his safety, he's lost everything else he held dear.
Yet, crucially, Shiva balances this with the joy of small moments; Khaldoun's wife Yasmen tentatively learning to drive, Madiha cooking traditional Syrian cuisine for 125 members of her local church. Ultimately, This Is Home is a film which focuses on opportunity, rather than oppression, and a timely reminder that humanity knows no borders.
Production companies: EPIX, Gidalya Pictures in association with Blumhouse
International sales: Film Sales Corp andrew.herwitz@filmsalescorp.com
Producers: Alexandra Shiva, Lindsey Megrue
Executive producers: Princess Firyal of Jordan, Jason Blum, Patty Quillin
Cinematography: Laela Kilbourn
Editor: Toby Shimin
Music: T Griffin