Wholly endearing tale set between the dance floors of Shibuya and a family pork cutlet business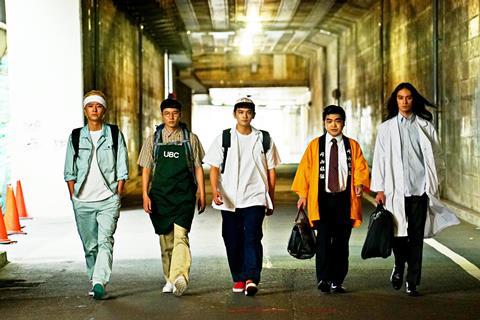 Dir-scr Ken Ninomiya. Japan. 2020. 100 mins
The feckless son of a Tonkatsu chef, Age-taro (Takumi Kitamura) seems doomed to spend his life chopping cabbage, deemed by his father as being insufficiently committed to the family pork cutlet business to be allowed near the fryer. But then Age delivers a bento box to a nightclub, and witnesses a DJ in action. It's a transformative moment. Age decides to pursue a career as a DJ, but it's not until he fully accepts his tonkatsu birthright that he can succeed elsewhere. This amiably silly colour-popping manga adaptation is elevated by likable performances and an infectious soundtrack.
There's an endearing goofiness to this picture which could recommend it to film festival youth strands
A tale of an aspiring DJ who seeks to transfer his pork-frying skills to the dancefloor, Tonkatsu DJ Age-taro started life as a manga series by Ipyao and Yujiro Koyama in 2014; it was subsequently followed by an anime adaptation directed by Akitaro Daichi which streamed in 2016. Although this chipper live-action version will no doubt play best in territories which are already familiar with the source material, there is an endearing goofiness to this picture which could recommend it to film festival youth strands.
The film is set (and shot) in and around Tokyo's Shibuya district. It's near where Agetaro's family owns a neighbourhood tonkatsu restaurant, and where his friends' parents run pharmacies, guest houses and lighting companies. But even with the legendary nightlife of Shibuya on their doorstep, Age and his dorky buddies prefer to hang out in a wackily decorated den, playing board games. This sets the tone for a sweet-natured naivety in the characterisation of the central characters. Although we are introduced to Age when he is spying on trainee stylist Sonoko (Maika Yamamoto) through binoculars, it's portrayed as a benign kind of stalking, not the creepy menacing variety. And Kitamura's puppyish exuberance in the role of Age means that we are inclined to cut the character a great deal of slack.
The naivety extends to the music choices. Age's initiation into the world of nightclubs is soundtracked to The Jackson Sisters' rare groove classic, 'I Believe In Miracles', which is a belter of a track by any standard. But then the film also ventures into unabashed cheese: a pivotal music choice towards the end is Belinda Carlisle's 'Heaven Is A Place Called Earth'.
Age's initial foray into superstar DJ territory comes when his quirky 'Tonkatsu DJ' Youtube posts (some of which involve him and his friends dressed as pieces of fried meat) start trending. A certain degree of celebrity results but, as Sonoko points out, it's not dissimilar to a DJ-ing cat meme. Dispirited, Age seeks out the help of a mentor, DJ Oily (Yusuke Iseya), the veteran whose banging set first inspired Age to follow the path of the turntables. Temporarily homeless, Oily initially sees Age as a stop-gap storage option rather than a budding talent. But Age earns Oily's respect, and more importantly, his commitment to DJ-ing buys him the goodwill of his father (Brother Tom) and results in a breakthrough in his tonkatsu skills.
There's a kinship with the exuberant energy of Stephen Chow's Shaolin Soccer, both in the transferral of skills from one discipline to another, and in the fizzing citrus colour palette and frenetic camerawork. This is filmmaking which, while it will predominantly appeal to younger demographics, should bring a smile to the face of any age group, not to mention an appetite for breaded pork products.
Production companies: Fuji TV Movies, AOI Pro
International sales: Fuji TV Movies / Pony Canyon Inc intl@ponycanyon.co.jp
Producer: Kazutaka Ohara
Cinematographer: Tetsuya Kudo
Editing: Junnosuke Hogaki
Production design: Takuya Miyagawa, Yoji Abeki
Music: Yuki Kuromitsu
Main cast: Takumi Kitamura, Maika Yamamoto, Kentaro Ito, Yusuke Iseya, Ryo Kato, Brother Tom