American filmmaker Jonathan Davies makes a confident debut with this beguiling LA-set mystery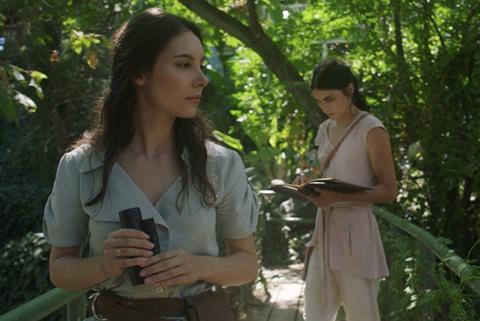 Dir/scr: Jonathan Davies. USA. 2021.106mins
An exquisite little puzzle-box of a picture, Topology Of Sirens represents a confident debut from independent American writer-director Jonathan Davies. Unfolding in unfamiliar corners of the Greater Los Angeles region and drawing as much from old-school "graphic adventure" computer games as from any obvious cinematic antecedents, it's an offbeat combination of erudite esoterica and sensory pleasures (many of them music-related) that patient viewers may find beguiling.
While Davies' screenplay resists conventional narrative structures his directorial style is resolutely non-experimental
World premiering in the International Competition at France's FIDMarseille makes sense for a work whose sensibilities and forerunners (Rivette, Rohmer) are rather more European than North American. A subsequent festival and distribution career along the lines of Tyler Taormina's 2019 coming-of-ager Ham On Rye seems likely.
The two projects hail from the same small LA-based production-company, Omnes Films, and there are significant overlaps in terms of behind-the-scenes personnel: Davies was music supervisor and associate producer for Ham On Rye; Taormina is the main producer here; Carson Lund shot both films and edited Topology Of Sirens. Having the same individual working as cinematographer and editor on a film is unusual and potentially hazardous, especially when that individual doesn't also direct. But here, Lund's refined, calm sensibilities prove a fine fit for the screenplay's offbeat premise and enigmatic, subtle convolutions.
After a low-key prologue in a verdant, unpopulated backwater amid the buzzing of insects, the action proper begins with Cas (Courtney Stephens) arriving at her deceased aunt's house in a forest-fringed neighbourhood which has the air of a discreetly affluent artist's colony cut adrift in time (even the local cafe/market dates from 1922.) A chance discovery of a medieval hurdy-gurdy—a bygone stringed instrument of haunting plangency—leads to further finds and "clues" relating to the aunt's sonic experimentations, which have much in common with, and prove stimulating to, Cas's own creative outpourings.
As she pieces together further elements of what might be a riddle, or perhaps an elaborate game of some kind, Cas encounters various strange locations and people—usually women (female performers occupy the cast's top six billings.) The importance of warm mutual support among women is a recurring theme in a film which walks a tricky line between endearing eccentricity and potentially cloying tweeness.
As mundane surfaces repeatedly yield hidden depths, an atmosphere of magical realism is gradually spun—chance and serendipity are this gossamer universe's guiding principles. Unpredictable shifts keep the viewer off-balance, especially in the second half.
Later dissolves shift the focus from Cas to two strangely-garbed young women. Seeming to "materialise" from another dimension or era, this silent duo inquisitively make their way to more built-up parts of Los Angeles. The credits identify them as "Tracker Siren" and "Scribe Siren," implying close connection with the figures represented in Frederick Stuart Church's painting The Sirens—which Cas had inspected in antique-instrument shop (this unlikely emporium presided over by a haughty English lady of a certain age, who trills pointedly about one stock-item having "unspeakably unusual features.")
But Davies is obviously uninterested in concrete answers and explanations, instead teasingly strewing images, sounds and phrases in our path in ways that might only be fully appreciated on a second pass. While his screenplay resists conventional narrative structures, his directorial style is resolutely non-experimental; the only notable stylistic flourish being a preference for extended sound-bridges between scenes. And while occasional longueurs betray Davies' inexperience, Topology Of Sirens' beatifically poetic finale—as Cas observes a baseball game—provides ample reward for those willing to wander his dreamy trail.
Production company: Omnes Films
International sales: Omnes Films (info@omnesfilms.com)
Producers: David Croley Broyles, Meredith Cohen, Courtney Stephens, Sergio Uguet de Resayre, Tyler Taormina, Jonathan Davies
Production design: Erik Lund
Editing / Cinematography: Carson Lund
Music: Sarah Davachi, Whitney Johnson, Micaela Tobin, Ben Boye
Main cast: Courtney Stephens, Sarah Davachi, Whitney Johnson