Dir: Mike Mitchell. US. 2016. 92mins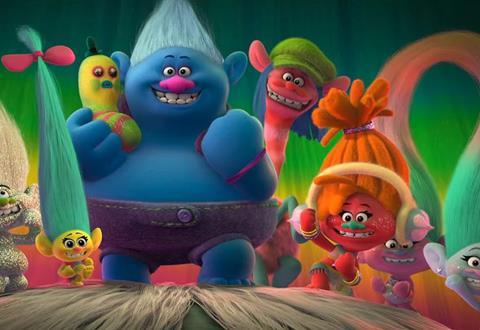 Those ugly-cute, flame-haired dolls from the seventies get the big budget animation treatment in Trolls, a peppy CG outing more suited to younger kids than anyone looking for real drama or heart. A wildly colourful look and a handful of nu disco songs from Justin Timberlake and others should keep the core audience happy, though with parents perhaps leaving the cinema less satisfied this latest DreamWorks Animation offering doesn't seem likely to become one of the recently-sold studio's bigger hits.
There's more texture here than might be expected from characters based on plastic dolls
Box office potential will be greatest in international territories and a premiere at this weekend's London Film Festival will give the Fox-distributed film a springboard in that market, with a US release following on November 4.
The pint-sized plastic dolls – more familiar to some baby boomers as 'gonks' – were created in Denmark and became fads several times between the sixties and the nineties. On screen they become "the happiest creatures the world has ever known," multi-coloured, big-haired optimists who love to sing, dance and hug. The only threat to their world is the Bergens, much bigger, much uglier creatures who can only feel happiness when they eat a Troll.
The story kicks off when the Bergens invade Troll Village and nab most of the inhabitants for a planned 'Trollstice' feast. That sets the super-happy Poppy (voiced by Anna Kendrick), the atypically curmudgeonly Branch (voiced by Timberlake, who previously voiced Boo Boo in 2010's Yogi Bear) and a band of other Trolls (voiced by Russell Brand, James Corden and others) off on a rescue mission.
The Trolls cross paths with an evil chef (Christine Baranski) and a lovelorn scullery maid (Zooey Deschanel), rescue their friends just before the fatal feast and end up proving to everyone – particularly Branch and the Bergens – that "happiness is within you."
The action is animated with a candy-coloured, glitter infused palette that accentuates the mid-seventies feel and gets even more intense when the film goes into its short musical sequences.
However there's more texture than might be expected from characters based on plastic dolls, especially when the narrative moves to the world of the misshapen, slightly scary Bergens, who look more like stop-motion animation models than digital creations.
Director Mike Mitchell (Shrek Forever After) and co-director Walt Dohrn (TV's SpongeBob SquarePants) mostly keep the tone light – even when the Bergens are trying to eat the Trolls – with only a couple of brief scenes sounding slightly darker notes. Screenwriters Jonathan Aibel and Glenn Berger previously teamed on all three of DreamWorks Animation's Kung Fu Panda movies and they give the film some of that franchise's mildly snappy humour.
The musical numbers are a mix of re-worked pop hits dating from the sixties to the nineties (parents will catch tunes originally done by Kool and the Gang, Simon and Garfunkel, Earth, Wind and Fire and Gorillaz) and new songs written by Timberlake (who previously contributed songs to Happy Feet 2 and Shark Tale) and others. Timberlake, Kendrick and Deschanel – with occasional help from Gwen Stefani and Ariana Grande – do the singing, to reasonably catchy effect.
Production companies: DreamWorks Animation
Worldwide distribution: 20th Century Fox
Producer: Gina Shay
Executive producer: Dannie Festa
Screenplay: Jonathan Aibel & Glenn Berger
Executive music producer: Justin Timberlake
Music: Christophe Beck
Head of story: Joel Crawford
Production designer: Kendal Cronkhite-Shaindlin
Editor: Nick Fletcher
Website: http://www.dreamworks.com/trolls/
Main cast: Anna Kendrick, Justin Timberlake, Christopher Mintz-Plasse, Russell Brand, Zooey Deschanel, Jeffrey Tambor, Christine Baranski, James Corden, Kunal Nayyar, Ron Funches, Icona Pop, Quvenzhané Wallis, John Cleese, Gwen Stefani.